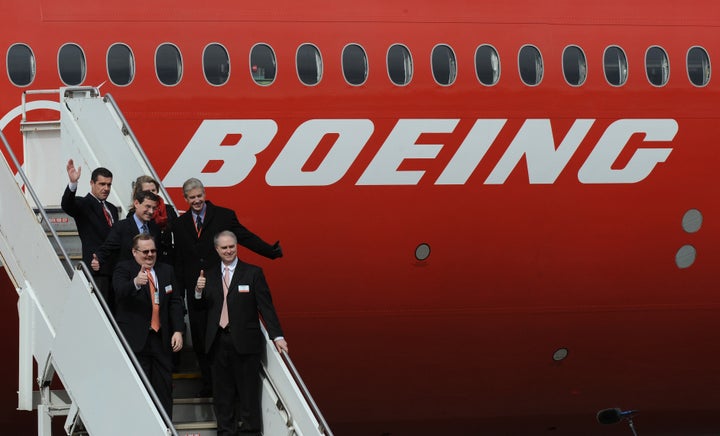 WASHINGTON -- The Machinists union announced Wednesday that it had reached a tentative four-year labor agreement with the Boeing Company, a development that might end some controversy surrounding the National Labor Relations Board and take away a major Republican talking point on the economy and regulations.
According to the member-run Machinists News blog, union members will vote on a contract extension next week that would assure that Boeing builds its 737 MAX passenger jet in Washington State. Although details haven't been released, the deal will probably clear the way for production of Boeing's 787 Dreamliner in the company's South Carolina plant, which had been put on hold when the labor board issued a controversial complaint against the company on behalf of unionized workers in Washington earlier this year.
The complaint filed in April alleged that Boeing broke labor law when it tried to establish the production line in South Carolina. The labor board's general counsel claimed that the move amounted to retaliation against Boeing's unionized workers in Washington for having gone on strike in the past.
The complaint also infuriated Republicans, particularly those in South Carolina who believed it might cost the state jobs. Sen. Lindsey Graham (R-S.C.) and others pushed legislation that would have scuttled the complaint and even defunded the labor board. For months GOP members have used the Boeing issue to tar both the labor board and the Obama administration as pro-union job killers meddling in corporate decision-making.
Settling the South Carolina issue was apparently a major part of the negotiations between Boeing and the union. But whatever deal was tentatively struck between the parties Wednesday, it won't immediately resolve the complaint filed by the NLRB.
In a statement, the agency's general counsel, Lafe Solomon, said, "The tentative agreement announced today between Boeing and the Machinists Union is a very significant and hopeful development. The tentative agreement is subject to ratification by the employees, and, if ratified, we will be in discussions with the parties about the next steps in the process."
Despite the dire proclamations coming from Republicans, most observers of the labor board believed Boeing and the union would reach an agreement before the South Carolina production line was spiked, considering how high the economic and political stakes are.