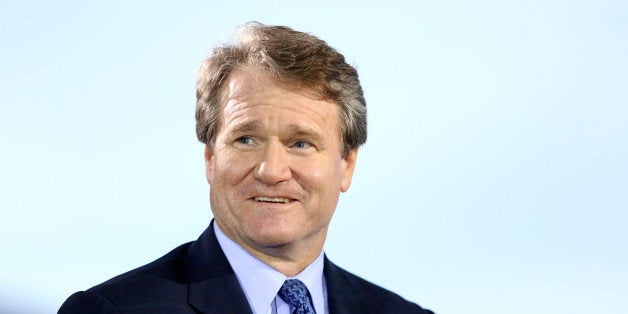 Feb 19 (Reuters) - Bank of America Corp Chief Executive Brian Moynihan received a 17 percent pay raise in 2013 as the bank posted its best year since the financial crisis, according to a regulatory filing on Wednesday.
Last year the CEO received $12.5 million in stock-based compensation, the filing showed. Moynihan was given a $1.5 million base salary, the bank said in 2013 a proxy filing, bringing his total compensation for the year to $14 million.
Moynihan received no cash bonus in 2013 and his base salary will remain unchanged for 2014, said a source with knowledge of the executive's pay but who was not authorized to speak on the record about the matter.
In 2012, Moynihan was awarded $12 million in total compensation: a base salary of $950,000 and $11.05 million in restricted stock.
The Charlotte, North Carolina-based bank posted its best results under Moynihan's leadership in 2013. Net income rose to $11.4 billion from $4.2 billion a year earlier as many of the bank's main businesses, including wealth management and global banking, posting record revenues. The bank also succeeded in meeting both long-term and legacy mortgage cost-cutting targets.
Shares in Bank of America increased 34.6 percent in 2013, in line with the rise in the KBW index of bank stocks over the year. The bank's stock is up another 5.8 percent so far in 2014, making it the best performer in the KBW index.
Average pay for workers at Bank of America was $143,397 in 2013, up 7.5 percent from 2012.
In terms of total compensation and pay raise, Moynihan trailed JPMorgan Chase & Co chief executive Jamie Dimon. Dimon received $20 million in 2013, including $18.5 million of restricted stock and $1.5 million in base salary, or 74 percent more than he received in 2012.
That marked a change from 2012 when Moynihan's $12 million pay package eclipsed Dimon's $11.5 million. Bank of America is the second largest U.S. bank by assets behind JPMorgan.
Bank of America co-chief operating officer Thomas Montag was awarded with $8.7 million in stock-based compensation in 2013, up from his $8.2 million stock award in 2012. Chief financial officer Bruce Thompson was awarded with $6.7 million in stock, up from $6.1 million in 2012.
REAL LIFE. REAL NEWS. REAL VOICES.
Help us tell more of the stories that matter from voices that too often remain unheard.