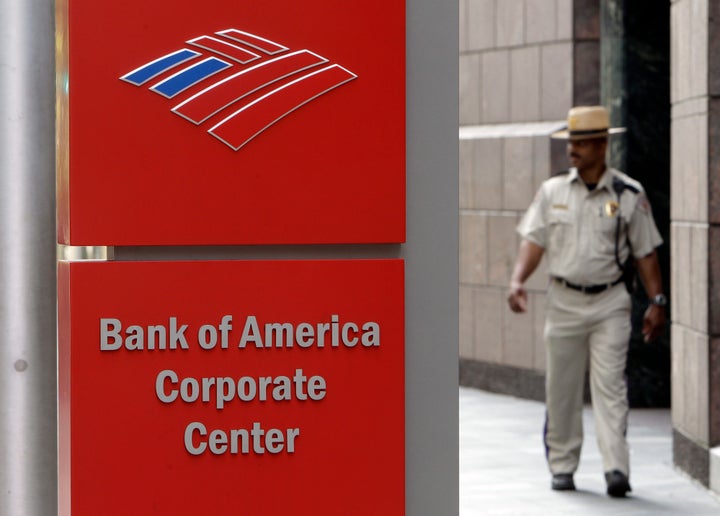 Bank of America stocks tumbled 20 percent on Monday as investors reacted in part to a $10 billion lawsuit that the insurance corporation American International Group brought against the company.
The dramatic single-day drop was reminiscent of market plunges during the financial crisis of 2008, and stood out even amongst a market-wide spate of sell-offs that left the Dow Jones industrial average more than 600 points down on the day.
BofA closed at $6.51 on Monday, a 20.32 percent drop from the opening bell, after a day of rapid stock declines that saw the Dow shed 634 points. The Dow closed at 10,809 after dipping below 11,000 for the first time since November 2010, making Monday the sixth-worst trading day in Dow history.
Elsewhere in the market, the S&P 500 Index fell by 6.66 percent and the NASDAQ Composite closed at 6.9 percent down.
On Monday, AIG announced that it was suing Bank of America for more than $10 billion, alleging that BofA, and its acquisitions Merrill Lynch and Countrywide Financial, participated in "massive fraud" when they sold mortgage-backed securities to AIG between 2005 and 2007. AIG says that more than 40 percent of the mortgages were presented as being more secure than they actually were.
A spokesman for Bank of America has countered that AIG "is the very definition of an informed, seasoned investor" and should be held responsible for any purchases it made.
The slide in BofA stocks, the worst since April 2009, was reflected in declines among other major lenders. Citigroup was down 16 percent at the end of the day, Morgan Stanley closed down 14 percent, JPMorgan and Wells Fargo were each down 9 percent and Goldman Sachs fell 6 percent.
AIG's own stock fell 10 percent to $22.58.
Bank of America, the country's largest banks by assets, has seen the value of its stock decline by 54 percent since the start of 2011. Last month, BofA reported losses of $8.8 billion in the second quarter, its worst quarterly earnings report ever.
On Wednesday, BofA CEO Brian Moynihan will answer shareholder questions during a 90-minute conference call. A press release from Fairholme Capital Management, a major shareholder with BofA, says that "skeptics are invited to participate."
Monday's market plunge is seen as a response to Standard & Poor's historic downgrade of the United States' credit rating last Friday, as well as concerns that Italy and Spain could slip into default as part of the worsening European debt crisis. Investors have also seen a series of disappointing economic reports in recent days, raising fears that the U.S. economy may be headed for a double-dip recession.
Calling all HuffPost superfans!
Sign up for membership to become a founding member and help shape HuffPost's next chapter