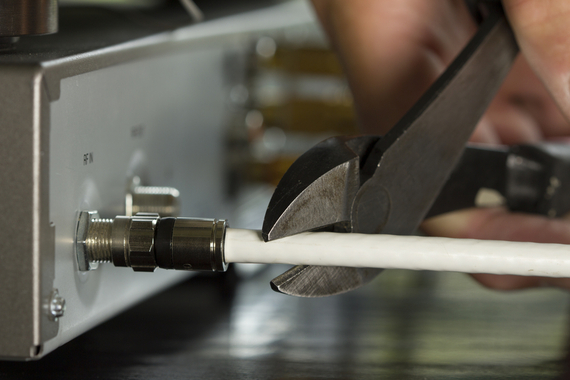 It started with a message to @Comcastcares, the Twitter account for Comcast's customer service department.
"Without a doubt the worst customer service I've experienced," wrote Ryon Nishimori. "Google fiber can't come to Nashville soon enough."
Turns out Comcast was watching.
But apparently, so was someone else.
What follows is easily one of the most bizarre epilogues to an already bizarre story about bad customer service. It involves harassing phone calls, threats to cut off service and the use of unusually vulgar language, even by Internet standards.
Oh, and it's all a hoax, according to Comcast.
Shortly after he Tweeted out to @comcastcares, Nishimori received a call from a representative who claimed to work for Comcast.
"At first he was very nice and seemed to have the details of my account," recalls Nishimori, who works for a record store in Nashville. "All of a sudden, somebody else hopped on the call, saying he was a supervisor."
And here's where things got a little strange.
"Outrageous and insulting"
"He immediately took over and asked if I'd like him to explain Comcast's service fees. I said, 'No thank you,' but he did anyways. And his words were, 'We are Comcast, and we can charge you whatever the f**k we want'," he says.
Nishimori was shocked and he began recording the conversation. In it, multiple "representatives" used language so highly inappropriate and deeply offensive that I'm uncomfortable even alluding to it on this site.
"They were pretty outrageous and completely insulting," he says. "They included physical threats, sexual threats, threats of charging my account for things, as well as threats to go after my workplace."
After listening to the tapes several times and speaking with Nishimori, I contacted Comcast on his behalf. A representative responded shortly afterward and promised the company's security department would investigate. Within 24 hours, Comcast's sleuthing had revealed the call was a hoax.
How could they be sure? The call had originated in Ontario, Canada. Comcast doesn't have a call center there. It also reached Nishimori just after midnight. Comcast doesn't make follow-up calls to customers in the early morning hours. And then there was, of course, the content of the call, which was highly unusual for a call center -- even Comcast's.
"It's a hoax," says Comcast spokeswoman Jennifer Khoury. "Someone is impersonating a Comcast employee."
I decided to ignore this prank as a one-off.
"This b*tch wants us to pay to fix her ceiling"
A few days later, I heard from Dana McMahan, a writer who lives in Louisville and is restoring a 100-year-old home in Detroit with her husband. Last Friday, a Comcast representative showed up to install a box on the third floor of the house.
"The guy figured he could run a splitter from the already active box on the second floor below, proceeded to whip out a drill and bore a hole, without measuring or double-checking the location below," she says. "And voilà: Our just replastered ceiling below sported a hole with a black cable dangling from it."
She asked Comcast to help her repair the ceiling. And here, as I like to say, is where things got interesting.
In an effort to avoid dealing with Comcast's call center, she sent a tweet to the company, attaching a photo of the damage.
"Sure enough, a man called, identified himself as Bryan with Comcast and asked me to explain the tweet, which I did," she says.
To which he replied, "I don't see what the problem is. Just move the TV a few inches."
That didn't work for her, and finally, after a brief argument, he said, "To be honest, nobody cares about your ceiling."
McMahan asked to speak with a supervisor. "Bryan" agreed.
I went on hold, but his conversation wasn't muted.

"Hey Mike, look at this," he said. "This is hilarious. This b*tch wants us to pay to fix her ceiling. Should I charge her extra for the tech visit?"
Bryan didn't realize McMahan was recording the call. She confronted Bryan about his inappropriate language, but he simply ignored her, saying he had not authorized the recording of the call.
"You know, we've dealt with things I could never have imagined in working on this house, but this has honestly been the most flabbergasting of all," she says.
Again, I checked with Comcast. And again, it claimed this was a prank.
As far as I can tell, here's how they do it: The hoaxers monitor the public @Comcastcares feed, looking for complaints. They run a search on a customer's Twitter account. Often they turn up cell phone numbers, as they did in McMahan's and Nishimori's case. Then they call the number, pretending to be Comcast representatives. And you know the rest.
Who's doing this? Well, this is a lot like Murder on the Orient Express, the famous Agatha Christie novel. A better question is, who wouldn't do it? Disgruntled former call center workers? Angry customers? Anti-merger activists? College students on spring break?
So someone is out to make Comcast look even worse than they already do? That's hardly news. But the fact that you could be sucked into this little game is noteworthy.
You can avoid it by not posting any personal information to @Comcastcares or any Twitter account, or anywhere else online for that matter. Not a picture of your house, not your cell phone number. Comcast knows how to contact you. If it needs information via Twitter, you can send Comcast a direct message, as opposed to tweeting it out in public.
"This is a good reminder that customers need to be careful about sharing any personal information on the Internet," adds Khoury.
If this hoax gets enough traction, it's possible that it'll spread beyond Comcast. So if you get a call from any company's "customer service" department, you might want to remain skeptical.
Ask them to confirm your account number or give you a phone number to call them back. But don't take their word for it that they work for Comcast. You just might be on the receiving end of a prank.
Related
Popular in the Community