WASHINGTON -- As the Senate prepares to move forward with legislation that would give President Barack Obama fast-track authority to funnel trade deals through Congress, the House is figuring out how it will muster up the votes to do the same.
House Speaker John Boehner (R-Ohio) said Thursday that in the end, Republicans will need more Democrats to join them in voting to give Obama what is known as trade promotion authority. TPA would essentially allow the president to speed trade deals like the Trans-Pacific Partnership, currently being negotiated with 11 other nations, through Congress.
"Republicans are going to do our part," Boehner said. "Ultimately our success is going to require the Democrats putting aside politics and doing what's best for our country."
So far, Republican leadership is still working to whip votes for TPA, but it will be an uphill battle since a number of House Republicans are reluctant to be on the record supporting Obama's agenda.
Earlier this week, Senate Democrats blocked the fast-track legislation from coming to the floor, demanding that the chamber first vote on a number of trade protections. These protections included a measure that would ban imports made with forced child labor, and another, opposed by the Obama administration, that would crack down on currency manipulation by countries aiming to make their goods cheaper. Those were bundled into a customs enforcement bill, which passed the Senate 78-20 on Thursday, emboldening House Democrats seeking to win concessions when the legislation reaches the House.
Still, Senate passage doesn't guarantee that the House will take up the customs enforcement bill.
"We'll see what the Senate sends us and then we will make decisions about how we will consider it in the House," Boehner said.
Moreover, Boehner himself opposes legislating on currency manipulation. He didn't mince words on the issue Thursday, saying he thought the Treasury Department was already doing a "very good job" of cracking down on countries for devaluing their currency.
"To think that Congress can legislate what the currency valuations between countries are is almost laughable," Boehner said.
House Minority Leader Nancy Pelosi (D-Calif.) said the White House has made "clear" to Democrats that it doesn't want a measure on currency manipulation to reach the president's desk, or to be tacked on to a fast-track bill. Still, a majority of House and Senate Democrats want action on the measure.
"The administration has been pretty clear that they don't want this in the bill," Pelosi said. "We keep saying, 'Well, what other suggestions would you have?' because there is a general belief that currency manipulation has been responsible for the loss of many jobs in our country."
Pelosi wouldn't predict what would happen with TPA in the House, but said Democrats had a "real reason for concern" about giving Obama expanded authority.
"One overriding concern that members have on the TPA is that this is not a TPA for the TPP bill, or the European bill that will be coming up," Pelosi said, referring to a similar trade deal with European nations the administration is working on. "This is really effectively a six-year -- I don't want to say get-out-of-jail-free card, but something to that effect -- a carte blanche fast-track. I wish that that part of it could be changed."
Before You Go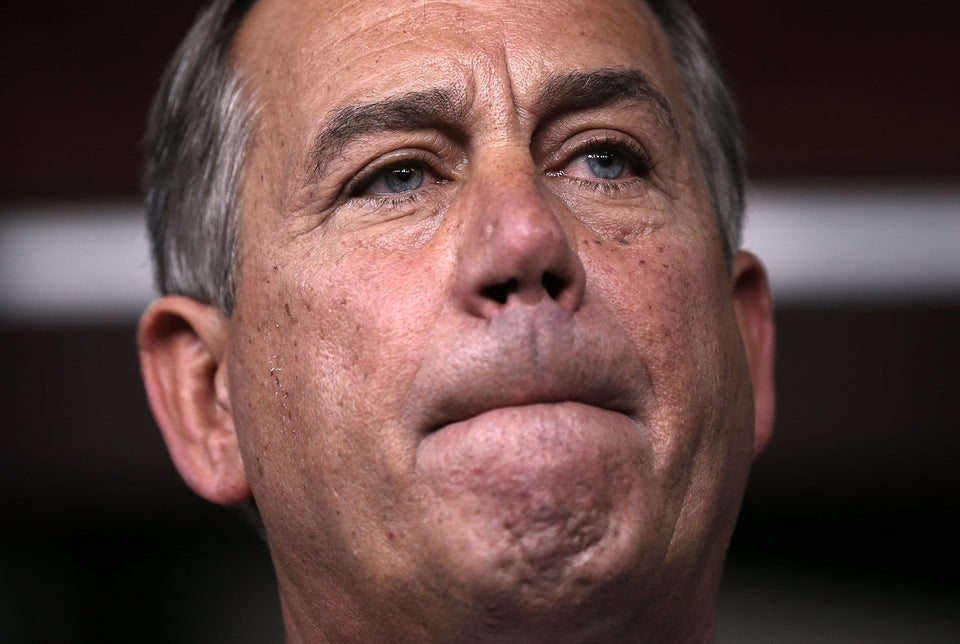 John Boehner's Lips Are Sealed
Popular in the Community