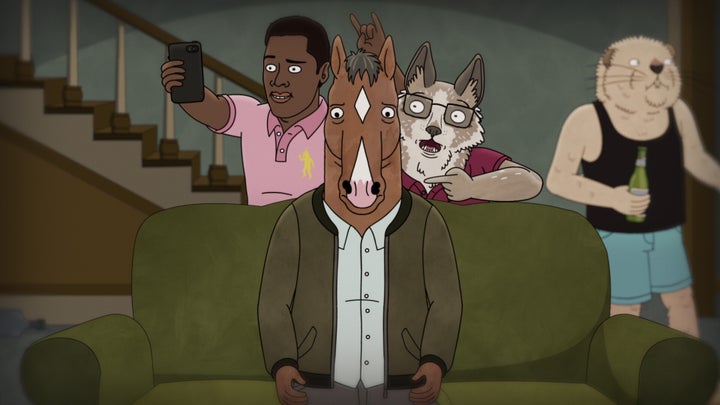 What's up: Netflix's "BoJack Horseman" is an animated comedy that focuses on a rich actor that ultimately can't outrun horrible misdeeds from his past. These final episodes feature the actor, BoJack, experiencing a complete comeuppance.
Netflix split the sixth and final season into two parts over 2019 and 2020. The company called this second batch "Part B".
"Part B" begins with snow falling onto the Wesleyan University campus. A sign advertising the school has a long joke that reads:
"MacArthur Fellows to the left of me, Nobel Laureates to the right, here I am, stuck in the Middletown with you." (Wesleyan is located in Middletown, Connecticut.)
BoJack has a voiceover amid shots of students playing on campus. "What is acting?" he says. The show transitions to BoJack, struggling to get dressed in "formal" teaching clothes. "Leaving everything behind and becoming something completely new," BoJack says. He does away with a tie.
The main voice cast includes Will Arnett, Alison Brie, Aaron Paul, Amy Sedaris and Paul F. Tompkins.
"BoJack Horseman," Season 6, Part B runs eight episodes of roughly 25 minutes each.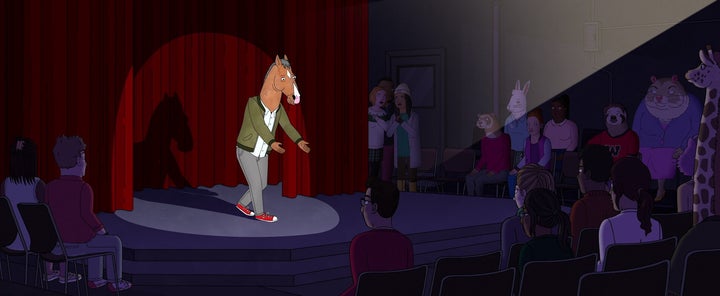 Sum-up: These last episodes of "BoJack Horseman" are the first must-watch show of 2020. (And I guess that means this is first great show of the 2020s.)
The series has spent its first five seasons dipping its toe in the water of existential reckoning. BoJack would get a toe (or a hoof) in and be able to take it out fast enough for nothing substantial to change. In these episodes, BoJack falls entirely into the pool, both figuratively and literally. The show's opening sequence (which has involved BoJack falling to the bottom of a pool since Season 1) always predicted this.
These episodes feature the world finally finding out who BoJack is as a person. That discovery ends up just as bad as BoJack always feared, as the world wants no part of his true self. But when he finally experiences punishment for his actions, that comeuppance also provides a path to new freedom and a potential new self.
Combining such a knotty journey with colorful animation and silly puns has always been this show's best feature. The conclusion untangles the knots and leaves a bare rope ready for a new story.
Heads up: The first half of Season 6 still feels like classic "BoJack," with zany hijinks taking place amid settings chock full of puns. These final episodes have a more muted tone as the series wraps up and BoJack's community crumbles.
That isn't to say these final episodes aren't funny. The show still attempts to have at least a few jokes every minute. The dark undertones of the show just become the overtones.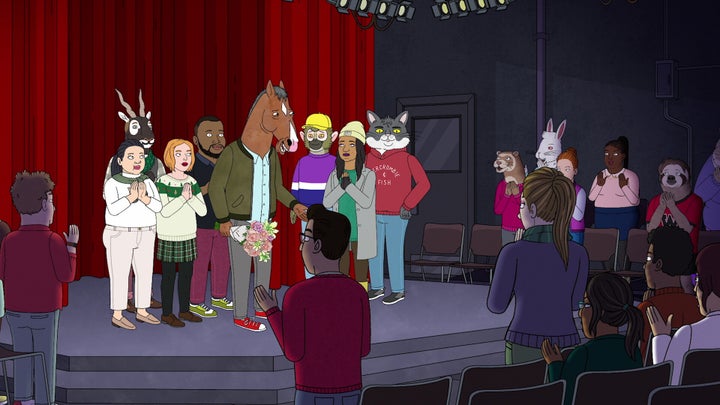 Close-up: In a scene that encapsulates the show as a whole, BoJack has to figure out the subject of an upcoming exposé about him. Put another way, he has to predict what terrible thing he did that will finally become common knowledge.
He holes up in a room with his closest friends and lists, ostensibly, all the terrible things he has done. It just so happens that outside the room, his acting students are partying and singing his praises.
Inside the room, the mood is tense as BoJack writes possibilities on a chalkboard. Throughout the scene, it becomes clear that BoJack isn't writing the most horrible things even at this moment. His friend Todd adds a couple of things that BoJack did to him onto the board, and BoJack doesn't even acknowledge it.
Eventually, the friends tease out that BoJack is even more horrible than they realized. Meanwhile, the students outside the room keep calling for BoJack to join the party.
BoJack's actions have made it impossible for him to have authentic friends. All he can hope to achieve is cultural admiration.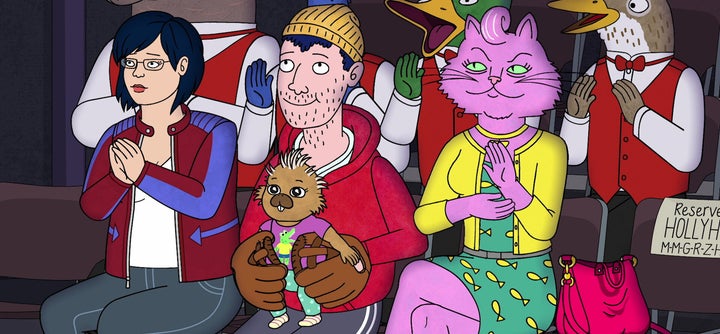 History: BoJack's fall from social grace in these final episodes borrow from multiple celebrity storylines, including Mel Gibson and Bill Cosby. One of the plotlines involves potentially scrubbing BoJack out of old episodes of his hit sitcom so the show could still make syndication money. The comedy site Clickhole made a similar joke in 2016, scrubbing Cosby out of part of an episode of his signature series:
Comparable stories: Never forget "Tuca & Bertie," which Netflix canceled after just one season last year. The person behind the visual aesthetic of "BoJack," Lisa Hanawalt, created that show using a similar artistic vibe.
"BoJack" created an original style of storytelling, making comparisons difficult. But if you're into the general story arc of a celebrated entertainment figure reckoning with his past art and life, perhaps you'd like the 2019 movie "Pain and Glory" starring Antonia Banderas and Penélope Cruz.
The characters and money: BoJack's careless behavior finally catches up to him in these final episodes. Although the bulk of the reckoning focuses on emotional and societal retribution, the show peppers in scenes of BoJack's accountant freaking out about his finances.
BoJack has to give up much of his material wealth due to various choices he made in his past. By the end of this story, he has to make sacrifices for the first time in decades.
Bonus: The YouTube channel Savage Books debuted a detailed breakdown of character arcs in "BoJack Horseman" earlier this week. This channel has gained tens of thousands of subscribers for its tips on writing craft. The new video does a masterful job of highlighting what makes "BoJack" work:
"BoJack Horseman," Season 6, Part B trailer:
A Couple Of Netflix News Stories From This Week
1. "The Crown" will end after five seasons, according to the show's own Twitter account. The show will have one more season with the current cast and then go through another time jump with a new cast.
2. Netflix renewed its deal with Adam Sandler, commissioning him and his Happy Madison Productions to make four more movies. Sandler has created over half-a-dozen projects for the service since the 2015 debut of "The Ridiculous 6." Crossed fingers, he uses some of this new money to fund another project with the Safdie brothers.
"Vir Das: For India" (Netflix Original)
"Country Strong"
"We Are Your Friends"
"Alex Fernández: El mejor comediante del mundo" (Netflix Original)
"Frères Ennemis" (Netflix Film)
"Next In Fashion" (Netflix Original)
"Night on Earth" (Netflix Documentary)
"Omniscient" (Netflix Original)
"Ainori Love Wagon: African Journey" (Netflix Original)
"Nighthawks"
"Raising Cain"
"The Stranger" (Netflix Original)
"37 Seconds" (Netflix Film)
"American Assassin"
"BoJack Horseman" (Season 6, Part B, Netflix Original)
"Diablero" (Season 2, Netflix Original)
"I AM A KILLER" (Season 2, Netflix Original)
"Luna Nera" (Netflix Original)
"Ragnarok" (Netflix Original)
Feb. 1
"A Bad Moms Christmas"
"A Little Princess"
"Back to the Future Part III"
"Blade Runner: The Final Cut"
"Center Stage"
"Cookie's Fortune"
"Dear John"
"The Dirty Dozen"
"Dirty Harry"
"Driving Miss Daisy"
"Elizabeth"
"Elizabeth: The Golden Age"
"Fools Rush In"
"Hancock"
"Love Jacked"
"The Notebook"
"The Other Guys"
"The Pianist"
"Police Academy"
"Police Academy 2: Their First Assignment"
"Police Academy 3: Back in Training"
"Police Academy 4: Citizens on Patrol"
"Police Academy 5: Assignment: Miami Beach"
"Police Academy 6: City Under Siege"
"Police Academy 7: Mission to Moscow"
"Purple Rain"
"Robin Hood: Prince of Thieves"
"Scary Movie 2"
"Sex and the City 2"

Popular in the Community