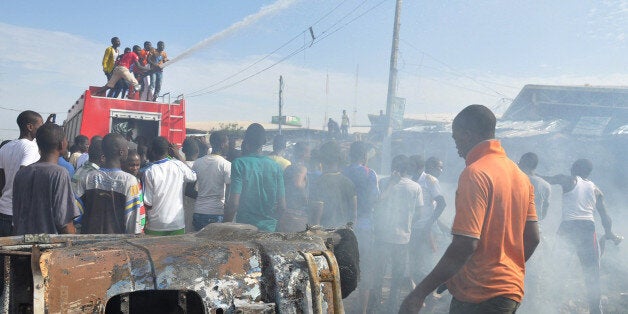 Every week, The WorldPost asks an expert to shed light on a topic making headlines around the world. Today, we speak with Elizabeth Pearson about Boko Haram's use of female suicide bombers.
Last Sunday, a small girl strapped with explosives killed herself and five others at a market in Potiskum, a town in northeast Nigeria. Witnesses said the girl looked about 7 years old. The week before that, a young woman blew herself up at a bus station in the nearby town of Damaturu, leaving at least 10 people dead. Witnesses said they thought the bomber looked about 16. Most of the casualties were children who had been begging nearby.
The bombings are widely believed to be the work of Boko Haram, the extremist group that is carrying out a brutal insurgency in northeast Nigeria and that last year kidnapped hundreds of schoolgirls in the town of Chibok. The group has stepped up its suicide attacks in the past year, particularly those involving girls and women.
The WorldPost discussed the rise in attacks with Elizabeth Pearson, a gender and radicalization researcher in defense studies at King's College London. She's also a member of the Nigeria Security Network and has written about female suicide bombers in Nigeria.
When did Boko Haram start using suicide bombers?
Boko Haram carried out its first suicide bombing fairly recently, in 2011. It was a significant development. Nigeria does not have a history of suicide bombing and suicide is not culturally accepted.
When did the group first use female suicide bombers?
The first female suicide bombing was reported in June last year, when a middle-aged woman blew herself up at army barracks in Gombe, northeast Nigeria. This was the first of a wave of suicide attacks by women and girls in Nigeria. There were six such attacks in six weeks.
Have the attacks continued at the same pace?
After the first wave in the summer, there was a brief lull, but since November there have been several attacks by female suicide bombers each month. In total, 27 women and girls have reportedly been involved in suicide attacks in the country. We're also still seeing suicide bombings by men.
The intensity of the attacks is striking in a global perspective. In 2014, Nigeria saw around 85 percent of all female suicide bombings around the world. Boko Haram has embraced this tactic with vigor.
What do you think motivates the group to use suicide bombers?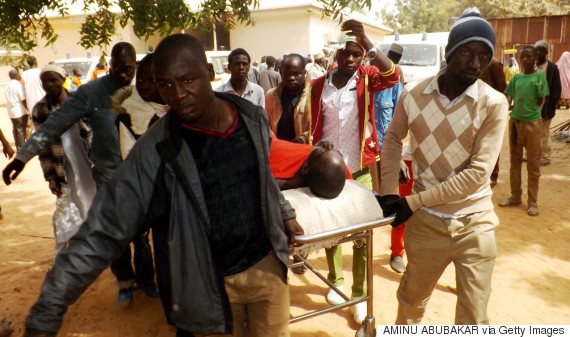 A man injured in a suicide blast is taken to hospital in Potiskum, Nigeria, Jan. 12, 2015. (AMINU ABUBAKAR/AFP/Getty Images)
Many analysts understood Boko Haram's first suicide attacks to indicate growing connections between Boko Haram and international Islamic militant groups. Recently, we've seen growing evidence of such connections, whether aspirational, ideological or financial. Some of Boko Haram's recent videos resemble the work of the media wing of ISIS [the Islamic State], and there have been reports of foreign-language-speaking militants in Nigeria.
Yet the use of female suicide bombers suggests Boko Haram will go out on a limb when it wants. Female suicide bombers and women on the battlefield in general are not advocated by al Qaeda-affiliated clerics. One exception was al Qaeda in Iraq under the leadership of Abu Musab al-Zarqawi [from 2004 to 2006].
One reason Boko Haram may have adopted this tactic is to capitalize on anxiety about the Chibok schoolgirls. The first wave of female suicide bomb attacks came a few months after Boko Haram kidnapped some 300 schoolgirls in April. The fate of the schoolgirls was a source of great fear and anxiety in Nigeria, and there was much speculation as to whether they were being used in suicide attacks. There's no evidence of this, but it generated a flurry of media attention.
Yet the use of female suicide bombers suggests Boko Haram will go out on a limb when it wants.
The reason why they began may not be the reason why they continue. The first female suicide bombings preceded a period of territorial expansion for the group. The attacks diverted security forces, allowing the group to capture several towns in northeast Nigeria. If something works, why give it up? Their ambition shows no sign of waning.
What do we know about the identity of the female bombers?
We often have little or conflicting information. It's a complex situation, compounded by a lack of access to the people and the area, and by unreliable local reports.
Further, a lot of attacks are not claimed by any group. Boko Haram is a loose movement, made up of different factions.
How are the girls and women recruited or coerced into carrying out attacks?
Recently, there have been some indications that families are involved in coercion. A 10-year-old girl who was arrested wearing a suicide vest last July was accompanied by her older sister and another older man. A 13-year-old girl arrested in December said she was coerced into carrying out a suicide attack by her father, who she described as a Boko Haram supporter. Another female suicide bomber last November was reportedly accompanied by two men, suggesting there may have been an element of doubt that she would go through with it.
It has been questioned whether we can even describe the children as suicide bombers. If you are 8 years old, you simply cannot provide consent to carrying out a suicide attack.
In conflict, women and men are vulnerable in different ways. Female suicide bombers may be mainly coerced, but we can't rule out that some women may be willing to participate in attacks. It's important that we should recognize that there are female supporters of Boko Haram. Although brutal, the group has a strong ideological message.
If you are 8 years old, you simply cannot provide consent to carrying out a suicide attack.
Does Boko Haram have a female wing?
The Nigerian military first reported last July that Boko Haram has a female wing. The military had just arrested three women who it said were recruiting women to the group to be spies or marry fighters. In August, authorities detained a man who they said was training a group of female suicide bombers. But there has been little news about these cases since.
But there are no signs of female fighters on the battlefield, for example, among the casualties. But women may play other roles, as they are often more able to evade authorities. In 2013, there were reports of women being arrested for smuggling weapons for Boko Haram. More recently there were arrests of male smugglers dressed as women.
Do you expect female suicide bombings to continue?
This tactic doesn't seem to be going away in 2015. Boko Haram does face the risk that using children as suicide bombers may end up alienating people. This is the gamble they take.
Many analysts suggested that Boko Haram's use of female suicide bombers was an indication of their weakness. Many groups resort to using women suicide bombers when they're under pressure. But Boko Haram did not seem desperate. Their campaign has only grown in intensity. I don't see the group facing a shortage of recruits. They pay people to fight, they force people to fight through threats and kidnappings, and they also have a support base. They only need more people as their ambition has grown.
This interview has been edited and condensed for clarity.
Related
Before You Go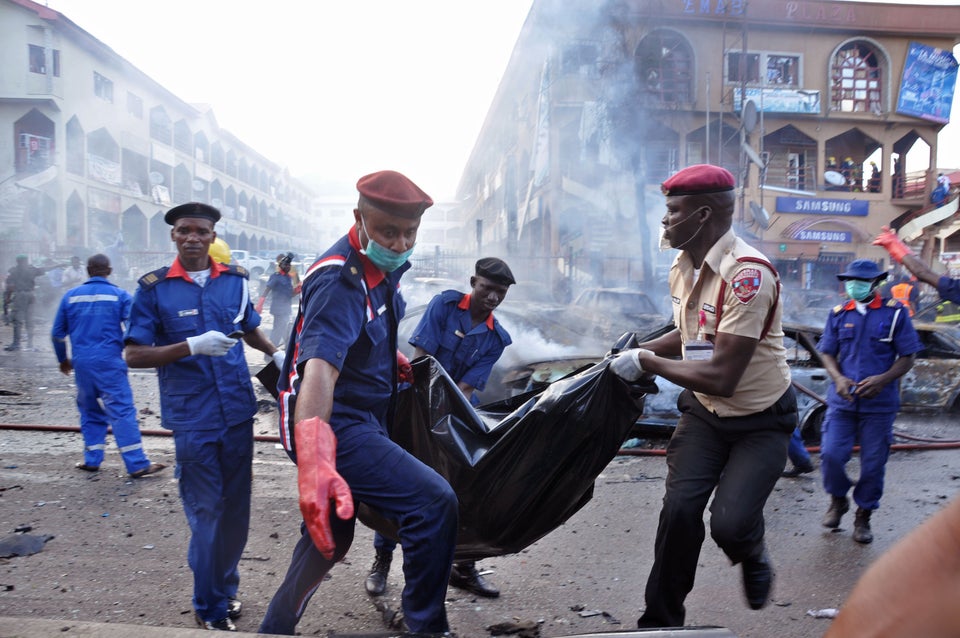 Bombing In Nigeria
Popular in the Community