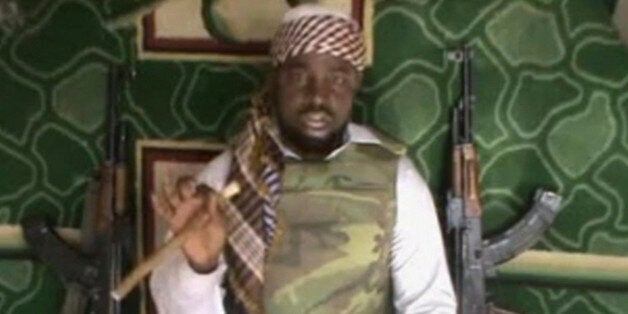 The name Abubakar Shekau may sound unfamiliar to those who are new to Nigerian politics, but the head of Boko Haram has been a terrifying fixture in West Africa for nearly half a decade. A shadowy figure, Shekau has a reputation for cheating death, escaping a mental asylum, and commanding a brutal insurrection against the government.
Shekau made headlines on Tuesday after a video emerged showing him railing against Christians and world leaders, while claiming responsibility for the abduction of more than 300 girls from a school in Northern Nigeria. The video has given a face to the terrorist group that has become the focus of international outrage, and the target of governments seeking the safe return of the abducted girls.
Shekau took over the leadership of Boko Haram from its founder Mohammed Yusuf, a popular preacher who wanted to install an Islamist state in Nigeria's north. In 2009, growing tensions between Boko Haram forces and Nigerian troops led to a brutal crackdown by the government in which over 1,000 people were killed. In the aftermath, Nigerian police reportedly carried out a series of extra-judicial killings. Mohammed Yusuf was reportedly still in handcuffs when he was shot.
As the Council on Foreign Relations notes, Yusuf's death caused Boko Haram to splinter and further radicalize and its members began to carry out a number of suicide bombings and assassinations. Authorities initially thought Shekau had been killed in the crackdown, but the militant soon started to reappear in videos posted on the internet.
Around the time of Shekau's apparent resurrection Boko Haram began to expand its campaign of terror. No longer just targeting security forces in the north, the International Crisis Group explains, the group now also attacked "security forces, government officials and politicians, Christians, critical Muslim clerics, traditional leaders, the UN presence, bars and schools." The violent shift under Shekau, coupled with his Osama bin Laden-esque videos, gave the new leader a notorious and villainous presence, even while facts about the man himself remained sparse.
The Man Behind The Terror
Little is known about Shekau, and the few details that have been reported have often been clouded by rumors. As Alex Preston notes in British GQ, Shekau is for example rumored to have escaped from a Federal Neuropsychiatric Hospital some time in the late nineties. A 2013 BBC profile of Shekau notes that the militant has not been seen in public since his alleged death, while a Nigerian journalist familiar with Shekau claimed the leader hardly talks, though "he is fearless."
Shekau has been speaking out in many videos released after attacks though, often cutting a swaggering, unhinged figure as he boasts of his exploits. It's part of a persona that the BBC describes as "part-intellectual, part-gangster," one that has led him to be "fondly called imam or leader by his followers." Shekau has styled himself as something of a spiritual leader, one whose legitimacy as commander is also based on his piety. His nickname is reportedly "Darul Tawheed," which the BBC translates to mean a specialist in a certain orthodox form of Islam.
As for specific biographical information, much remains opaque. The same profile reports that it's believed Shekau was born in northeast Nigeria, though it's unclear when, as "some say he is 35 or 36, others that he may be 44."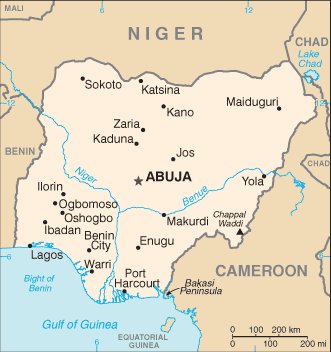 A basic map of Nigeria. Boko Haram is most active in the northeast.
How Much Power Does He Wield?
Shekau's hidden location and isolated status has led analysts from ICG to believe that the chief probably has little daily control over cells. Echoing that analysis, the BBC reports that it appears Shekau does not communicate directly with the group's foot soldiers but wields his power through a few select cell leaders. This type of networked structure, with few points of contact to the highest echelons, can be very hard to track down. It's notably a similar structure to the one of al-Qaeda, to which Shekau and Boko Haram are believed to have loose ties.
According to a U.S. Homeland Security report from 2013, Shekau has been as quick to violently quell dissent from within Boko Haram as he is from outside the group. The document cites a captured spokesman who relayed a story of how under the command of Shekau, "several of our members who denounced the violent struggle were slaughtered in front of their wives and children."
Furthermore, as Hayes Brown reports in his excellent piece at Think Progress, some experts claim that the Nigerian government's heavy handedness in combatting Boko Haram has had the opposite of the intended affect. Over the past few years the group has begun to operate with practical impunity in the country's northern regions and Shekau has remained in power, despite the U.S. having placing a $7 million dollar bounty on Shekau's head back in 2012.
Abubakar Shekau's rising profile and new notoriety may be, as Think Progress notes, something that he has aimed for since his takeover of the group, but as the world increasingly demands action it may also be his undoing.
Popular in the Community