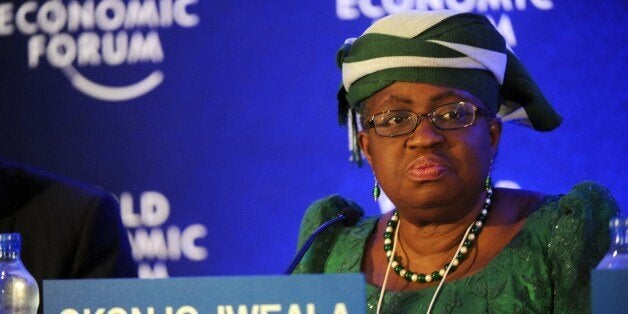 NEW YORK -- Schoolgirls in Nigeria are asking for measures as simple as electricity in schools to help protect them from kidnapping by Boko Haram, a Nigerian official said Wednesday.
Nigeria's economy minister Ngozi Okonjo-Iweala, who helped launch Nigeria's Safe Schools Initiative, told The WorldPost she was "stunned" when students told her their biggest security concern was the lack of 24-hour electricity.
When Boko Haram abducted the Chibok schoolgirls in April, they arrived at the school during the night and pretended to be Nigerian soldiers who were there to protect the students. Okonjo-Iweala said, "Maybe if there had been adequate light, they could have seen [the militants]."
"You'd think they'd ask for high walls and so on, but they said we want light so we can see who is moving around," she said.
The Safe Schools Initiative, which will launch a pilot program next week in 30 schools in northeastern Nigeria, seeks to forestall militant attacks by upgrading security in schools. It will start by "installing modern alarm systems and proper fencing, facilitating community participation in protecting the schools, and training security guards," according to a press release.
"What means safety and security to [the students] are those kind of basic things that are sometimes missing in the schools," Okonjo-Iweala said, mentioning that the initiative is also looking into security improvements such as solar panels, panic buttons and better toilet facilities for girls.
Okonjo-Iweala, a former World Bank managing director who has been widely lauded for anti-corruption efforts during her time in the Nigerian government, is launching the initiative along with U.N. Special Envoy for Global Education Gordon Brown and Nigerian business leaders.
But at least one critic, Nigerian journalist Karibu R. Anwar, has warned that that the initiative will be an "exercise in futility" if Nigeria's under-resourced military cannot effectively counter Boko Haram attacks. "It takes Boko Haram's improvised explosive devices and rocket propelled grenades only a few minutes to raze a school that takes us one year to rebuild," Anwar wrote on The WorldPost's blog on Monday.
The military also came under fire in the aftermath of the Chibok kidnapping after locals said they warned authorities about the impending attack but no troops came to protect the girls, a charge the army denied.
"Yes, military presence is crucial to help push back the [militant] advance but it is not the only thing. ... You've got to think about community awareness," Okonjo-Iweala responded. Many militants have been caught after villagers first spotted strangers in their midst, she said, adding that such early warning systems could help people run for shelter or call for help in advance.
Some 650,000 people have fled Boko Haram attacks in northeast Nigeria in the last year. The population of Maiduguri, the state capital of Borno, has more than doubled, and the government is trying to set up schools for children in the internally displaced camps, Okonjo-Iweala said. In areas that remain too dangerous for children to go to school, the government has offered to transfer students to boarding schools in safer towns, and more than 2,000 students have elected to transfer already, according to the minister.
The Chibok schoolgirls remain in captivity as the insurgency rages on. Okonjo-Iweala said the government was doing everything it could militarily and politically, but with the "maximum precaution" for the hostages' safety.
"People want the girls to come out alive," she said. "It's like your own child is lost and you can't sleep peacefully when you are thinking of this every day."
CLARIFICATION: Language has been amended to reflect that the school transfer process for students in the three affected states is entirely voluntary, and not selective. Language has also been changed to indicate that analysts do not ascribe Boko Haram's rise exclusively to poverty or government corruption.
Popular in the Community