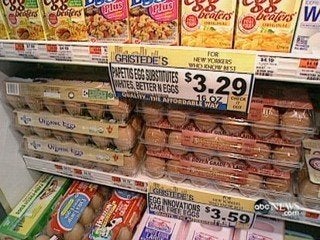 Decades ago the cereal market was dominated by two companies, Kellogg's and Post, but today the Kellogg Company is far ahead of their old competitor. Why? Bold thinking and action when it really mattered during the 1930s depression paved the way for their dominance. There is a very contemporary lesson for all business people in their story.
I became curious about cereal magnate Will Keith Kellogg (1860-1951) because on the interstate 10 drive between Los Angeles and Palm Springs I've often seen a "Kellogg Hill" road sign. It turns out to be near property that was a ranch once owned by the pioneering businessman and indeed the hill was named after him. In 1925, Kellogg purchased a 377 acre ranch in Pomona, California which grew to 750 acres over the next 7 years. In 1932, he donated the ranch to the University of California system.
These days I have too many conversations with executives working for large and medium sized companies who can only talk about cut backs and shrinking budgets. Of course everyone wants to save money these days, but that may not be the key to saving your business. There seems to be a noticeable lack of forward vision regarding how to build a dominant position or even increase market share in these doubtful times. In our busy little business hearts we know that cutting your way to prosperity is impossible. Slashing everything may lead to survival but just surviving is not why anyone starts a business.
The business saga of the breakfast food titans, Mr. Kellogg and his rival C. W. Post, is a fascinating and instructive story. It was over a hundred years ago that Battle Creek, Michigan became ground zero for cereal production when Kellogg and his brother, Dr. John Harvey Kellogg (1852-1943), discovered how to toast a corn mixture into corn flakes. Harvey Kellogg managed a sanitarium and W. K came to work with him promoting the idea that grains and vegetables were healthier foods than animal proteins. That was the atmosphere that spawned the birth of wheat flakes, corn flakes, and other concoctions that became the basis for the cereals that you and I grew up eating. It was a small business that went through a pretty full set of the classic business misadventures. They included a feud between the brothers that ripped them apart, betrayals, and other stresses that would make anyone want a healthier diet.
The plot really began to thicken like good oatmeal when Charles W. Post arrived on the scene in Battle Creek and the town's name proved prophetic. In the late 19th Century there were over 40 companies attempting to copy the breakfast food success of the Kellogg brothers. One that did well was the C.W.Post Co., organized in 1895. Mr. Post had gone to Battle Creek in a wheel-chair to be a patient in Dr. Kellogg's sanitarium. Cured of his ailments, he remained to make millions out of pre-cooked foods. W.K. Kellogg insisted that Post had simply ripped off their manufacturing techniques and secrets. He certainly did seem to walk the path already established by the feuding Kelloggs, but his talent for advertising made Postum a popular national drink in campaigns that warned drinking coffee was dangerous to health. He also promoted Post Toasties until his product nearly rivaled the Kellogg's Corn Flakes. Then he bought the rights to Grape-Nuts from a small company and made it an international favorite.
The foods may have been healthy, but there was very bad blood between Post and Kellogg. The competition was bitter. Post employees would not associate with Kellogg workers, and for years the semi professional baseball teams maintained by each company could not play against each other because police feared rioting.
It is when the great depression sapped the resources, vision, and the will of many businesses that W.K. Kellogg got his revenge on Post. Kellogg made an unprecedented move as the United States sank into the Great Depression. Instead of cutting back, he doubled his advertising spending - and Kellogg cereal sales increased. In response to the hard times created by the Depression, Mr. Kellogg reduced the hours of the three plant shifts and created a fourth shift, spreading the payroll among more workers. Declaring, "I'll invest my money in people," in 1930, Mr. Kellogg founded the W.K. Kellogg Foundation which bought the California land near Pomona. He also kept pushing and investing to develop the nutritional quality of Kellogg's products. Kellogg's® Pep became the first cereal fortified with vitamins through the "spray" method. Kellogg also instigated new marketing partnerships by sponsoring "The Singing Lady -- Irene Wicker," the nation's first radio network program for children, and the "Howie Wing" radio show, based on the adventures of a young aviator.
That was the bold strategy that lifted Kellogg's cereals above those of Post to dominate the American market. After Post's death, his company joined the Jell-O Company in the first of a series of mergers which led to the development of the General Foods Corp.
The Kellogg's Company, still headquartered in Battle Creek, Michigan, became the world's largest producer of cereals with annual sales over nine billion dollars. Their flagship product is still the venerable Corn Flakes but also includes such famous brands as Rice Krispies, Frosted Flakes, and Special K among others. Additional food lines include Keebler, Pop Tarts, Eggo, and Nutri-Grain.
There are plenty of reasons why it is easy to be afraid at all levels of business today. The safe and predictable course of the past several decades seems a lot less secure and a lot more slippery right now. The lesson here is that it is in times like the present that great business minds reveal themselves by taking bold action. Your ambitions and values have to guide you past the chaos that we can all see. We've just come out of an easy period when average actions could get noteworthy results on a balance sheet. That was an aberration and now gravity has done its work by imposing the fundamental rules of business once again. I think that the Austrian philosopher, Goethe, said it best: "Boldness has genius, power and magic to it." Where do you want your business to be after this harsh recession and how bold do you plan to be in achieving that goal?
Visit www.MakingItTV.com for more resources pertaining to small business and entrepreneurs.

REAL LIFE. REAL NEWS. REAL VOICES.
Help us tell more of the stories that matter from voices that too often remain unheard.