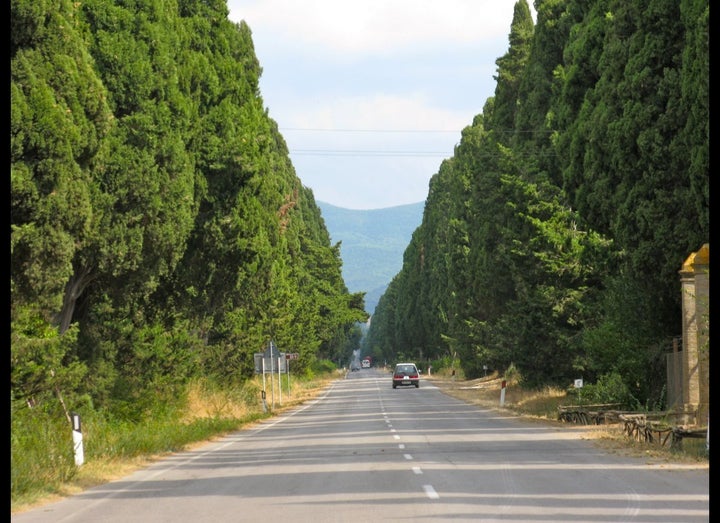 "All of the flavors that we use in our gelato are completely natural, and they're sourced within a five kilometer radius of where we're standing." Her posh British accent turned mischievous as Anne Zwack added another scoop to the already precariously stacked cup. "You simply must try the hazelnut chocolate gianduja," as yet another scoop topped the leaning tower of ice cream.
Caffé della Posta is the bustling nerve center of the small village of Bolgheri, and Anne and Peter Zwack are the neurons that sparked it back to life. Once an abandoned and shuttered post office, the café has become the spot where visitors and locals alike -- some on horseback -- stop in for their daily espresso, light lunch, gossip, newspapers and, of course, delicious homemade gelato.
Bolgheri should really be called Super Tuscany: It is, after all, home to the Super Tuscans (which are made with international grape varieties such as Cabernet Sauvignon, Merlot and Syrah) and unlike its better-known neighbor to the east, where the only red wine you are likely to find is Sangiovese, Bolgheri is a five-minute drive away from the beaches of the Mediterranean. Two of the best-known Super Tuscans are Ornellaia and Sassicaia. Tenuta San Guido, the home of Sassicaia, guards the entrance to the Via Bolgherese, also known locally as the Cypress Avenue for the stately trees which guide visitors to the ancient town gates. Tenuta Dell'Ornellaia is a short distance away from this famed road, and most discussions of Super Tuscans begin and end with these two well-known names.
Still under the same sun but a bit to the west, we recently shared a gorgeously renovated but charmingly rustic villa in the "other Tuscany" with our friends Chris and Latice. Known to lovers of fine Italian wine, the coastal region of the Maremma is studded with amazing wineries. Normally, Tuscany is overrun with tourists in the summer, and some of them do venture towards the sea, but now that September is upon us, the restaurants, wine bars, wineries and winding roads of D.O.C. Bolgheri will belong only to you and to small trucks bringing grapes from vineyard to winery. If you're the kind of person who can't relax on vacation unless you soak up some culture, you can rest easy knowing that the treasures of Florence are a 90 minute drive away.
The high stone medieval walls of this tiny village contain many treasures of their own, such as Entoteca Tognoni, where you can pass an entire afternoon sampling a few glasses of the local wines served with an overfilled board of local salami and prosciutto. In this case, "local wines" translates as the aforementioned Ornellaia and Sassicaia, along with other standouts such as Folonari's Campo al Mare, Antinori's Solaia and Tenuta Argentieri's Bolgheri Superiore -- whose name pretty much sums up residents feelings about the place.
Plan to eat dinner in town at least two nights, as you will be hard pressed to choose between Restaurant Osvaldo, where we enjoyed delicate spiedini alla rosmarino that we are still raving about, and neighboring Osteria Magona. The chefs here buy their meat from Dario Cecchini, the famed Tuscan butcher who recites Dante while working, and locals swear that you can actually taste his poetry in the meat. Although this and every restaurant in town has a sensational winelist, Cinzia Merli, the owner of Le Macchiole, was right when she told us to bring along the extra open bottles of her Messorio and Scrio to enjoy alongside our bistecca.
Be sure to save time -- and room -- for lunch at Osteria San Guido, where fresh pappardelle with wild boar ragu is a delight to the taste buds, and slices of grilled porterhouse with just a sprinkling of sea salt are a carnivore's dream. Whatever your budget, Tenuta San Guido has a perfect wine for you, from the entry level Le Difese, the midrange Guidalberto and the top end Sassicaia, which we enjoyed so much with our porterhouse that we made room in our luggage to squeeze in a few bottles of the 2009 to savor for years to come.
One of the joys of traveling through Italy is the availability of rental villas, and if you're lucky you can wrangle a few like-minded friends to go in on one. Besides dining in high end restaurants set in centuries-old stone buildings, you can enjoy the bounty of local vegetable stalls, butchers, fish markets and wine shops and enjoy communal meals together at home. Load a couple of your favorite cookbooks and cooking magazines onto your iPad before you go, or get your inspiration while shopping and search for recipes on the fly.
When you're ready to relax on the beach, head for La Pineta, named for the vast pine forest that stops at the sand's edge. If you need to burn off some of those excess carbs, grab a bicycle and get there under your own power -- there's hardly anybody else on the road anyway, and these world-class vineyards are best appreciated as you glide along through gently rolling hills somewhere between Super Tuscany and the post-summer Mediterranean.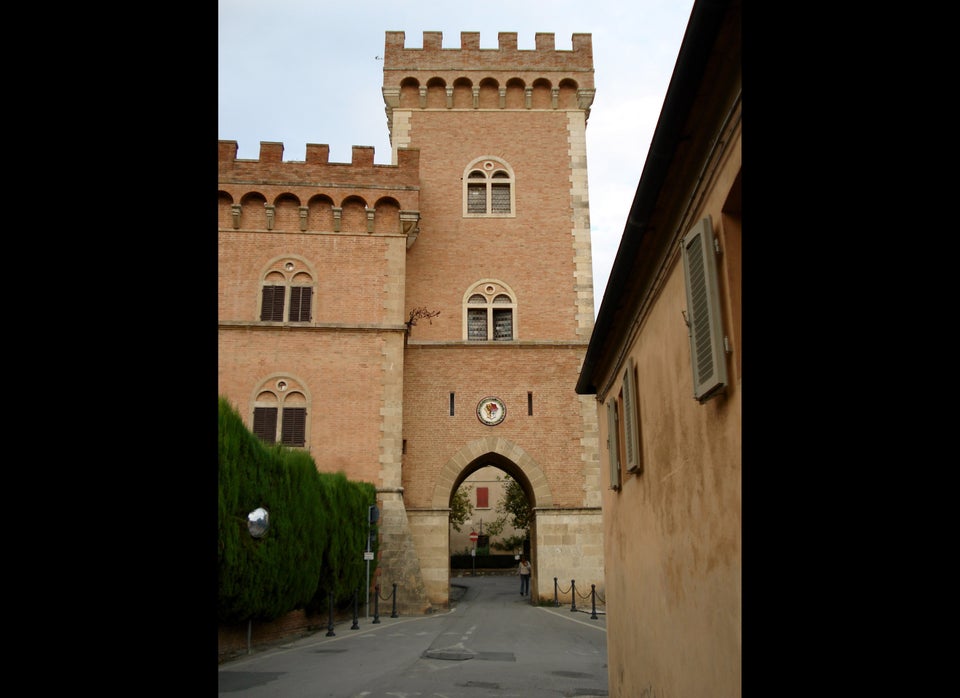 Bolgheri: The Other Tuscany