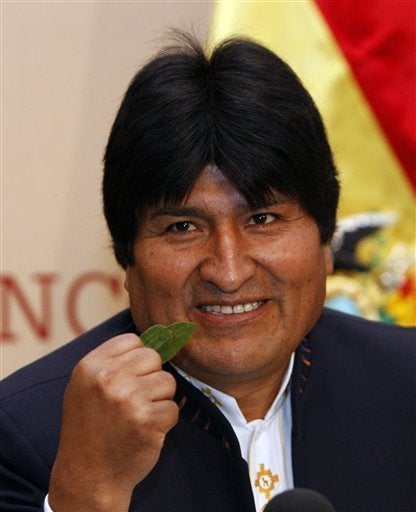 Evo Morales isn't afraid to practice what he preaches. The Bolivian president, an outspoken proponent of coca, the leaf used to make cocaine, brought a baggie with him to a United Nations meeting in Vienna, Austria, Wednesday and chewed away in front of the assembled ministers.
Kris Krane, executive director of Students for Sensible Drug Policy, was in an overflow room watching the speech and IMed the Huffington Post an account of the coca-chewing.
"The reaction was mostly positive," said Krane. "Lots of clapping, some snickers and laughter."
Morales ejected the U.S. Drug Enforcement Administration from Bolivia in November and the U.S. has since responded by declaring Bolivia in violation of drug treaty obligations.
Morales was speaking at a meeting of the U.N. Committee on Narcotic Drugs, which is drafting a ten-year narcotics strategyand taking input from nongovernmental organizations. Morales urged the delegation, said Krane, who took notes, to correct the "historical mistake" that had banned coca.
He held up a leaf and declared it not to be harmful. He chews it regularly, he said, but is not addicted. To demonstrate, he put the leaf in his mouth and began chewing. He then pulled out a second leaf to another round of laughter, held it up, and continued his speech.
Chewing coca, often mixed with a dash of baking soda, numbs the stomach and reduces hunger. It is also popular with laborers and gives a boost similar to caffeine.
"This is a coca leaf. This is not cocaine," Morales said. "This represents the culture of indigenous people of the Andean region."

Popular in the Community