This weekend, Hindus all over the world will celebrate Diwali, the Indian New Year signifying the triumph of good over evil. Also this weekend, Bollywood action star Ajay Devgn will celebrate the release of his most ambitious project to date - "Shivaay" - a film in which he has a triple role... producer, director and lead actor.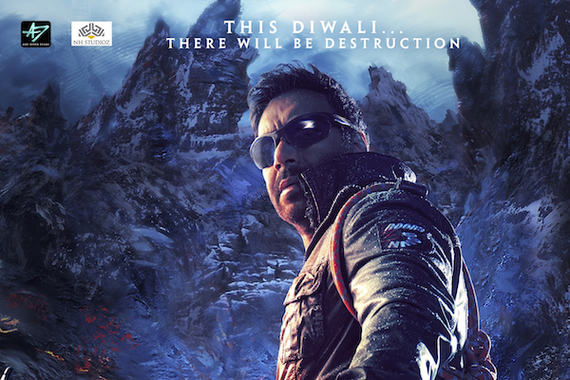 "Shivaay" theatrical poster. Photo: Ajay Devgn FFilms.
At a press conference to promote "Shivaay" in New York City last month, Devgn, along with actress wife Kajol (who was last in the Big Apple in 2015 with megastar Shah Rukh Khan to promote their highly-anticipated, but mostly-disappointing, film "Dilwale"), talked candidly about the two-plus-year journey they have embarked on to complete this film. "He has missed family dinners, vacations and precious moments at home because he has been consumed with this project," says Kajol.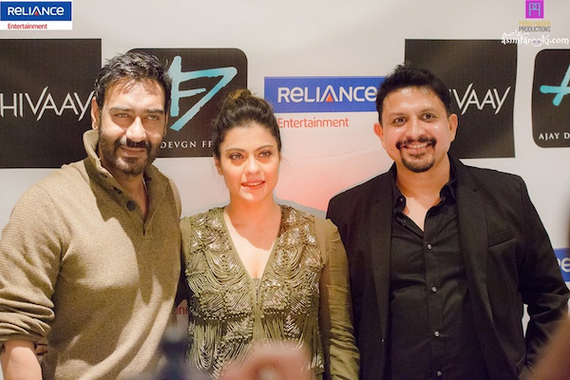 Press Con PhotoAjay Devgn, Kajol and U.S. Head of Reliance Entertainment,
Sumit Chadha, at Taj Pierre press conference in Manhattan.
Photo: Asim Farooki.
I had a chance to sit down with Devgn on the patio of his Taj Pierre presidential suite overlooking Central Park, where he confessed: "I have poured my blood, sweat and tears, literally, into this film. At one point, we were in such cold temperatures while shooting in Bulgaria that I got hypothermia. And because my father (Veeru Devgan) is a well-known stunts director in the industry, the action sequences in this film had to be just perfect. In fact, we hired teams from five different countries to collaboratively work on the Hollywood-caliber effects you will witness in this movie."
You would think that because of the title, the film is based on the life of the Hindu God, Lord Shiva, but that is not the case at all. Devgn says that "of all the Hindu Gods and Goddesses, Shiva is the most imperfect, and my character in this film shares similar traits as the deity. He is easily tricked, easy to get angry and easy to react in a dramatic way. Other than that, the plot has nothing to do with the life of Lord Shiva."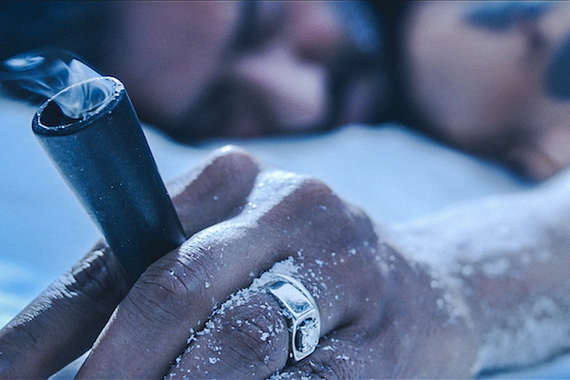 Ajay Devgn, as actor, producer and director of "Shivaay."
Photo: Ajay Devgn FFilms.
The "emotional drama," as Devgn describes his film, stars newcomers Sayyeshaa Saigal and Erika Kaar, along with child actor Abigail Eames (who "stole the crew's heart"). The first trailer of the film, which was released in early September, has already surpassed more than 25 million views on You Tube and social media, which is quite a feat for a Bollywood film. Even Devgn's Hollywood counterparts have called and tweeted to congratulate him on the success of the teaser. "I was elated, and I wanted to share my passion project with my fans in America, where I have not been in over a decade because I've just been lazy."
Produced by Ajay Devgn FFilms, Pen India Limited and NH Studioz, "Shivaay" is distributed overseas by Reliance Entertainment, and the three-city press tour was sponsored by Wells Fargo. The film releases in North America on Friday, October 28th on 154 screens. Check local listings to find a theater near you, and click HERE to see the trailer. This Diwali, the world will watch and determine if good truly triumphs over evil in Devgn's second directorial venture.
Popular in the Community