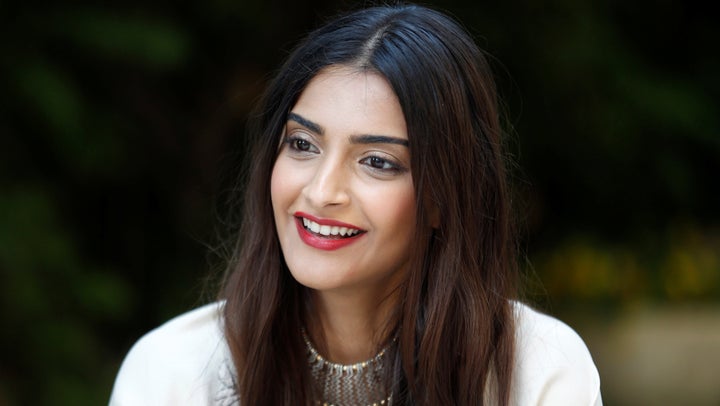 Sonam Kapoor didn't "wake up like this" and she wants everyone to know it.
On Wednesday, the 31-year-old Indian actress published an essay on BuzzFeed debunking the myth that female celebrities are naturally flawless. In the famous words of Beyoncé's ***Flawless, Kapoor unequivocally writes that no, she does not look red-carpet ready when she get out of bed in the morning. It takes an entire team of makeup artists, stylists and sometimes photo editors to make the star look flawless every day.  
"For every teen girl leaning into her bedroom mirror, wondering why she doesn't look like a celebrity: Please know that nobody wakes up like this. Not me. Not any other actress. (Not even Beyoncé. I swear.)," Kapoor wrote. "... It takes an army, a lot of money, and an incredible amount of time to make a female celebrity look the way she does when you see her. It isn't realistic, and it isn't anything to aspire to."
Kapoor, who was born in a suburb outside of Mumbai, is the daughter of Bollywood actor Anil Kapoor. Her career took off after starring in the 2013 film "Raanjhanaa" and is now one of the highest paid actresses in the Indian film industry 
She described dealing with a lot of body image issues as a young girl, which led to "an unhealthy relationship with food." She obsessively dieted and sometimes even starved herself for an entire day to lose a few pounds. 
Think of how much better your day is when it starts with a compliment. Think of how easy it is to give that to someone else. Do it every chance you get
"We've been taught that women need to be flawless even when our flawlessness is wildly implausible, sexy even when our sexiness is a break from plot," Kapoor wrote. "We're sprinting through Jurassic Park in heels, fighting super villains in strapless corsets, being stranded on deserted islands for days without a hint of stubble. Real female bodies are so taboo that hair-removal-cream ads show hairless legs even before the cream is applied."
The thing that keeps Kapoor grounded is the women in her life. 
"All the women who've championed me have taught me that kind, genuine support can change your friend's or sister's or colleague's life," she wrote. "Think of how much better your day is when it starts with a compliment. Think of how easy it is to give that to someone else. Do it every chance you get." 
The Bollywood actress described all the women in her life who have made her feel beautiful just the way she is. From her makeup artist to her sister ― Kapoor writes that these are the women who have taught her that kindness and sisterhood goes such a long way. 
Now, Kapoor writes, she realizes that our imperfections are what makes each of us beautiful in our own way. "I know now that there's nothing wrong with stretch marks, cellulite, or scars. They're markers of our growth," she wrote. "There's beauty in their realness." 
Head over to BuzzFeed to read Kapoor's full essay.  
REAL LIFE. REAL NEWS. REAL VOICES.
Help us tell more of the stories that matter from voices that too often remain unheard.
BEFORE YOU GO
PHOTO GALLERY
Refinery29's 67% Body Image Project