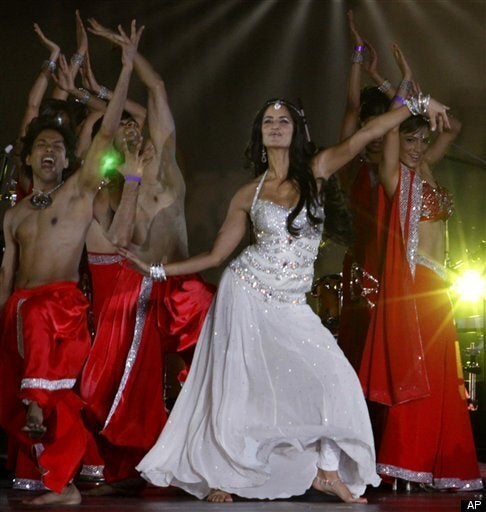 INDIPEPAL I Deepika Hariani
Bollywood movies are taking on a distinctly international flavor, especially when it comes to their female actors. A bevy of new faces, from countries as diverse as Brazil, Mexico, the United States and Sri Lanka, are appearing in big budget Indian movies, adding more marketing leverage to an industry already over-run by promotional gimmicks.
Moving to Center StageThis trend can be traced back a couple of years, when an increasing number of back-up dancers in Bollywood's musical sequences were from Western countries like Russia and the United States, fulfilling India's post-colonial fascination with the fair-skinned, fair-haired girl. This trend has now moved to the forefront of mainstream cinema, with Hollywood actor Denise Richards making a much-hyped appearance in the recent Kambakth Ishq, and Kylie Minogue performing a song-and-dance sequence for the upcoming big-budget movie, Blue, for which she was reportedly paid $1 million, making her the highest paid international star in Bollywood.
International AspirationsBut more than established artists, Bollywood is attracting newcomers who, hoping to make it big have come far from home. Jacqueline Fernandez from Sri Lanka will star in the upcoming Aladin with superstar Amitabh Bachchan, Mexican Barbara Mori will make her debut opposite one of Bollywood's most successful actors, Hrithik Roshan, in Kites, and Japanese import Chigusa Takaku will appear in The Japanese Wife. French actresses Luchiya Cats and Claudia Cielse, as well as Brazilian model Bruna Abdullah are also scoring Hindi movies.Most recently, another Brazilian model-turned-actress Giselle Monterio was cast opposite a accomplished actor, Saif Ali Khan in the romantic comedy Love Aaj Kal, where she played the improbable role of a rural Indian girl, without having any knowledge of the culture or language. And surprisingly, she pulled it off convincingly.
Movies: The New Melting Pot?It seems that in Bollywood, the ultimate land of illusion, barriers of language, culture, and even swelteringly different climatic conditions can be dismissed in a jiffy. A perfect example of this phenomena is Katrina Kaif, a half Indian, half British girl who came to India with no connections and no Hindi language skills, but who in a handful of years has become one of the highest paid actresses in the industry. She is a beacon of hope for other international aspirants. Indira Verma, who acted in Gurinder Chadha's Bride and Prejudice, a British-Indian crossover film, claims that she too has Bollywood ambitions. The half-Indian, half-Swiss actor told a daily here that "if Katrina can do Bollywood films, I don't think it's too late for me either."
One-off success stories like Katrina's notwithstanding, whether or not Indian audiences will accept these international faces is yet to be determined. But this current crop of global girls, with their stunning looks, great figures, and sharp ambitions, are sure to give Indian leading ladies a run for their money.
For more stories from Indipepal click here
Related
Popular in the Community