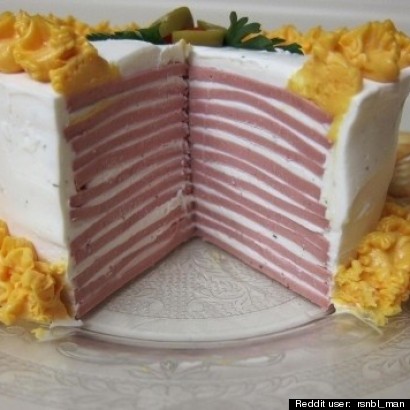 Yes, it is exactly what it sounds and looks like. It's a "cake" made of bologna. And because we know you're curious, the "frosting" on this cake is cream cheese that has been flavored with ranch powder. Intense, we know. But it doesn't stop there. The decorations are made with Cheez Whiz and of course some jarred olives top it off. This savory cake is a cake like no other -- the crowning jewel of processed foods.
While just the sight of it is enough to make us reach for a Tums (or five), we can't help but wonder if we'd secretly love it in a McDonald's hash brown kind of way. Pickle roll ups are similar to this creation, and they're awesome. Come party time, we might just have to give this bologna cake recipe a try. What's your take on bologna cake? Love it or hate it?
Check out these other scary recipes.