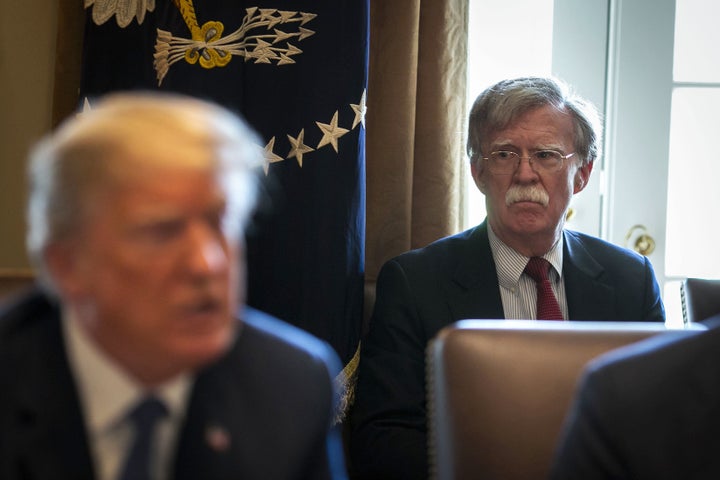 WASHINGTON ― John Bolton began his first day as President Donald Trump's third national security adviser ahead of schedule after a top aide to Bolton's predecessor departed over the weekend in an apparent crackdown on suspected "leakers."
National Security Council spokesman Michael Anton announced his exit for a lecturing and writing job at a small Christian college on Sunday, a day before Bolton started as head of the council.
Bolton insisted on the departure in a lunch meeting last week with Trump's previous national security adviser, Army Lt. Gen. H.R. McMaster, according to a Republican close to the White House. Other changes are likely to follow, the source said, with Bolton expected to purge staff in order to bring in others more loyal to him, as well as to carry out a top priority for Trump: ridding the NSC of those suspected of "leaking" information to the news media.
Anton, the source added, was the likeliest source of one of the most humiliating leaks for Trump in recent weeks: the disclosure to The Washington Post that Trump had specifically been warned, in all capital letters, "DO NOT CONGRATULATE" Vladimir Putin on securing another term as Russia's president. That warning came prior to a phone call with the Russian leader following an election that was widely criticized as illegitimate. Trump congratulated him anyway.
Anton could not be reached for comment. Queries to his White House email address and phone number went unanswered.
The White House disputed the idea that Anton's departure was a condition of Bolton taking the job or even that Bolton had wanted him gone by the time he began his job on Monday.
A White House official who spoke on the condition of anonymity said Anton's resignation was based on a "reasonable" assumption that Bolton would want to bring in his own team at the NSC. Anton, the official said, had been looking for a new job for some months, starting about the time Trump began making clear that he was unhappy with McMaster.
The official even more emphatically denied that Anton leaked the now-infamous "DO NOT CONGRATULATE" instruction, calling that allegation "definitely not true."
Bolton, 69, is now the third national security adviser to serve under Trump since the president took office 15 months ago. The first, retired Army Gen. Michael Flynn, left after a month because of his lies to federal investigators in the Russia probe. He has since pleaded guilty.
McMaster, who plans to retire from the Army this summer, lasted a year, but his traditional foreign policy views that included a hard line against Russian expansionism clashed with Trump's more Putin-friendly approach.
Bolton last served in government as United Nations ambassador under President George W. Bush. A veteran of the State and Justice departments, Bolton became known for his readiness to undermine co-workers who disagreed with his interventionist foreign policy views. The animosity was such that fellow State Department officials testified against Bolton at his confirmation hearing for the ambassadorship. Bolton did not win Senate confirmation and took the job in a recess appointment.
Bolton had been considered for a Trump administration position during the transition, but ultimately did not join then. One of the reasons, reportedly, was that Trump did not like Bolton's large, bushy mustache. But in the past year, Bolton has been among the loudest pro-Trump voices on Fox News, which Trump frequently watches and on which he bases many of his policy views.
Anton also worked in the George W. Bush administration, but later came to view some of Bush's foreign policy efforts ― such as the invasion and occupation of Iraq ― as misguided failures. He became an anonymous but vocal Trump supporter during the 2016 campaign, famously writing in one essay that supporting Democratic nominee Hillary Clinton was akin to playing Russian roulette with a semiautomatic, while supporting Trump offered the country at least a small chance of survival.
Calling all HuffPost superfans!
Sign up for membership to become a founding member and help shape HuffPost's next chapter