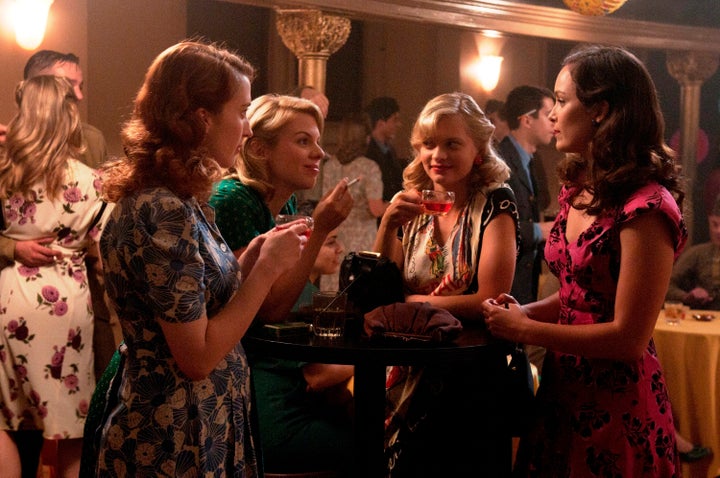 Visiting the "Bomb Girls" set is like being transported back to the early '40s. The six-part miniseries, which revolves around the dedicated Canadian women who stepped up to work in a munitions factory during World War II, is shot in Toronto, and has the look and feel of a "Mad Men" - "Pan Am" hybrid. Naturally, the producers took special care to capture the war vibe of the '40s, and the intricate details will be impossible to miss when the miniseries premieres on January 4 at 8 p.m. on Global TV.
Meet the Bomb SquadRather than stand idly by while their brothers, fathers, husbands and fiances risked everything to fight in World War II, some Canadian women assumed roles that were previously taboo -- creating munitions for the war efforts overseas. "Bomb Girls" follows the journey of five of those remarkable women. Lead actors Meg Tilly ("Road to Avonlea," "The Big Chill") and Jodi Balfour ("V," "Sanctuary") spoke exclusively about their respective characters.
"I play Gladys, who represents the upper class," explains Balfour. "Most of the characters come from middle or lower class. Our whole family is part of the social elite because of our financial standing. What drew me to her is that despite [her wealth], she's a really colourful, layered character, really fleshed out. The awesome part about Gladys is she takes herself on an exploratory journey, trying to understand what her role in the world might be and where she can find purpose. She's tired of her squeaky-clean existence and wants to feel some grit."
"Lorna is 42 and has three children," reveals Tilly. "As a mother myself, this character was very compelling to me. She's had a tough life -- two of Lorna's sons are overseas, her husband fought in the first war and her daughter works as a nurse in the hospital. Lorna's also shift matron. Fate has thrown her a few challenges and she's dealt with them the best way she can. She shows this strong woman to people, but underneath, she's complex. She tries to walk right and do what's right, but she falls down like everybody does."
Taking ChargeUnfortunately, being thrust into a new role with power can have consequences as well.
"I think it's been very hard for Lorna because when she started here, she worked on the line and was one of the girls," offers Tilly. "But she's been elevated to shift matron so she's the one who keeps the girls in line, says 'Tuck your hair in,' 'Move along' or 'Quit talking.' It's good because her husband hasn't been able to bring in much money at all. She needs this money. It's a time of change for her. She has to be strict with the girls, because that's her job. But she stands up for the girls to her boss and they have no idea what Lorna does for them, how she's fiercely protective of them, the lengths she goes to try and keep them safe. They don't know; they see a bitch."
Article Continues Below Video!
Some Male PerspectiveThe factory isn't just one big sorority, though. Some men stayed behind to do their part and one of those guys, Marco (played by Antonio Cupo), had worked with pyrotechnics before.
"Marco battles Italian stereotypes all the time," says Cupo. "One of his big concerns is what drives him. He wants to fit in, he wants to be like other Canadians. He is Canadian. That's what makes him tick."
"He's happy to be working in a bomb factory," he continues. "At the same time, Marco is supporting his family and taking care of the business while his father is away."
History LessonDespite the importance of these courageous women, their story is relatively unknown to the greater population (that will all change after "Bomb Girls," of course). Like most of us, before she read the script, Tilly was unaware of these women and their contributions.
"No, I had absolutely no idea about them, so I was surprised," admits Tilly. "When I told my friend Donna about the role, she said her great aunt and grandmother both worked in bomb factories. Another friend of mine who helped me with my garden said her mother and aunts worked there, too. Once it was decided I was going to do the show, I did more and more research on it and it's really quite fascinating. It's huge what Canada contributed to this."
From the Mouth of Real Bomb GirlsObviously, the safest and more direct approach to get any information is go straight to the source. Luckily, Balfour managed to track down some former "bomb girls" and get a first-hand account of their incredible lives.
"Funny enough, a family friend of ours, his mom was a bomb girl," explains Balfour. "She's British, came over here and married a Canadian. It was the same experience working in a factory in England. It was really enlightening for me. When I spoke to her, I had already done a lot of my own research and had read a lot of books. We spoke about the everyday reality of it and what can easily be misconstrued as romantic or exciting. It was actually more of a daily grind than we think. For a lot of the women, especially the ones I spoke to, it was just a job for them. It was very risky and it was wonderful working with a group of women. There was also camaraderie. Really, it was a 9-to-5 job, on your feet, all day."
Take A Time WarpFor "Bomb Girls," production obviously took painstaking effort to bring the period piece to life. The set featured bombs on conveyer belts, shells, the foreman's office and a mandatory shower-and-change room, where the women were required to leave metal shoes with nails in them. Close by was the hospital equipped with bedpans, bandages, medicine bottles, clipboards and rows of beds for when some of the characters have accidents in the factory. Also around the corner was a rooming house the girls lived in, complete with an old tub, laundry basin, tables and female undergarments hanging from clotheslines. A fascinating detail are some of the replicated and authentic posters displaying "Let's Go Canada," "Attack on All Fronts," and even one for the Canadian Red Cross.
"Every day when we walk onto set, especially when it's a new set, or I have a new outfit to put on, I'm blown away," comments Balfour. "It's continual. The whole art department has done such an incredible job at recreating what it felt like to live in that time. It does such an enormous amount to help us feel transported back then. Stepping into the clothes of the character, or stepping into the rooming house where these women lived, is so dreamlike."
Article Continues After Slideshow!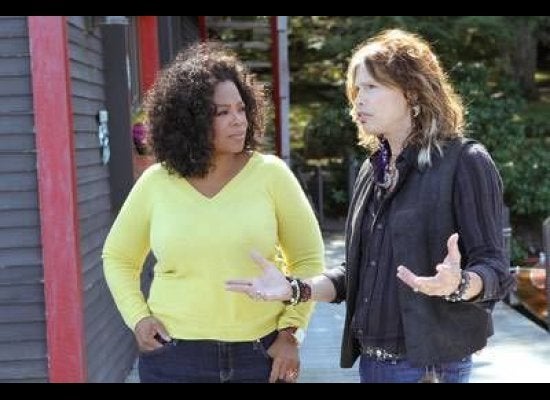 2012 TV Preview: New Shows
Girl PowerTake a gander at the call sheet for today's scene and there's not one single male actor listed. Sure, Cupo is on deck in case they can squeeze an extra sequence in, but everyone seems to be embracing how exceptional it is to have a strong female-driven project.
"It's a complete luxury," acknowledges Balfour. "We're all pretty aware of how rare it is to not only have a female story, but a cast where the majority is female. On television and film, it's almost unheard of. It happens, of course, but maybe only once or twice a year. Men in the entertainment industry have always dominated, so we feel very lucky. Immediate friendships have been formed and the atmosphere everyone has created is wonderful."
Mother FigureOf course, it doesn't hurt when your leading lady is Academy Award nominee and Golden Globe winner Meg Tilly. Her career has spanned over 30 years of television, movies and stage.
"How did I get this lucky?" smiles Balfour when asked about working with her illustrious co-star. "Meg has been a real sense of inspiration for a lot of people. She's continually offering guidance or giving her two cents on preparation. On a lot of these press things, I've never done interviews. Meg always has advice. She's a real mentor."
"Some of them know what they want to do, but sometimes they'll ask me about things," adds Tilly. "It's a challenge because I don't want them to feel like I'm their mother saying, 'This is what you should do.' Just because someone has been in the movie business for a while, it doesn't make a difference. They're having their own experiences. Whenever someone asks me for information, I give it to them, for sure. Otherwise, you have to stand back and let young women find their own way and their own feet."
Related
Popular in the Community