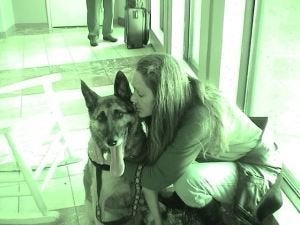 Arco was spotted Tuesday afternoon running around the train tracks in Romulus, Mich., and led officers on a two-hour chase before he was finally caught and shipped off to the Romulus Animal Shelter. There, he'll be quarantined for 10 days and tested for rabies, the Detroit Free Press reports.
The 5-year-old Belgian shepherd once worked at the White House as a bomb-sniffing dog but was retired by Capitol Police. His adoption advertisement acknowledges that he later killed a neighbor's cat and had been "deemed by the local judge to be a 'dangerous dog' under Virginia State Law."
Arco eventually ended up at Rescued Helpers Inc. and was trained for 7 months before employees put up an adoption advertisement on Facebook. The ad happened to catch the eye of Toledo, Ohio, woman Sheri Schuman, according to Fox 2.
"He was posted on Facebook as a rescue dog, needed a new home and new life. He used to work at the White House and the Capitol. He used to be the bomb sniffing dog. So, he's got a lot of hidden secrets I'd like to know," Schuman told Fox 2.
After receiving word that Arco had missed his connection to Ohio, Schuman waited with bated breath for good news, and was ecstatic when she learned the pooch was safe and sound.
"It's been a long ordeal. It's like missing a child. You'd do anything for your child. I'd do anything for an animal because animals are my children," Schuman said.
CORRECTION: An earlier version of this story included reports that Arco killed a cat before being retired by Capitol Police. The incident actually happened about three years later.
Calling all HuffPost superfans!
Sign up for membership to become a founding member and help shape HuffPost's next chapter