Last night, on space adjacent to the Beverly Hiilton in Los Angeles, Bombadier, the Canadian transport company, known for their LearJets unveiled a simulacrum of their forthcoming top of the line private business superjet, the Global 7000. The Jets will be ready for delivery in late 2018.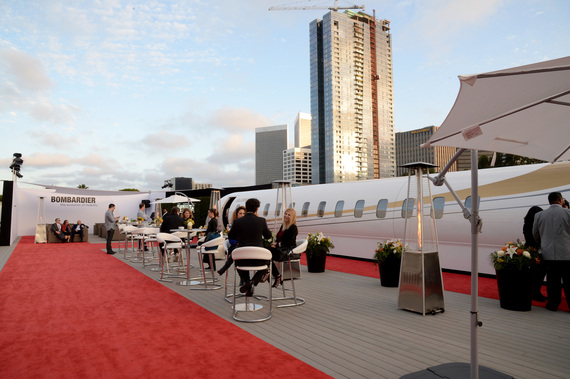 An exterior view of the Bombardier Global 7000 Jet Showcase (Photo by Michael Kovac/Getty Images for Bombardier Global)
Its stats are impressive it can fly 7400 nautical miles at a speed of 0.84 mach, enough to take you from Washington to Beijing or Dubai to New York (which is about 1400 miles further than its previous iterations or competitors) with 9-10 passengers and 2-3 crew. The Global 7000 does so using minimally more fuel and far more efficiently, while still being able to land at steep approach airports such as London City.
As Frank Vento of Bombadier explained, this is due to the Global 7000 innovative wing design which allows for both exceptional high speed flying as well as being able to land slowly. Technology designed for their commercial airliners has now found its way into the business jet, including a fly-b-wire system and four large active matrix liquid crystal displays and a heads-up display for augmented "situational awareness."
The Global 7000 features Ka-band high speed internet, a 30% larger galley and four configurable and customizable spaces which can be outfitted with a bedroom, a bathroom and shower, a den of sorts to watch movies and TV, etc. The windows are larger and evenly spaced throughout each section.
What interests me in the Global 7000 are what constitutes the elements of luxury. As Frank Vento explained, in designing the Global 7000 they conducted focus groups with owners, flight attendants, pilots and mechanics, and took all their input to design the jet from the inside out. Accordingly a lot of the small details (prep boards in the galley that slide out from under the counters) a convection oven and possible induction stove top, larger more comfortable bathrooms, a crew rest/sleeping area) contribute to a feeling of luxury arising out of smart design thinking and the most current cutting edge avionics and technology.
All this does not come inexpensively. List price: $72.8 million USD (2016 dollars) with near limitless possibilities for customization: more than 3800 floor plans available. Still if this is how you fly, or how you intend to have others fly, raising the stakes with innovative design and state-of-the-art technology will inure to the benefit of all air travelers over time. I'm just waiting for my 2018 test flight.