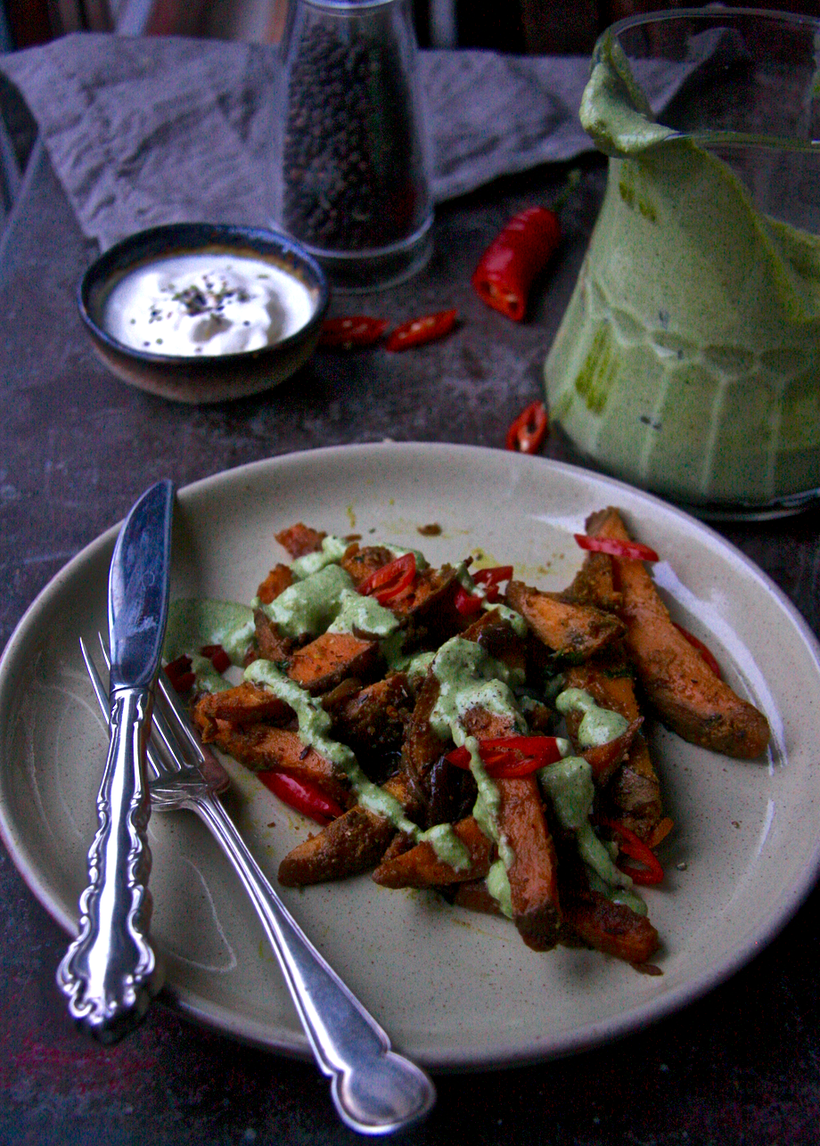 My mum made a delicious Bombay potatoes dish, rather like a dry curry, last week. Lots of flavour and masala and spice. I decided to try it with lovely orange sweet potatoes and it did, as you would imagine, turn out just delicious! Dishes like this are all about layers of flavours and textures, so made a hearty coriander chilli sauce on the side, and then sprinkled the dish with slices of red chillies. It made for the perfect accompaniment to a roasted red pepper soup and quinoa salad, but you can very well just eat it alone!
3-4 medium sweet potatoes, around 200g each 3 tablespoons coconut oil 1 teaspoon cumin seeds 2 onions, sliced 1 teaspoons ginger and garlic paste 1 green chilli, finely chopped ¾ teaspoon coriander powder ¼ teaspoon cumin powder ½ teaspoon red chilli powder ½ teaspoon turmeric 3 teaspoons madras curry powder 1½ teaspoons salt 1 tablespoon semolina juice of 1 lime
Coriander sauce 60g cashews, around 4 tablespoons 100ml coconut water or coconut milk 1/2 teaspoon cumin powder 2 tablespoons yoghurt, around 50g 1 green chilli 1 teaspoon himalayan salt juice of 1/2 lime handful, around 15g coriander
Optional sides & garnishes Coriander sauce Red chilli slices sesame seeds sour cream or thick yoghurt on the side
Soak the ingredients of the sauce in advance or as early as you can (from 1 hour to overnight), then blend together when ready to eat. You can also make the sauce in advance and it will be fine to eat for a few days (leave in fridge).
To make the potatoes, start by washing and scrubbing the sweet potatoes if the skin looks fine to eat but has brown muddy patches and if you prefer to eat the skin (I prefer to leave the skin on), or remove the skin. Slice into long wedges and then leave to boil in boiling water for around 6-8 minutes, or longer if the water is not already boiling hot. They don't need to be too soft as they will then be cooked. Once boiled, pour out the water.
Now melt the coconut oil in a medium to large pan and add the cumin seeds. Let the seeds become a darker shade of brown (around a minute) on low heat and then add the onion slices. Stir and allow them to become golden brown, then add the ginger and garlic paste as well as the chopped green chilli. Let this cook for another minute or so before adding all the sweet potato wedges and all the spices, madras curry powder, salt and semolina. Stir together and leave this to cook on a low to medium heat for around 10 minutes, stirring regularly and allowing some of the wedges to become brown. Squeeze the lime at the end, stir and serve with the coriander sauce.
REAL LIFE. REAL NEWS. REAL VOICES.
Help us tell more of the stories that matter from voices that too often remain unheard.
This post was published on the now-closed HuffPost Contributor platform. Contributors control their own work and posted freely to our site. If you need to flag this entry as abusive,
send us an email
.