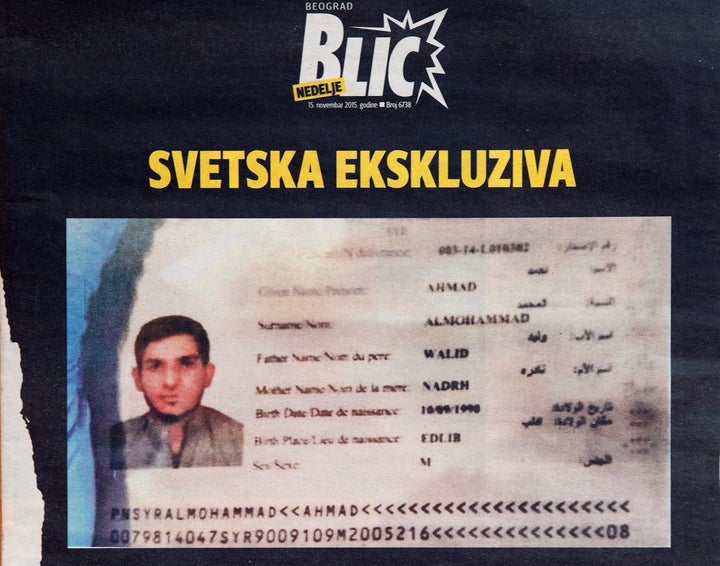 Giannis Mouzalas, the deputy Minister of Migration Policy, said on Sunday a man carrying the passport in the name of Ahmad Al-Mohammad had reached the Greek island of Leros on Oct. 3, along with another 198 people who had boarded overloaded boats on the Turkish coast. 
Ahmad Al-Mohammad was filed in the Eurodac fingerprint database at the Leros police station. He was taken to the prosecutor in Rhodes and given a six-month permit for temporary residence in Greece on Oct. 4. The 25-year-old did not use the document, however -- he immediately bought a ticket for a ship to the port city of Piraeus, from where he continued his journey.
The most striking detail is that the man is believed to have passed through five more countries before reaching Paris. Yet except for Greece, Serbia and Croatia, he was not accounted for in any other country.
"The young man was not known to the authorities from before so there was no reason for an alert in Leros and that's why they let him go," a Ministry of Migration Policy source told HuffPost Greece. "But that is not the issue. A terrorist passes through a number of European countries. Greece cannot be asked to raise such a huge burden on the whole refugees issue while the other countries don't conduct elementary checks on their borders." 
Many questions about the passport remain. U.S. officials told CBS that it might be fake because it did not have the correct numbers for a legitimate Syrian passport and the picture did not match the name. However, officials from the Greek Ministry of Citizen Protection disagree and argue that since the passport passed all legal controls, it was genuine. 
Mouzalas said that the French authorities asked for the assistance of the Greek authorities solely for the purpose of identifying Al-Mohammad.
Read More Paris Coverage
PHOTO GALLERY
Paris Attacks
REAL LIFE. REAL NEWS. REAL VOICES.
Help us tell more of the stories that matter from voices that too often remain unheard.