Ahmad Khan Rahami, the 28-year-old suspect wanted in connection with an explosion Saturday night in Manhattan, was arrested Monday in Linden, New Jersey, after a brief shootout with police.
Officials suspect Rahami is connected to an explosive device that detonated in Manhattan's Chelsea neighborhood this weekend, injuring 29 people. A second device, described as a pressure-cooker bomb, was found nearby.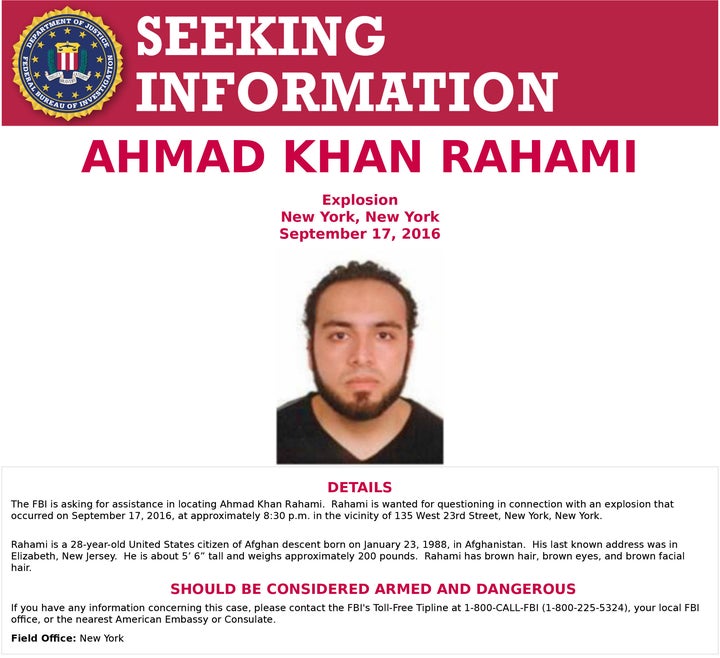 "One of our police officers went to investigate and to wake him up, and realized that he was [Rahami], the suspect that had been being sought in the bombings," Armstead said. "He realized it was the suspect and, within moments, the suspect fired on him. And thank God that he had his vest on. And I think that was very helpful for him. I think that saved his life."
"The gentleman got up and started walking down the street in a westerly direction," Sarnicki said. "I'm told that he was randomly discharging his handgun and one of the officers was able to get close enough to him and return fire."
The officer who was shot in the bar was wearing a bulletproof vest and was not seriously injured, CBS2 reported. Several reports said a second officer was also injured during the altercation.
Video from the scene Monday showed Rahami being loaded into an ambulance after the shootout.
Authorities also suspect Rahami may be connected to a small bomb that detonated along the route of a 5K race in a New Jersey beach town Saturday morning. New York Gov. Andrew Cuomo (D) said "there are similarities" in the devices found in New York and New Jersey.
William Sweeney Jr., the FBI assistant director in charge of New York, said during a press conference Monday that authorities have "directly linked" Rahami to the devices in New York City and Seaside Park, New Jersey, on Saturday. 
Prosecutors expect to charge Rahami with five counts of attempted murder and two gun charges. Terrorism charges will likely follow later, once federal officials have had time to assemble a more detailed case. 
His bail has reportedly been set at $5.2 million.
"This is a very common tactic, especially in terrorism cases," CBS justice reporter Paula Reid explained. "They often don't want to reveal all of their evidence, so they'll try to hold a suspect on a minor charge — certainly attempted murder is not a minor charge at all — but here they have the luxury of being able to charge him on state charges, so they don't have to reveal really any of their federal terrorism evidence until they're ready to do so."
Law enforcement sources told CNN that Rahami had traveled to Afghanistan, where he was born, several times in recent years. Officials questioned him every time he returned to the U.S. as part of standard procedure, but didn't consider him a threat. Sweeney also said during the press conference that there's "no indication" that Rahami was on any FBI watch list.
"It's very important ... if people see anything unusual, especially an unattended package, that people report it immediately," he said.
U.S. Attorney Preet Bharara said charges are expected against Rahami for the shooting in New Jersey, but didn't elaborate on any possible charges related to the bombs.
"He certainly seemed to do virtually nothing to cover his tracks," the official said. The New York Times reported that surveillance video captured footage of Rahami planting the bombs in Manhattan. 
Authorities sent out a cell phone alert early Monday asking people to call 911 if they spotted Rahami.
All 29 injured in Saturday night's blast have been released from the hospital. It's not clear what motivated the attack.
PHOTO GALLERY
Police Seek Suspect In New York and New Jersey Bombings
This article has been updated with information about expected charges against Ahmad Khan Rahami, and the identities of the injured Linden Police Department officers.
Calling all HuffPost superfans!
Sign up for membership to become a founding member and help shape HuffPost's next chapter