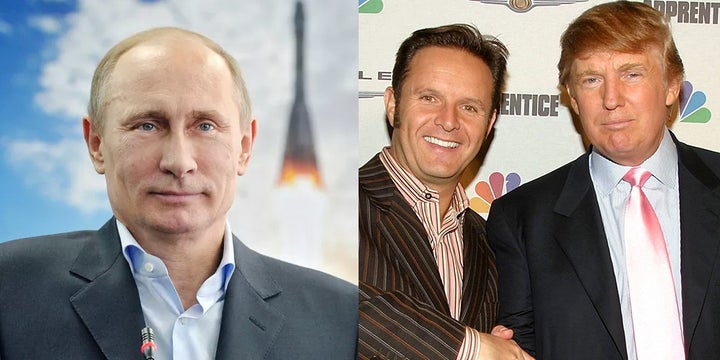 Was The Apprentice producer Mark Burnett the missing link connecting Donald Trump and Vladimir Putin?
A newly unearthed New York Times Magazine report from January 28th, 2001 on the producer Burnett proves decisively that before he created Trump's star, he was deep in negotiations with none other than Russian President and strongman Vladimir Putin.
The connection could be a mere coincidence, but it raises new questions about the nature of Putin's real relationship with Trump.
This information raises the strong likelihood that the President-elect does in fact have a back channel through Mark Burnett directly to Vladimir Putin, which has not received much media attention.
Here's what Burnett told The New York Times about negotiating with Putin and the dangers of setting a reality TV program on a Russian space exploration mission:
For Burnett, 40, the day has been a typical, tightly scheduled torrent of interviews and production meetings, culminating in a cell-phone strategy session in the car with his lawyer and manager, Conrad Riggs. After the conversation, Burnett tells me, half-crowing and half-cowed,

"Putin is involved." Yes,

that

Putin.
Burnett has been negotiating with Russian officials for months over "Destination Mir," but recent reports on how the space station is about to fall out of the sky have, to say the least, complicated his plans. Still, he believes the show can be pulled off, perhaps using a deal the Russians have in place with the new International Space Station or, if that falls through, maybe settling for the less-thrilling option of simply shooting the contestant into orbit for a couple of weeks.
Openly contemptuous of even a bit of negative thinking, Burnett looks at it this way: "

I think 'Mir' is going to be hard only as a political thing.

The show will be easy. I really want to do a space show. And, typically, I'm quite good at making things happen."
Mark Burnett wasn't just discussing a regular television deal with Putin either, he signed a unique deal to turn the Russian Mir space station into a reality TV show in outer space.
Donald Trump's career as a real estate investor - indeed as a public figure - was just lifting off its nadir in the early 2000s until the genius producer of the reality TV show hit Survivor, Mark Burnett created a television show around him called The Apprentice.
As Trump's associates go, Mark Burnett has to be at the very top of the list today, for having generated a steady stream of cash for the Donald Trump, and a new career, and a far improved image (undeserved) as a business person and a steady stream of juicy payments which continue to this very day.
Mark Burnett wasn't just discussing television with Putin either, he actually did sign the deal to rent the station and turn the Russian Mir into a reality TV show in outer space.
Unfortunately for the Aussie producer, reality had a funny way of intervening in Burnett's best-laid production plans when the Mir failed, and had to be brought down just six months after the announcement, and before filming was scheduled to begin.
Donald Trump claims that he earned $213 million dollars over the ten year run of the program, and he remains Burnett's business partner with an expected payout of $5.9 million dollars this year alone for the new Apprentice hosted by Arnold Schwarzenegger.
As Mark Burnett told his Times interviewer, there were political problems in working the deal, which is presumably why an Amsterdam company MirCorp was brought in to lease Mir and then sublet it to the TV production. MirCorp was headed by eccentric Illinois entrepreneur and Standford M.B.A. who made a quick fortune selling a "free ISP" during the Dot.com craze acting as a leasing agent on the deal.
The entire venture of "owning" Mir was probably offloaded to MirCorp to solve those political problems, as the company pumped in the cash to keep the struggling space station afloat as it sat mothballed in orbit.
At the time, the Russians claimed that the station would have years of service left, but that estimate turned out to be just as overly optimistic as the owner of MirCorp's later 2004 run in the Republican primary for Senator (for a seat which ultimately was won by Barack Obama in 2004) by the flighty scientific entrepreneur who wasn't even registered to vote.
NBC's production agreement with Burnett to share 50% of advertising revenue raised a lot of eyebrows at the time, and it was considered an outrageous concession to a mere reality TV producer, as The Times noted:
In selling "Destination Mir" to NBC, Burnett negotiated a deal that guarantees him 50 percent of the show's advertising revenues. No one in television gets that kind of deal, not any star and not any other producer, even ultra-A-list names like John Wells of "E.R." and "The West Wing" or David E. Kelley of "The Practice" and "Ally McBeal." As one senior executive at a rival network says: "This is just shocking, that NBC would do this. It's the cardinal rule. It's TV 101. We finance the 90 percent of shows that are failures with the 10 percent that are hits. You can't share ad revenues."
Thirty months after Mir went down, and Survivor was losing its luster, Burnett's The Apprentice made its on-air debut in January 2004 on NBC
It's a stunning revelation to discover that the Vladimir Putin has been connected to the very man Burnett who turned Donald Trump from a multi-bankruptcy loser that couldn't even make a respectable profit in the casino business, into a respected reality television star on The Apprentice.
As coincidences go, this overlapping of relationships and the timing of this one raises entirely new questions about Trump's gang of promoters, enablers, and producers.
But make no mistake, Mark Burnett's story proves conclusively that there's someone high-level that could communicate between Donald Trump and Vladimir Putin during this year's election.
Watch Trump claim - twice - that he in fact has a relationship with Vladimir Putin: