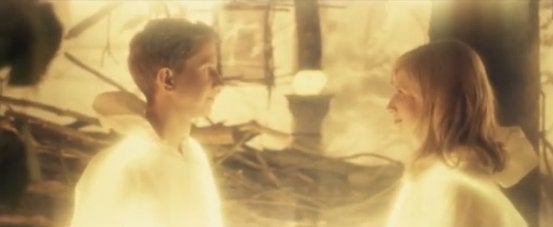 The single's music video promises to be just as contentious, and just as close to Vernon's heart. Filmed in the Wisconsin woods encircling April Base -- the remodeled veterinarian's clinic the folk band uses as a studio -- the video, which was directed by Vernon and Dan Huiting, takes its cues from Vernon's perceptions of coupledom. "It's kind of about two people who are truly meant for each other and what happens to their essence. How they connect is some other thing that we don't know how to really talk about," the musician wrote in a statement.
Bon Iver member Mike Noyce stars as an otherworldly presence who finds love in this dream world. The convergence of Noyce's and his lady love's glowing suits with the tree-house backdrops makes for a great mix of retro-futuristic imagery, closer to late eighties/early nineties versions of alternate universes (see: "Labyrinth," "Fern Gully") than the slick realism of sci-fi blockbusters du jour. We're digging the throwback -- and yes, slightly cheesy -- quality of the combined effect, and we're hoping you do too.
What do you think of the multiple genres at work here? Let us know your take in the comments.
Popular in the Community