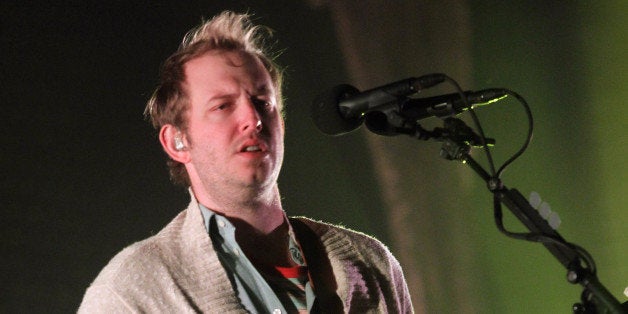 The following article is provided by Rolling Stone.
Zack Braff got his soundtrack game on lock. A decade after injecting indie rock into the mainstream with Garden State, the actor/director returns with his new film "Wish I Was Here" that's accompanied by more great tunes. The Shins' exclusive contribution to WIWH was revealed two weeks ago, and now you can listen to Bon Iver's new one by heading over to NPR. "Heavenly Father" finds Justin Vernon looping angelic coos to create an electronic choir before his robust voice enters on this reflective yet upbeat (by Bon Iver standards at least) track.
Wish I Was Here is the quasi-follow-up to Braff's breakout "Garden State." The film was made thanks to $3 million raised on Kickstarter, but it sounds as though "Wish I Was Here" was just an excuse for Braff to craft another kickass soundtrack. "As a music lover, nothing has been more gratifying than collaborating on this project with my favorite artists," Braff told NPR. "Between The Shins, Bon Iver, Cat Power and Coldplay ... I never dreamed I'd get to work with so many of my favorite musicians on Wish I Was Here." Bon Iver's single "Holocene" also features on the soundtrack, which arrives July 15th, while the film itself will see wide release on July 25th.
In an interview with NPR, "Wish I Was Here" music supervisor Mary Ramos talked about how she flew to Wisconsin to screen the film for Bon Iver's Justin Vernon and his brother Nate. "They were enjoying it and laughing, but at a certain point, they just got quiet," Ramos said. "When it was over, Justin started humming. We talked afterwards about the relationship between Zach's character and his brother [Josh Gad], and Justin and Nate talked a little about their father — all the while Justin kept distractedly humming. Eventually, he sang out the words 'heavenly father.' Before I even left their house, Justin was recording the first version of the song in his downstairs studio. His inspiration was that immediate."
REAL LIFE. REAL NEWS. REAL VOICES.
Help us tell more of the stories that matter from voices that too often remain unheard.