Carnival season is marked by parades, costumes, music, dance, and parties. From New Orleans to Rio de Janeiro, every city has its own unique charm when it comes to carnival festivities. Last week, I attended a few of the celebrations on the Dutch Caribbean island of Bonaire.
On a bright warm Sunday afternoon, the city's residents gathered on the main streets of Centrum of Kralendijk (capital of Bonaire). They spread out on beach chairs and unpacked their picnic baskets with beer, sodas, BBQ ribs, and pastechi. Entire families waited patiently for the youth parade to begin.
At a distance, loud music started to head towards our direction, followed by groups of participants dressed for the occasion. DJ floats carried live bands and singers with lots of pomp and sound. They played a variety of music from the Caribbean including hip hop, calypso, soca, kompa, zouk, bouyon, reggae and merengue. The music would change every few minutes and the entire crowd would automatically reset their bodies into a different rhythm.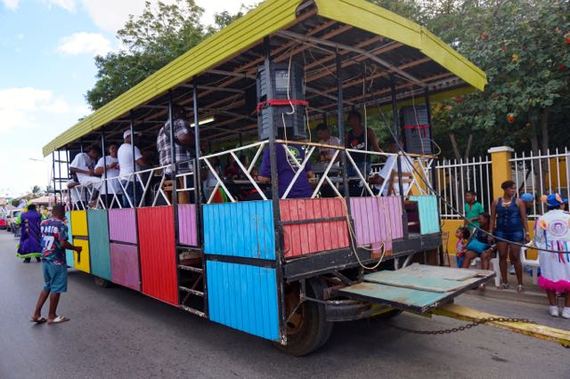 Soon groups of bright colored wigs, feather hats and colorful costumes made their way into the parade. Sections of clowns, bumblebees, ladybugs, sunflower, mermaids and little princesses were cheered on by their teachers and proud parents, as they danced in synchronicity and paused to pose for pictures.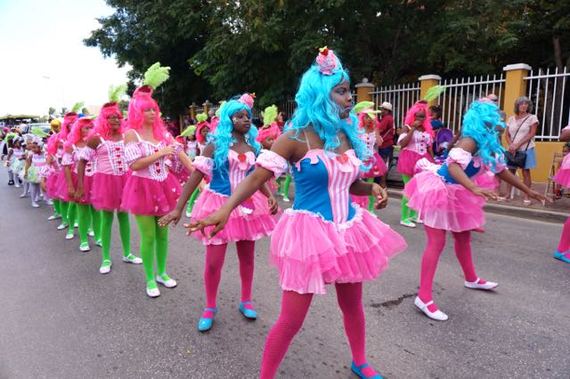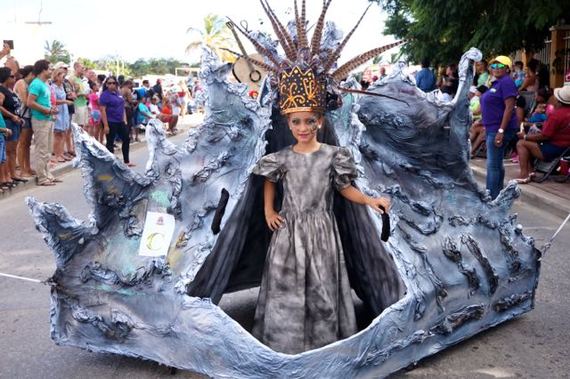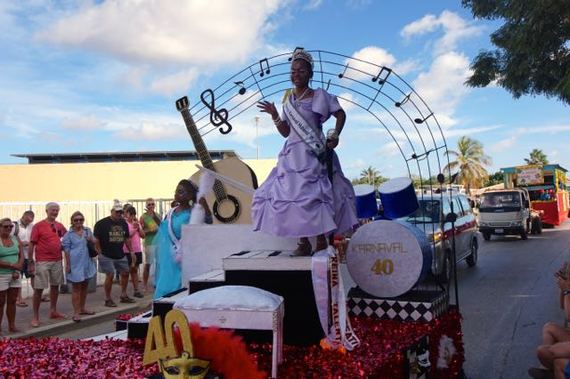 Many of the kids had been practicing for a few weeks, and it was their time to shine. It was fun to watch the different personalities come out during the parade.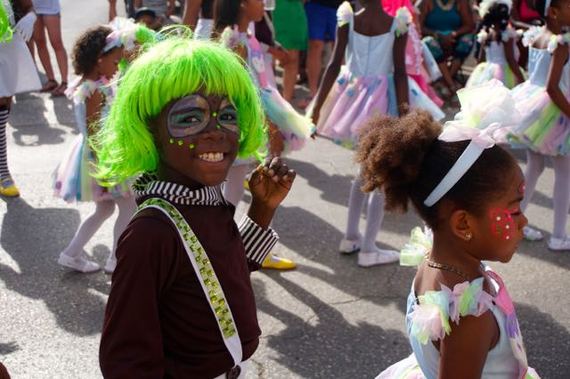 With a backdrop of pastel stucco buildings, in yellow, blues and pinks, it looked like a movie set created just for these kind of occasions. The architecture dates back to late 1800's to early 1900's and gives a characteristic look to Kralendijk.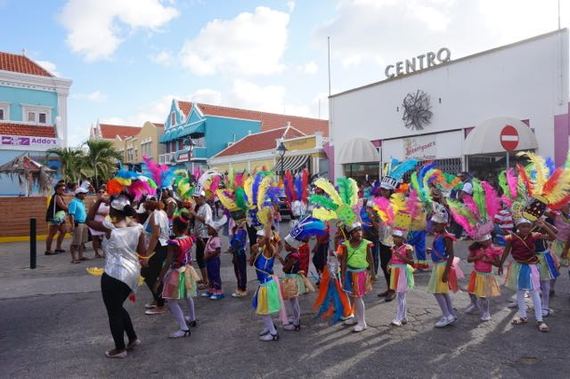 A cute little carnival princess waived to the crowds with a large smile from her sugary float of chocolates and cupcakes.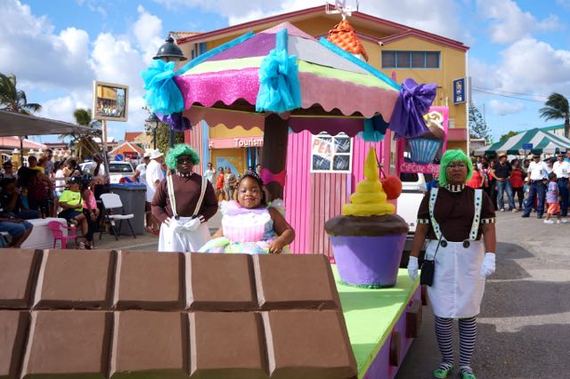 In Bonaire, carnival celebrations include Tumba Festival, election of carnival Queens and Kings, children and adults carnival parade, followed by the burning of the King Momo at the parking lot of the Kralendijk Stadium.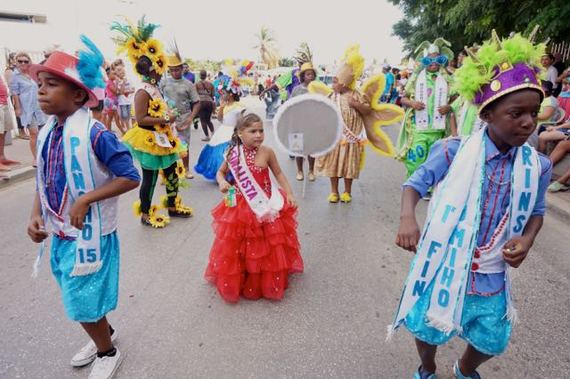 The kids were enjoying showing off their dance skills, some took it more seriously than others.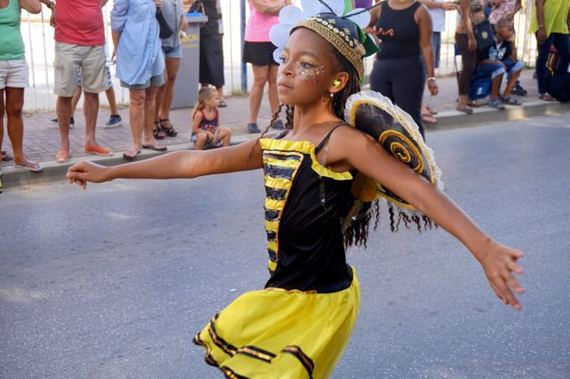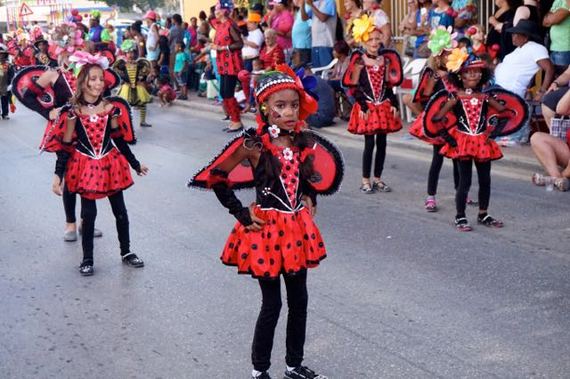 Being too young to walk for three hours did not hold back this beauty. She went around Kaya Grandi in her color coordinated stroller!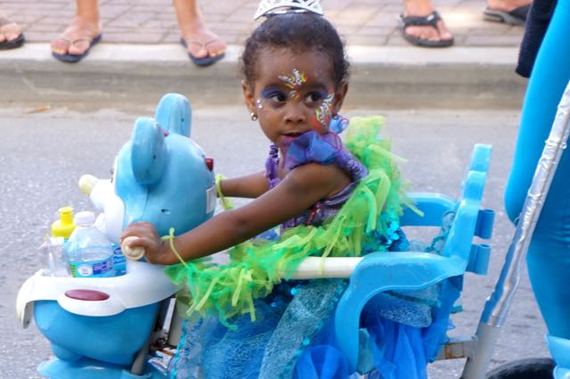 The kids parade in Bonaire was the most adorable one I have ever seen. It was not only the dresses and music, but the spirit of the young and old coming together in celebration, that made it magical.