"Look at all this bonding going on!" said a stunning woman as she stepped up to the microphone. "We like bonding!" she exclaimed, breaking into a wide smile and shoulder shimmy as she introduced the next panel.
"That's June Sarpong," said a fellow journalist friend of mine, who happens to be British. Who's that? I had no idea. "She's a really well-known TV presenter in the UK," she said in hushed tones.
It reminded me of the unexpected gulf we still have with our English-speaking compatriots across the pond. But it's not as wide as the gulf that still exists between women and their sense of empowerment. It's elusive, there and not there in a moment.
And Sarpong was right, the feeling of bonding was palpable. I had covered the WIE Symposium last year ; it was a wildly stylish crowd with high-profile panelists like Nora Ephron, Diane Von Furstenberg, and Marianne Williamson, who joined hosts Arianna Huffington, Donna Karan, and Sarah Brown, to target women's place in the world.
But I left feeling overwhelmed -- so much to do, where to start, how on earth do we get "there" from "here?"
This year felt different. To begin with, it was much bigger -- spanning five days instead of just one, stretching over three floors of a SoHo event space with simultaneous talks, lectures, panels, and awards -- [how did it feel different? Even though this, what changed? Switch to "It was much bigger, and strike "even though?")
A generous impulse led Dee Poku, along with Sarpong, to found WIE. And its exponential growth underscores the deep need for it. People called wanting to be involved, she said. "We couldn't say no."
"Men and women network differently. 1000%," Poku emphasized. "Men get down to business; know why they're there. They're focused," she explained, whereas women like to "understand, acknowledge, trust, and share. [Their impulse is] to nurture, to like and be liked."
The need stems from not only an impulse to create, but also to heal - and there are some serious ills that need healing right now. Tipping the scales at over 50% of the population (51 to 54%, depending on who you talk to), women are ready to step up to the plate, but they don't quite know how.
Case in point: that was a baseball metaphor I just used. What would be a feminine equivalent?
WIE is an experiment that's working so far. Women have a more holistic approach in general, and that is acknowledged here, from the makeover counters courtesy of Target to the massage chairs, Balance water, healthy food, and herbals teas. We meditated alongside Donna Karan, Deepak Chopra, and others as part of the discussion sessions.
The vibe was definitely about business but the slant was through sharing and honesty. And there was a wide swath of ages, in what Jane Fonda, in her new book, calls generativity.
When Nancy Pelosi spoke about how she got from the kitchen to Congress (see Marianne Shnall's insightful interview), it seemed possible; even when she was the only woman at the table, her recollection of feeling as if women like Elizabeth Cady Stanton, Sojourner Truth, and Susan B. Anthony were sitting there with her sent chills down your spine.
And that's the issue: To reframe Poku's observation, I think women strengthen their backbone differently than men. It's the sharing the "seat at the table," whether literally or figuratively, that increases our power.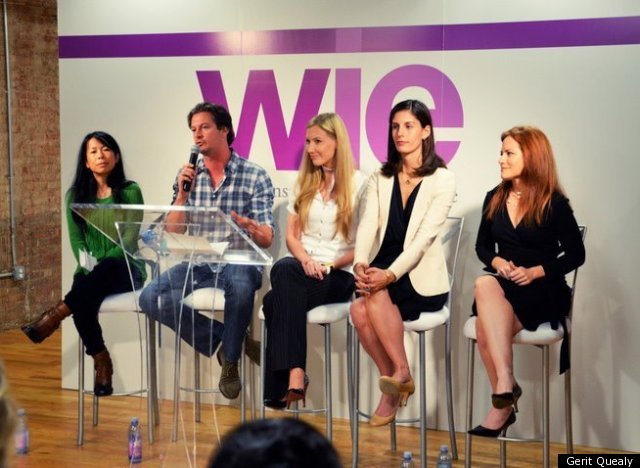 I have a good friend who would adamantly disagree with all this. She's a '70s feminist who'd poo-poo all the meditating and bonding; she thinks women are catty and just undercut each other (I'm a new fan of Keli Goff who brilliantly articulates this dynamic).
In fact Elisabeth Lesser, co-founder of the Omega Institute, brought up this very issue during Donna Karan's panel. Lesser developed a course called "Women & Power" to address this struggle (I'm signing up). But just admitting the crosscurrents are present is a relief; it's more stressful to pretend they're not there.
Sharing the truths of what we deal with on a daily basis as we work toward our goals is what made these panels so empowering. To wit:
10 lessons I learned at WIE
the Power of asking for help - and asking and asking and asking if need be - you have to have no shame about it. -Various
No one ever tells you how much sacrifice is involved; you will eat, sleep, breathe what your doing. -Ruma Bose, president of Sprayology, on starting a business, but it applies to any goal
Nobody cares if you've failed. Don't fill your brain space with stuff that's not productive. -Neil Vogel, founder, The Webbys
Insecurity comes from within. I know it sounds cheesy, but do affirmations every day. ID your heroes & emulate them. -Soraya Dorabi, foodspotting.com, ABC News digital strategist, who admitted to curling up in a ball and crying for two days after a particular letdown
Don't underestimate yourself. Every time I've gone against my gut, I've been wrong. -Tamara Mellon, founder, Jimmy Choo shoes
If what you're doing is new, there might not be a mentor. Form a strong core support group. -Various
Bad things happen to good people. Play the hand you've been dealt, and play it as courageously as you can. -Fran Drescher
Maybe my being here is part of the solution. Whatever challenge you have, you want everything it showed up in your life to teach you. -Marry Morrissey
There was more of course, a lot more. But to each her own empowerment.
"Isn't this great?" said a lovely 50-something woman with an excited light in her eyes as we waited for the elevator. "It feels great to be a woman today." I didn't know if she meant that day in particular or at this point in time. Maybe both.
***
The kick-off of the WIE event was a fashion show: The parade of women wearing red was an apt metaphor for the ensuing days of the WIE Symposium: Stylish women boldly standing up for themselves and learning how to make the kind of difference in the world that they want to make. With advice, support, and perspective from some of the world's most amazing movers and shakers, some of them even men: Arianna Huffington, Donna Karan, Sarah Brown, Dr. Jill Biden, Sen.Kirsten Gillibrand, Christy Turlington, Petra Nemcova, Cynthia Rowley, Parker Posey, Stuart Blumberg, Soledad O'Brien, Van Jones, Lisa Oz, Baroness Amos, Ted Turner, Iman. Jealous? You don't have to wait till next year; you can join the conversation now at WIE InterAct, or watch some of the panel discussions at fora.tv
Popular in the Community