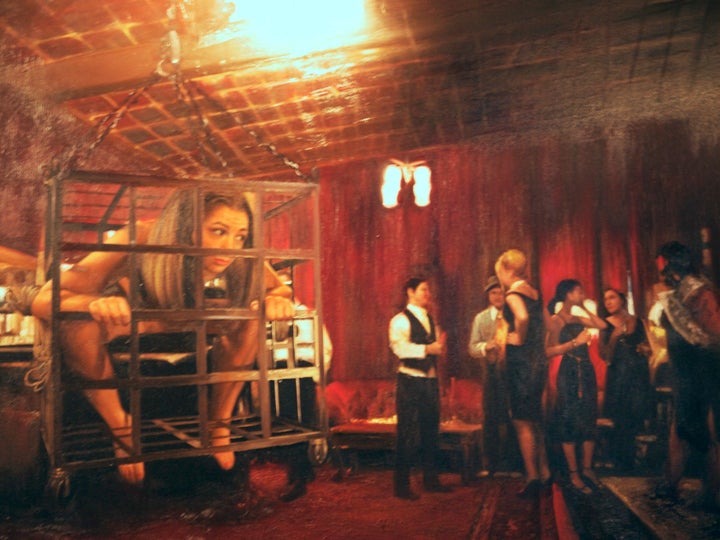 A Swedish mom has a face that is 50 shades of red ever since police came across a secret sex chamber she set up at an abandoned military bunker near the town of Nordmaling.
Last Friday, two fisherman came across the old bunker and discovered what appeared to be either a garden of earthly delights complete with a silk-sheet laden bed, ropes, dildos and leather items -- or a crime scene.
The fishermen immediately reported their find to local authorities, and once word got out about the sex chamber, Swedish language newspaper Aftonbladet reported "a hard-working single mum in her 40s" came clean about her booty call bunker.
It seems the woman -- who is calling herself "Lena" -- set it up for trysts with a man she dated a few times. With news of her hideout becoming public, she decided to get in touch with the Swedish paper in order to clear up any misunderstanding.
Experienced bondage buffs said the incident proves that the "D" in "BDSM" stands for discretion as well as discipline.
Dee Severe, a filmmaker whose company Severe Society Films specializes in fetish films, said people who are interested in exploring BDSM need to think about how they will react if their lifestyle becomes public knowledge.
"Think people are narrow-minded about gay rights? Their reaction to BDSM is three steps further," Severe told The Huffington Post. "People need to gauge how family and friends might react and then decide how secretive you need to be."
Bo Blaze, who teaches classes to wannabe S&M'ers, said that the success of the book "50 Shades Of Gray" has gone a long way toward making the BDSM lifestyle mainstream, but there is a still a long way to go.
"You have to be careful and realize there is discrimination," he told The Huffington Post. "People don't understand that BDSM is consensual and not abuse."
Meanwhile, the Swedish mom told Aftonbladet she learned an important lesson from the incident
"Sweden is not really such a free country when it comes to sexuality," she told the paper, and promised to make sure to tidy up after herself next time.

Related
Popular in the Community