You may be hearing growing talk about bone broth lately -- actress Shailene Woodley recently revealed she's been a huge fan -- and, according to health and wellness experts, there's good reason for it. Melisse Gelula and Alexia Brue of Well + Good agree that it's definitely time to make room in your diet for this healthy, beneficial drink.
Bone broth, Gelula and Brue explain in the above video from #OWNSHOW, is essentially slow-cooked soup made using the bones of anything from beef to chicken. "Bone broth has so many benefits," Brue says. "They're filled with calcium [and] magnesium, which is said to be great for bone health; there's the collagen in the bones that helps with skin, that's anti-inflammatory."
Bone broth is a great addition to a diet, particularly for people with certain health issues, she adds. "People who have digestive issues, skin problems, immunity issues all report relief when they drink bone broth."
Regardless of what bone you choose to use, Gelula stresses an important tip. "What you really need to know is that you're getting really high-quality bones from your butcher," she says.
Along with fresh veggies, water and apple cider vinegar, the bones simmer for a lengthy period lasting between eight and 24 hours. "After that, you've got tons of this delicious broth, which you can drink for about four days after you make it," Brue says. "You can put what you don't drink into ice cube trays once it's cooled down to room temperature."
It's even good for breakfast. "People really like to have this in the morning because it kind of [acts] like a filling smoothie, just sort of sets you on the right path for a healthy day," Gelula says.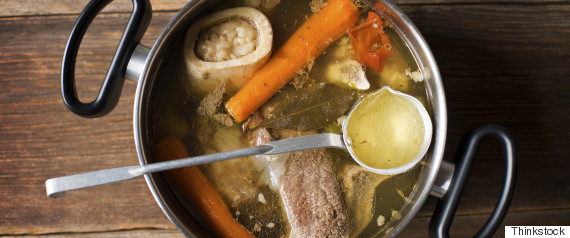 Ingredients
3-4 lb. beef thigh bone (may have meat attached)
2 in. ginger root
2-3 whole onions
3-5 scallion bulbs
2-3 celery stalks
1/2 c. fresh herbs (such as parsley, mint and or bay leaves)
1 Tbsp. coconut oil
1/4 c. apple cider vinegar
2-3 garlic cloves
Sea salt, to taste
Fill a large stock pot with water (6-8 quarts) and bring to a boil.
In the meantime, coarsely chop all vegetables and set aside. Remove skin from the garlic. Peel the ginger (using a spoon is a time-saving hack), and chop coarsely. Chop herbs coarsely, but leave those like mint and bay leave whole.
Once the water is boiling, add the bones to the pot, along with the salt and coconut oil. Then, add in all the vegetables, herbs, ginger and garlic cloves. Finally, add the apple cider vinegar. Stir everything together.
Lower heat and simmer, covered, for a minimum of 8 hours.
Once cooled, put the broth in the fridge. Once the fat hardens, remove it that layer and strain the rest of the broth into tightly covered jars. (Bone broth keeps in the refrigerator for up to four days.)
Support HuffPost
The Stakes Have Never Been Higher
Related
Before You Go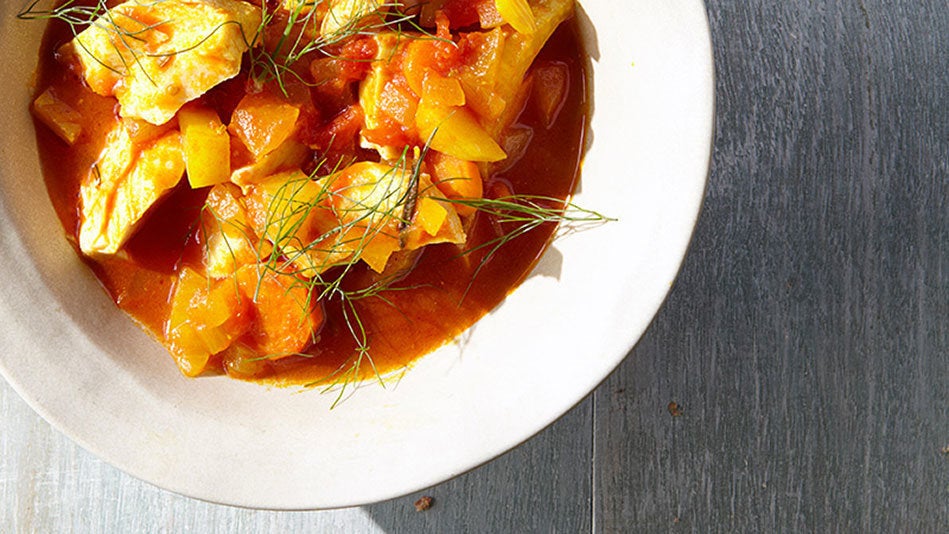 6 Quick And Savory Stews
Popular in the Community