I scream, you scream, we all scream for … bone marrow?
Bone Marrow & Bourbon Smoked Cherries is one of the next must-try flavors in this summer's upcoming lineup from Salt & Straw, a small-batch ice cream maker based in Portland, Ore. Though bone marrow-flavored ice cream might make most of us scratch our heads, Salt & Straw has been revered by everyone from Oprah to Alan Richman -- so they clearly know what they're doing.
To call the practice of eating bone marrow a current culinary trend wouldn't be inaccurate, but it's certainly nothing new. Our primordial ancestors have been sucking marrow out of their prey's bones for thousands of years. Because bone marrow is primarily made of fat, it's a natural (but maybe unexpected) fit in ice cream, which is one of the fattiest foods we know (in fact, Salt & Straw is known for using 17 perfect butterfat in theirs).
Still grossed out? If the idea of eating bone marrow gives you the creeps, just think a little more deeply about all the other ingredients that are found in your everyday ice cream: eggs (the undeveloped embryos of baby birds), milk (the liquid produced by a cow's mammary glands) and cream (the layer of fat collected off the top of milk). How is bone marrow any more barbaric?
Also on Salt & Straw's lineup of summer flavors: Black Raspberries & Pork Belly, Melon & Prosciutto, and Goat Cheese Marionberry Habanero. It's going to be a great summer, guys.
Before You Go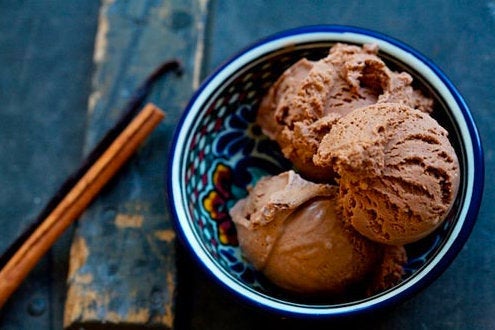 Ice Cream Recipes