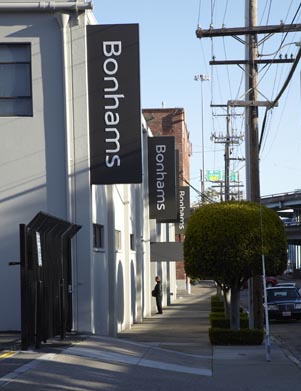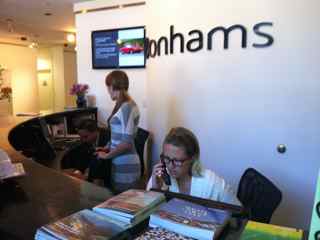 There are many reasons to enter the auction and appraisal house Bonhams, especially if it is the first Wednesday of the month from 9:30 a.m. until noon, because that is Appraisal Day when you can bring in that hidden treasure or work of art that you are thinking of selling and get it appraised by an expert. Sometimes the line of people will loop from the entrance on San Bruno Avenue around the block to 15th Street. You might see someone with an early American chair, or a blue and white porcelain Chinese bowl, or a Bierstadt painting, or maybe someone with a Sarouk rug, Serapi runner and N.W. Persian carpet all rolled into one, as they stand in line until their turn to get a free verbal estimate of the current auction value of the property.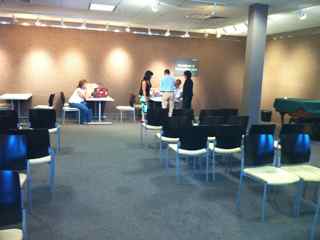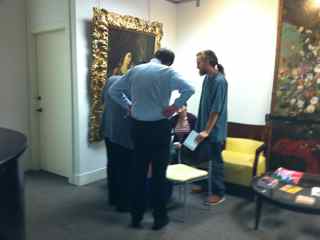 Another reason to enter Bonhams is because you collect art, or want to. You may be fascinated by art and want to see what people collect. You can learn so much by previewing auctions or attending them. There are endless works of art that go in and out of Bonhams' doors and every single piece has a story behind it. Dream what you would like to find and you will find it at one of the upcoming auctions, or go to an auction to find treasures you never dreamed of. There is no lack of surprises, learning and enriching your grasp of history and the world when it comes to the on-going proximity to art.
A confluence of serendipity and wise acquisitions (the leading west coast auction house, Butterfields, established in 1865, was acquired in 2002) has brought Bonhams to where it is today: the winning blend of being one of the oldest and largest auctioneers of fine art and antiques in history to now being the fastest growing auction house in the world. Bonhams has an international network that includes 120 offices, representation in 20 countries and regular auctions in 10 countries. Bonhams worldwide holds 750 auctions per year. Bonhams' U.S. headquarters is right here in San Francisco, located at 220 San Bruno Avenue and the one at the helm is native Californian Laura King Pfaff.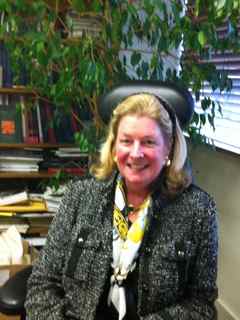 Pfaff has served as the U.S. Chairman of Bonhams since she joined the firm in 2001. She was Director of Christie's San Francisco in her previous job, and prior to that ran her own regional corporate media relations and special events firm. Ms. Pfaff attended Santa Catalina School in Monterey for high school and earned a Bachelor of Arts degree with honors from the University of Southern California. Ms. Pfaff is a beloved and well known California figure greatly appreciated for enriching and sparking the San Francisco cultural scene. She is another good reason to go to Bonhams!
Laura was kind enough to take me around the firm and lead me through the process of preparing for an auction. We went to the area where items are stored before going on the auction block.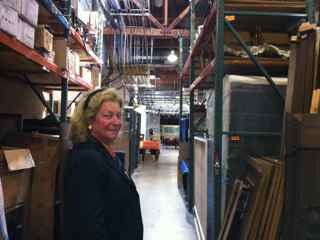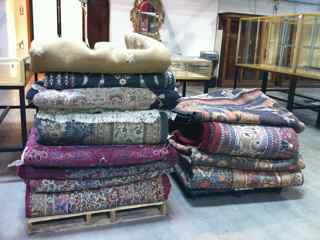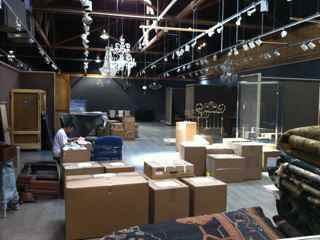 "This room", she said, "gets completely transformed with every auction," for the Preview and as the Sale Room. During previews, certain areas will be arranged to present the property as if you were in the room it came from, thereby allowing you to learn about the collector and the history of the object. Not to mention, inspire ideas for interior decoration! If there are many objects that came from different sources, a different environment will be constructed to display them in a natural way. Different sets are built for every collection. There is a lot of clever art direction that goes into an art auction, whether it be a "Mise-en-scene" or an appropriate ambiance that is rendered, to present the property in its best light.
The works of art coming from all over the world are an auction's "stars." The objects have their version of "hair and makeup" before being photographed for the catalog, marketing posters and press releases. There is a little, what I am calling, "Hollywood factor," to art auctions that creates the drama that makes the whole experience more exciting. It is interesting to see all the "backstage" preparations that are part of the auction process.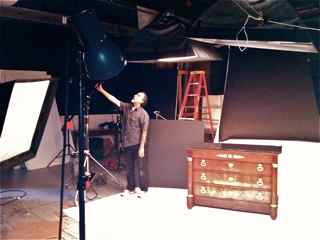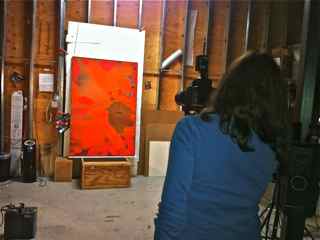 I always get a little sentimental at seeing a collection intact for the last time before pieces get sold off one by one. A collection tells the wonderful story of someone's life, often representing places they had been, an aesthetic built upon over time, and a sophisticated knowledge in the acquisition of admired objects. It took a lifetime to put it altogether and one auction to disperse it.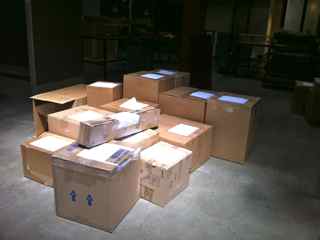 Becoming engaged with a sale, attending a preview and watching the pieces sell off, while also bidding for treasures yourself, is a historic last look at the special surroundings of a life. As the gavel comes down with that final slam by the auctioneer, all those items become a presence in another's life as he/she builds his/her treasures. It's the cycle of art, so full of meaning.
Catalogs so beautifully illustrate a collection with photographs and by listing the items with details. There are stories of where the objects came from, describing their significance and giving you a deeper understanding of their meaning and value. I have always found catalogs to be such a great resource for learning so much about art! Not only are catalogs a remarkable record of the items in a collection, but they also contain plenty of art history as well. They are also great keepsakes to remember those unforgettable collections.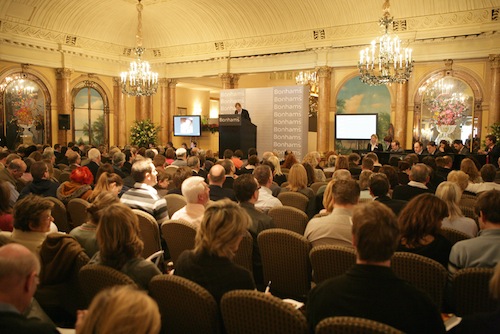 Bonhams is now the only auction house in the United States holding sales in three cities: New York, San Francisco, and Los Angeles. Worldwide Bonhams has salesrooms in London and other UK locations, Switzerland, Monaco, Germany and Australia.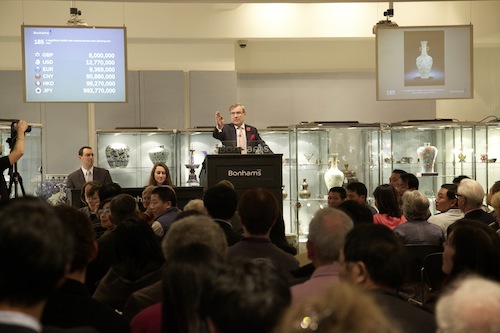 In 2007, Bonhams opened an office in Hong Kong, furthering its reach into the Asian market. In 2008, the firm opened an office in Dubai, and the first sale of Modern and Contemporary Arab, Iranian, Indian and Pakistani Art achieved three times the expected amount.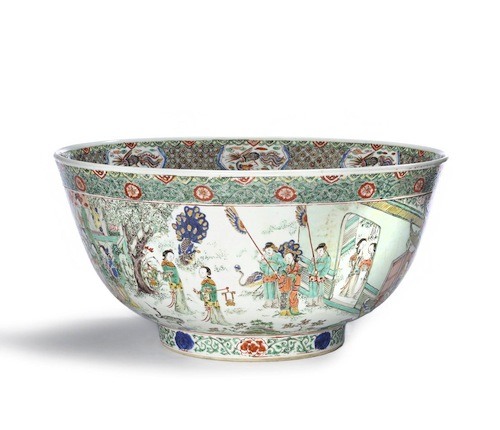 As might not be a surprise, Bonhams' California and Western paintings and Sculpture sale is very popular for the west coast. Bierstadt and Thomas Hill, artists from the early 1900's, are top sellers. The next sale for this category is December 11, 2012.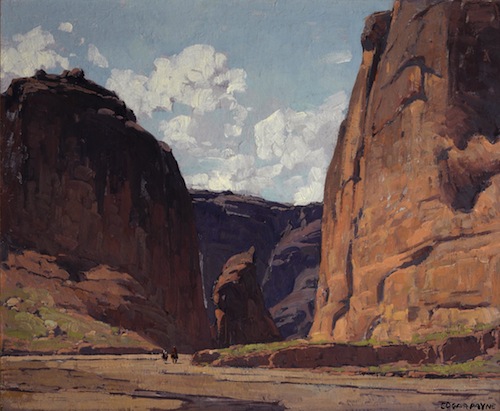 Many "Old Guard Hollywood "Estates have been sold through Bonhams, Steve McQueen;Truman Capote;Tyrone Power;Ginger Rogers;Mae West;James Stewart and Esther Lederer (Ann Landers), to name a few. Speaking of Steve McQueen...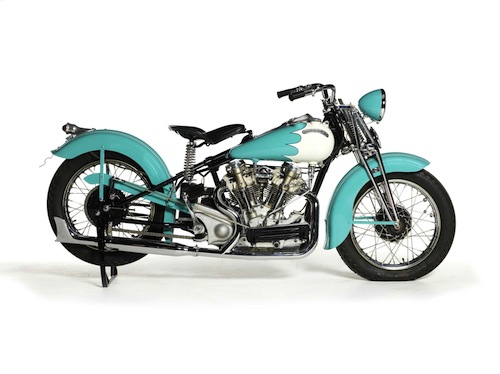 The legendary Motorcycles, Motorcars and Automobilia Sale just happened at Quail Lodge in Carmel, California. You might have been there to see one of the rarest motorcycles ever hit the auction block: the 1940 Crocker "Big Tank" V-Twin that sold for $302,000.00. You could have also had a chance at owning the 1961 Rolls Royce Phantom V Limo formerly owned by Marjorie Merriweather Post. If you didn't already know, Bonhams is the world leader in Vintage Automobiles, Motorcycles and Antique Bicycles. This popular Quail Lodge sale is an annual event that attracts buyers from all over the world.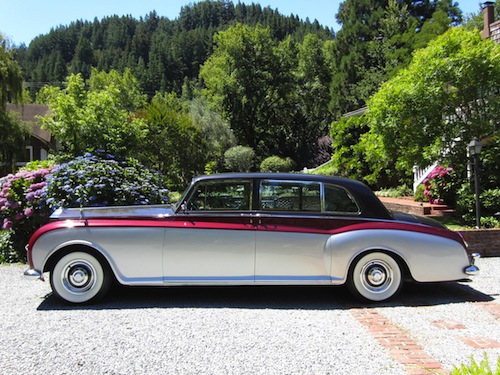 In spite of the record-breaking prices that Bonhams has seen in their sales around the world, what sets the firm apart from the two other leading auction houses is their commitment to "economies of scale." They understand that a collection comprises items of varying values. Bonhams' sales present the dual thrills of an early Ming Imperial underglaze copper red dish, selling for $5,725,250 and a 19th century portrait miniature on Ivory selling for $300!
The most popular sales at Bonhams are lining up on the calendar with heart racing effect! Every month Bonhams holds a Period Art & Design sale, which features lower priced art and antiques. Hearts still pound loudly, whether bidding up in 100 dollar increments or in 100,000 dollar increments! As they say, it is all relative. The next Period Art and Design sale is Sunday, August 26th in Los Angeles. The September Period Art & Design sales are Sunday, September 16, 2012, in L.A. and Sunday, September 23, 2012, in San Francisco.
Come September 11, 2012, the Sale of Indian, Himalayan and Southeast Asian Art will take place in New York.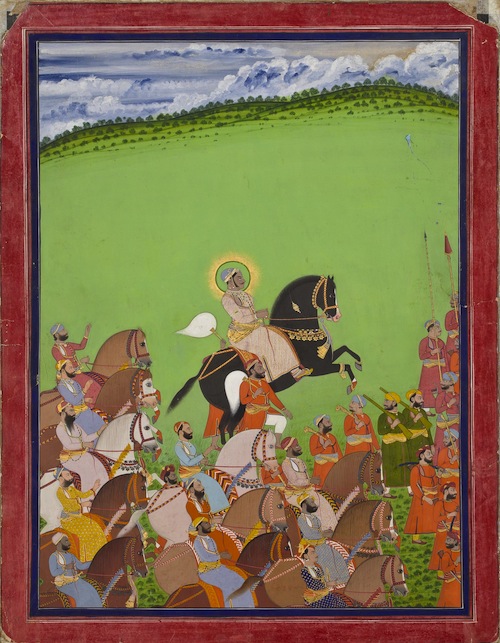 October is an exciting month at Bonhams!
Ever increasing demand for Asian Art makes the October 12th, 2012, Asian Works of Art Sale, in San Francisco, of great interest to many.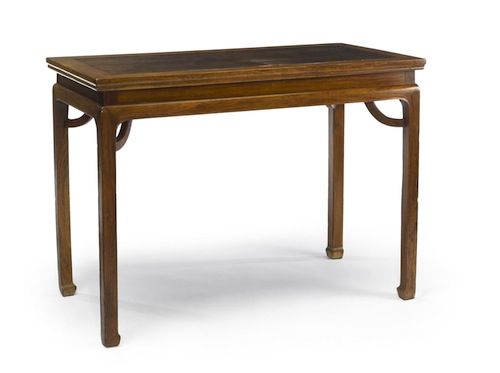 October 15, 2012, will be the much-anticipated Tony Duquette-Jewels of Enchantment Sale, which will take place in New York but will be simulcast to Los Angeles and San Francisco. Feast your eyes on Lot 386, a coral, fire opal, cultured pearl and diamond brooch, 18k, or decide now that you will get the tourmaline and citrine necklace and be prepared to bid in the $24,000-28,000 range as that is the estimate.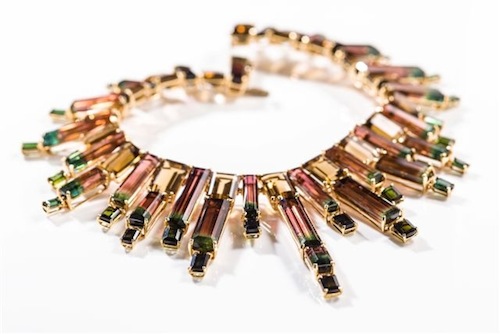 If you have a mind for Picasso, you will find the color linocut print, 1963, titled "Lady with a Ruff", estimate $40,000-60,000.00 in the Bonhams Print Sale on October 23, 2012 in San Francisco, simulcast in L.A. Everyone needs at least one Picasso!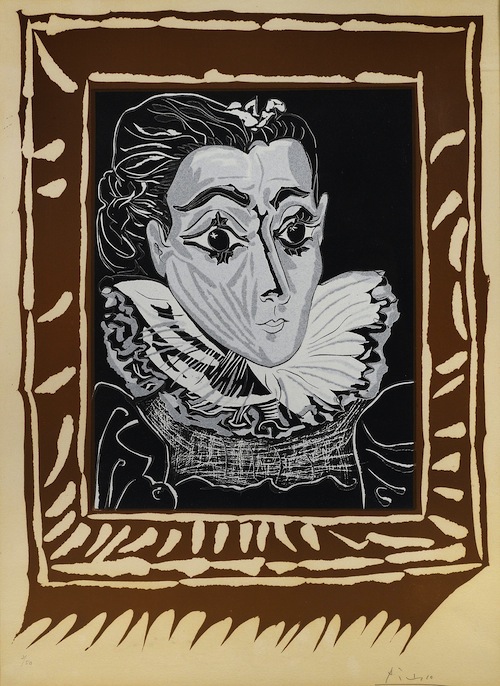 October 29th and 30th Bonhams has "quite the sale in store" with the Furniture and Decorative Arts Sale coinciding around the time of the San Francisco Fall Antiques Sale. Included in the sale will be Sister Parish designed furniture, fine European antiques and property from the Estate of the late John Traina.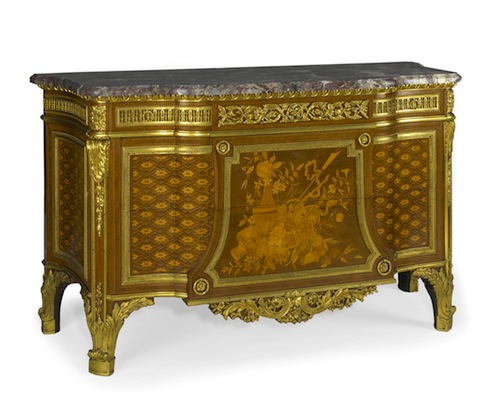 Remember you can participate in any of the auctions, no matter where you are, by registering with the firm and bidding live at the auction on-line, or by bidding by phone, or indicating your highest bid in advance and someone at Bonhams can bid for you up to that amount.
Bonhams also works closely with museums and other partner institutions to help with de-accessioning of property, as well as with acquiring property. As one of the three largest auction houses in the world, Bonhams, has held longstanding relationships and continues to grow successful partnerships in the global art network.
It is a luxury for San Franciscans to have Bonhams, a global force and leading international Art Auction and Appraisal house, right here in our own back yard. Whether you are selling or buying, you don't have far to go to connect you to the world brimming with art at Bonhams.
Photos Courtesy of Bonhams. Additional photos by Sally Fay.
Popular in the Community