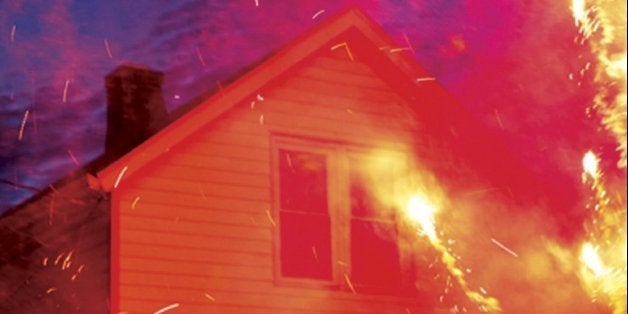 Bonita Avenue
by Peter Buwalda, translated by Jonathan Reeder
Hogarth, $26.00
Publishes Jan. 13, 2015
The Book We're Talking About is a weekly review combining plot description and analysis with fun tidbits about the book.
What we think:
A bold and assured debut, Bonita Avenue deftly alternates between narrators and settings to keep readers morally unsettled and in suspense.
It's not hard to see why Peter Buwalda's ambitious debut novel, first published in his native Holland in 2010, has attracted numerous comparisons to the work of Jonathan Franzen. With its realistic style, multiple perspectives, and bleak narrative following the unraveling of a seemingly stable family due to a number of almost unbelievably lurid secrets, The Corrections and Freedom seem like obvious reference points. The runaway success of Bonita Avenue in Holland, then internationally, is another reminder of readers' thirst for these weighty tales of dramatically unhappy families.
Buwalda's first novel, unlike many debuts, is both sprawling and meticulously constructed. Over the course of over 500 pages, Buwalda alternates between the narration of Siem Sigerius, ground-breaking mathematician and contented patriarch; Joni, his gorgeous and headstrong daughter; and Aaron Bever, Joni's devoted, if somewhat unstable, photographer boyfriend. As the perspectives intertwine with each other, so too do the time periods; we jump from the beginning of Joni and Aaron's relationship, in 1996, to its end, in 2000, to the present day, in 2008, then back to the romance of Siem Sigerius and his wife, Tineke, and his early years as a judo champion.
As the novel opens, we see the three narrators as happily bonded by their relationship. Siem, a charismatic former athlete and current math genius, has reached the pinnacle of his academic career and adores his routine, his wife, and his daughters. Aaron is not only devoted to the lovely Joni, but is struck with hero-worship for her father, researching jazz and resuming his judo practice to find common ground with Siem. Fissures soon appear, however; the Sigerius family may not be the simple, happy family Aaron believed. He learns that not only is Siem not Joni's real father, but that he had a son from his previous marriage -- a son who is never mentioned or seen. Moreover, this son, Wilbert, is in prison for killing a supervisor with a sledgehammer. Suddenly, the family's sunny life seems far more precarious and complicated than Aaron could have imagined.
It becomes clear that this fissures only mark the first cracks in a massive collapse that will leave the family shattered and Joni and Aaron on opposite sides of the world. But Buwalda is in no rush to tell us what transpires in between. Over the course of the novel, he slowly pieces together the scandalous secrets of the Sigerius clan and how they, and Siem's determination not to allow them to destroy his career, ultimately destroy far more than that.
Buwalda's deft manipulation of perspective and time progression works impeccably to ramp up the tension, pulling the reader toward the conclusion like a powerful undertow. The unraveling of the happy lives of the Sigeriuses, beginning with a disastrous fireworks explosion that levels Aaron's neighborhood and catalyzes a number of painful revelations, unfolds in one shocking discovery after another. Buwalda's pacing is that of a pro, belying his newness to the literary scene, and the book is compulsively readable.
The Franzen comparison, however, accurately summons up negative connotations as well; Bonita Avenue is sturdy, unadventurous realism with frequently heavy-handed explorations of its themes and an all-too-apparent interest in raising consciousness about a threatening aspect of modern life (but rather than environmental degradation, as in Freedom, the primary concern here seems to be the rise of Internet pornography).
Despite these imperfections, Buwalda's deft plotting, use of multiple narrators and shifting time frames -- he even nests memories messily within scenes, blurring the boundaries between present and past -- makes for a satisfying, psychologically nuanced read.
What other reviewers think:
The Independent: "A considerable achievement for a seasoned writer much less a newcomer, Bonita Avenue is an entertaining end in itself, and evidence that Buwalda is just getting started."
Publishers Weekly: "Dutch author Buwalda's magnificent first novel offers proof of Tolstoy's dictum that 'every unhappy family is unhappy in its own way.'"
Who wrote it?
Peter Buwalda is a Dutch journalist and editor. Bonita Avenue is his debut novel.
Who will read it?
Fans of Jonathan Franzen and dramatic family epics, as well as readers who enjoy books about lurid topics such as pornography and violent crime.
Opening lines:
"When Joni Sigerius first took Aaron to meet her parents at their converted farmhouse one Sunday afternoon in 1996, her father's handshake was so firm it hurt. 'You took that photo,' the man said. Or was it a question?"
Notable passage:
"What did Sigerius want to teach them? And what is he trying to tell himself now? That the probability of the improbable is huge? That so-called bizarre coincidences happen all the time. That a mathematician's job is to judge the bizarre on its quantitative value, that is: to strip the coincidence down to its bare probability instead of assigning it some magical significance."

Popular in the Community