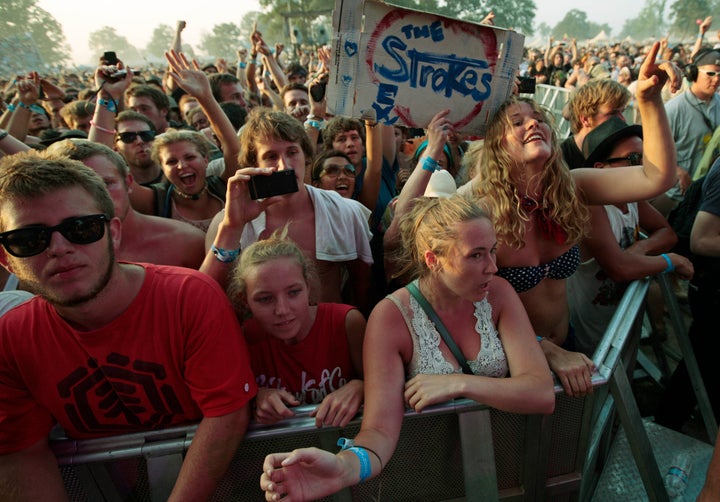 The Bonnaroo Music Festival in Manchester, Tenn., one of the most popular music festivals in America, was held from June 9-12 of this year. Rapper Eminem headlined a bill that included some of the biggest names in music, among them The Black Keys, Arcade Fire, My Morning Jacket, Lil Wayne, and The Strokes.
In the past few days, however, two tragedies have surfaced out of the festival, bringing to the forefront the obvious dangers of cramming some 80,000 concertgoers together in 90-degree heat with an endless supply of drugs and alcohol.
The Coffee County Sheriff Stephen M. Graves said Monday that 24-year-old Christopher Yoder of Raleigh, N.C., died of hyperthermia after being airlifted from the Bonnaroo grounds to Erlanger Hospital in nearby Chattanooga.
Festival organizers released a statement: "The safety of our patrons is our no. 1 concern, and we are deeply saddened by this."
The announcement came after the body of 32-year-old Beth Myers was found in one of the Bonnaroo tents on the evening of June 9. Organizers say that Myers' death was heat-related, but in both cases, the toxicology- and autopsy-test results have still not been officially released.
Since the festival's launch in 2002, ten people have died at Bonnaroo. The first reported deaths, of a 22-year-old Kentucky woman and 20-year-old Michigan man, occurred in 2004 when temperatures reached nearly 100 degrees. Toxicology reports indicated that both had cocaine and marijuana in their systems.
"Both [deaths] are sad occurrences," he said in June 2004. "Our goal is to provide a safe and fun environment for everybody out here, and I think that we have the proper policies and procedures in place, and you know, like anything else, we'll review those."
Thousands of others have been treated for heat exhaustion since then. Carl Monzo, director of Bonnaroo's Emergency Medical Services, reported to the Tennessean that in 2010, air-conditioned medical tents were taking in about 25 percent more people than in past years.
Bonnaroo provides air-conditioned "movie-tents" with free screenings on festival grounds, as well as misting tents. Showers located on the official campgrounds cost $7 for festival-goers to use.
The Bonnaroo festival has frequently been referred to as America's version of Glastonbury, the popular music festival that takes place in South West England at the end of June every year. In 1994, that festival reported its first death in its 24-year-history, when a man died of a reported drug overdose.
Coachella, an equally popular music festival near Palm Springs, Ca., also reports temperatures in the triple-digits. But 21-year-old Benjamin Muller is the only concertgoer to die at festival since it began in 1999.
So is it something about the Tennessee heat? Certainly holding the festival in June, rather than a cooler month increases the risks the predominantly boozed-up and drugged-out crowd faces.
"I couldn't make that statement, that we should blame the Tennessee heat," said Dr. David Claypool, an emergency medicine physician with the Mayo Clinic. "Heat is heat. California might be a little drier, but any heat is going to be difficult for people."
Representatives for Bonnaroo and its producing organizations did not immediately return requests for comment.
"I can't tell you how many people I have seen start getting wasted and ignore the whole hydration thing," the website explains. "I only noticed this was the case because I watched them being hauled off by paramedics after they passed out from dehydration and heat exhaustion."
Though Bonnaroo always offered free water from wells located on its grounds, starting in 2009, organizers also began providing free, filtered "refill stations" where festival-goers could refill their personal water bottles. Bottled water can cost upwards of $4 from certain vendors.
The relaunched Woodstock Festival in July 1999 was a major disaster after a mini-riot broke out due in part to anger with over-priced water.
Ken Wilkerson, the chief of Hamilton County Emergency Medical Services, points to differences between Bonnaroo and the nearby Riverbend Festival in Chattanooga, a nine-day music event featuring over 100 bands and a daily attendance of 60-90,000 people.
"The difference is that people [at Bonnaroo] are enduring the heat and humidity problems twenty-four seven," he said. "People coming to Riverbend are coming from home. They're well-hydrated before they get here."
Wilkerson also notes the distance from Bonnaroo's location in Manchester to the nearest medical facility in Chattanooga. If someone is seriously ill at the Bonnaroo festival, they need to be flown off the grounds.
"From time of [injury], you're looking at minimum of an hour, an hour and a half -- maybe two hours," said Wilkerson. "Whereas here at Riverbend, something happens you can get to it in 10 minutes."
Of course, Wilkerson added, the rampant alcohol consumption and drug use doesn't help anything either. "Alcohol is the worst dehydrator of any fluids you can put in," he said.

Support HuffPost
The Stakes Have Never Been Higher
Related
Popular in the Community