The police hunt for a man and woman, dubbed a "modern-day Bonnie and Clyde" by the U.S. Marshals Service, ended in bloodshed early Friday when one suspect was killed and the other wounded during a shootout with Florida police.
According to the Escambia County Sheriff's Office, Blake Edward Fitzgerald, 30, exchanged gunfire with police at about 12:30 a.m. Friday, following a high-speed chase.
"[They] had nowhere to go," William Eddins, state attorney of the First Judicial Circuit, said during a Friday press conference.
Authorities said Fitzgerald used his girlfriend, Brittany Nicole Harper, also 30, as a human shield during the exchange of gunfire in a residential neighborhood.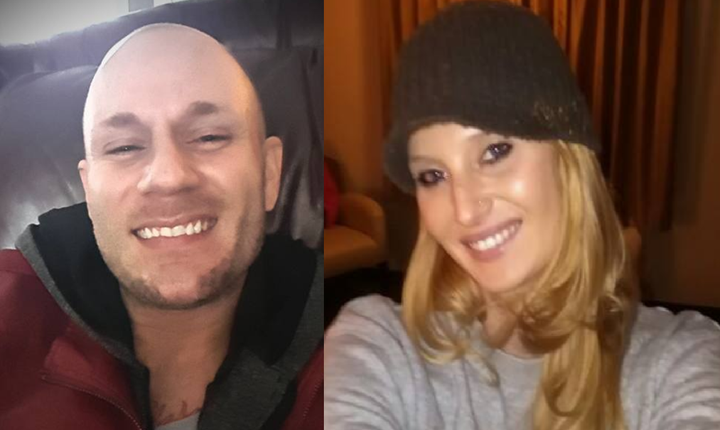 Fifteen minutes after it started, Fitzgerald was dead and Harper was carted off to a local hospital for a leg injury. She is being held under armed guard pending transfer to a county jail, police said.
The pair was wanted for a multi-state crime spree that included kidnapping and armed robbery charges. The shootout occurred just hours after the U.S. Marshals Service offered a $10,000 reward for the couple.
"This modern-day Bonnie and Clyde ... couple is armed and dangerous," U.S. Marshal Martin Keely of the Northern District of Alabama said in a Thursday press release.
At Friday's press conference, Sheriff David Morgan said he did not approve of the couple being dubbed "Bonnie and Clyde."
"You hate anytime that we glamorize crime," he said. "That only encourages people to be copycats or whatever. There is nothing glamorous about death. There is nothing glamorous about taking hostages ... and let's also remember Bonnie and Clyde were a couple of thugs, too."
Morgan said if he had his way, he would, "wipe their existence from all social media and everything else."
Fitzgerald and Harper -- who police say were drug users with a history of violent crime -- gained their reputation after allegedly embarking on a crime spree across the southeast.
Authorities said the string of crimes began in their home state of Missouri on Jan. 22, when they allegedly broke into a Joplin residence and stole several guns before hitting the road.
On Sunday, they arrived at the Microtel Inn and Suites in Tuscaloosa, Alabama, where they allegedly kidnapped Kyle Dease, a 26-year-old front desk clerk.
"I started praying and trying to accept the fact that I could die now," Dease told NBC News on Thursday.
Dease said the couple told him they wanted to "escape and start new lives."
The couple allegedly drove Dease's vehicle about 60 miles to Vestavia Hills, Alabama, where he was released. Fitzgerald then reportedly entered a nearby home, where police say he kidnapped a woman at gunpoint.
Fitzgerald and Harper took the woman captive and drove her Ford Edge to nearby Birmingham, Alabama, where they released her unharmed at a hospital, police said.
On Monday, the couple allegedly robbed a convenience store 250 miles away in Perry, Georgia, at which time they briefly kidnapped a cashier. Authorities suspect they are also responsible for a pair of robberies that occurred in Walnut Hills, Florida, and Destin, Florida on Wednesday.
According to ABC News, the couple mocked police on Facebook, with Harper at one point posting, "I wasn't planning on going for a run today but those cops came out of nowhere."
The high-speed chase that led to the couple's downfall began late Thursday, not long after they allegedly tried to rob a Famous Footwear store in the Florida Panhandle. Witnesses at the scene gave police a description of the vehicle the duo was traveling in.
At 12:25 a.m. Friday, residents of a neighborhood northeast of Pensacola contacted police and said they had been briefly held hostage inside their home by the suspects, who had fled in their vehicle. That vehicle and the suspects were later spotted in a nearby area, at which time they refused to surrender, police said, and the shootout occurred.
Eddins said Harper faces charges of home invasion robbery, false imprisonment and grand theft auto. Additional charges may be pending.
Morgan said authorities have received unconfirmed information that the couple planned to go to Panama City to get married. Where they decided to go after that is not yet known.
"Because these matters remain under investigation, we are somewhat limited in the information we can provide," Morgan said.
PHOTO GALLERY
Infamous Serial Killers
Calling all HuffPost superfans!
Sign up for membership to become a founding member and help shape HuffPost's next chapter