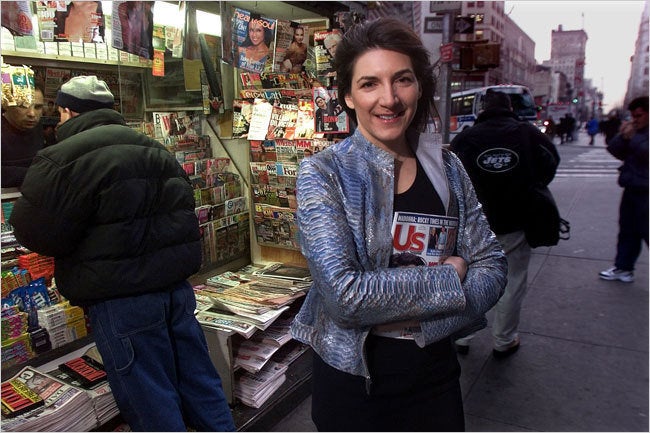 Last month, she parted ways with American Media, the celebri-scandal conglomerate that David Pecker built on tabloids like The National Enquirer. Mr. Pecker, who now peddles a host of muscle and fitness magazines along with the gossip, hired Ms. Fuller five years ago as his editorial director.
Her marching orders -- and the logic behind a salary and bonus totaling more than $2 million -- were to reposition Star, a tabloid with a history of skewering celebrities, as a glossy magazine while also fine-tuning the company's other publications. Star is now a viable glossy, if not soaring, but Ms. Fuller is currently without a corporate portfolio.
So has the celeb-fueled business model jumped the shark? Hardly. A host of Parises-in-training will be providing grist and grime for many years to come. But Ms. Fuller has come to the end of the runway. Having worked for most of the major publishers -- she was never a Time Inc. sort of girl -- she has few worlds to conquer, including the one she invented. The fact that she burned more than a few bridges in her journey across the media landscape leaves her a bit cornered.
But not for long, said Russ Pillar, an investor and a former head of the interactive division of Viacom. Mr. Pillar says his company, the 5850 Group, is seeking to raise "tens of millions" to back Ms. Fuller as a brand: she has created a company called Bonnie Fuller Media, based in New York. He says the start-up will be heavily digital and offer a variety of femme-friendly products that will include, but not be limited to, gossip, fashion and romance.
Mr. Pillar sees Ms. Fuller as a reliable cash register. "Everyone who ever did business with her got paid and got paid very well," he says.
For her part, Ms. Fuller -- while remaining tight-lipped about other aspects of a long and complicated career -- says she's ready to plunge into the unknown.
"I like the idea of blue sky. It will be fun to make something brand new," she says, unbowed by the fact that the digital space she covets is already crowded with more established players like iVillage and TMZ. "Every time I have done something in my career, I have been told that the market was too cluttered, and every time my ability to connect with women has allowed me to break through."
Calling all HuffPost superfans!
Sign up for membership to become a founding member and help shape HuffPost's next chapter