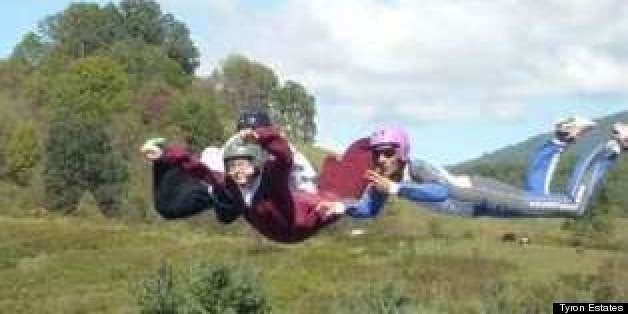 "This Is What ... Looks Like" is a Huff/Post50 series delving into the extraordinary accomplishments and adventures of post 50s at every stage of life. Want to share your experiences? Email us at sayitonhuffpost50@huffingtonpost.com.
Bonnie Zelinskie, an 84-year-old self-described daredevil, is ticking adventures off her bucket list, much to the amazement of her fellow residents at Tryon Estates, the ACTS Retirement-Life Community in Columbus, North Carolina where she's lived for the past 16 years.
Her quest to push the limits began a few years back when administrators at Tryon Estates suggested hiring a hot air balloon so that residents could take a ride.
"I told them that was just too dull for me," Zelinskie said. "I told them I wanted to skydive instead."
And that was only the beginning for this breast cancer survivor. Huff/Post50 recently had the pleasure of interviewing Zelinskie, who had a lot to say about why she likes to push the envelope. Her escapades in "retirement" have included not only skydiving, but skiing, parasailing, scuba diving and riding in a NASCAR vehicle at 175 miles an hours. Earlier this month, she embarked on her latest adventure when she took the maiden zip line voyage at The Gorge in Saluda, North Carolina. Witnesses say she was all smiles as she took off from the first platform, descending 1,100 feet and traveling through the treetops at 35 mph.
What's next for this feisty thrill-seeker? She says she wants to go to the moon.
So tell us a bit about your life. Where did you grow up? I was born and raised in the Pennsylvania area. I worked for the Westinghouse Electric Company in Leicester for 37 years. I retired from there in 1984. I was an accountant. But I did a lot more than that. I taught tap and ballet during [World War II]. I also had a paper route during the war and delivered The Philadelphia Enquirer. Oh, and I bought a 1948 Cadillac and painted it an orchid color before pastel shades were all the thing. I haven't had a dull life.
What happened after you retired? My husband and I moved to the Poconos and I became a ski bum. I skied all the time. I was in my 60s and it was so great because when I turned 70 I could ski for free. We moved here to Tryon Estates 16 years ago. My husband's been dead for 14 years.
Did you always like sports? I did teach dancing, but my love for the ski slopes and [sports] appened after I retired. My husband let me do whatever I pleased as long as I didn't get him involved. I didn't marry young because I was too wild. I was 31 when I married. I was always raring to go.
How was it when you first moved to Tryon Estates? Good. I do line dancing. I do bowling. I used to be involved in croquet but everybody died on me. We had a director's meeting and the [administrators] wanted to know what was on everyone's bucket list. I stood up and said I wanted to go skydiving and everyone laughed at me. I was 80 or 81 when I said this. But then we finally found a wind tunnel up near Asheville and everyone came and clapped and screamed when I did it. They couldn't get the younger ones up. The man who took me up, Army Sgt. Michael Elliott, was the same man who took up former President George [H.W.] Bush. I fell 7,000 feet in 45 seconds. We jumped out at 16,500 feet. Then the parachute opened. I didn't want to come down. I loved it and would do it all again.
So then what did you do next on your bucket list? I said I wanted to drive a NASCAR and so we went to the motor speedway but I'm too short and I couldn't reach the clutch. I was so disappointed. I just couldn't believe it. But there was a fellow there and he said he'd take me for a ride. I said okay but that he had to go as fast as he could go. He went 175 mph. That was great.
And your latest adventure was zip-lining? I wanted to do that next. I went to the zip-line course at The Gorge in Saluda, North Carolina. It's not the same as jumping out of a plane, but it's still okay.
What's your typical day like? You can't always be doing adventure sports. I do line dancing a lot. I volunteer with battered women. I drive friends to doctor's appointments. And I'm always thinking of what I can do next.
Is there anything left on your bucket list? What I would really love to do next is go to the moon. But I think that takes about a million dollars. That would be my dream.
How do you stay so fit and active at 84? Do you eat certain foods or avoid certain drinks? Absolutely not. I don't pay any attention to what I drink or eat. I've lead a good life, so whenever the dear Lord is ready for me he can have me. People love what I do because it shows that just because you are in a retirement home doesn't mean you have to sit every day in a rocking chair. I'm never still.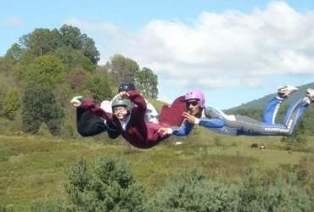 Daredevil Bonnie Zelinskie At Age 84