U2 musician Bono has spent years reading and learning from the poetry of the Psalms, a book of the Bible that contains ancient hymns.
If there's one thing Bono has realized from his studies, it's that art always requires honesty.
During a conversation with Fuller Studio, the rock star spoke at length about the intersection of faith and art, particularly art that is produced by Christians.
"I would really like this conversation to unlock some artists," the singer, a devout Christian, said. "Because I think there are trapped artists and I'd like them to be untrapped."
In a previous dialogue with Fuller Studio released April 2016, Bono compared the Psalms with contemporary Christian worship music ― and found modern-day praise music to be sorely lacking. He argued that some contemporary worship music lacks the range of raw emotions that's contained within the Psalms.
In the new video series, released this April, Bono revisited the topic with Fuller Theological Seminary's professor David O. Taylor. He offered further insights into how deeply the Psalms have influenced his life and his music.
Before taping the new interview, Bono said he reread the Songs of Ascents ― a series of Psalms that were possibly sung by Jewish pilgrims as they made a trip to Jerusalem. Within those few chapters, Bono said he found songs about peace, protection, laughter, hubris, rage, tears, humility, and unity.
"Okay, that's just Songs of Ascent. They had utility. And why is it in Christian music, I can't find them?"
He also critiqued the impulse to label music as "Christian," or not Christian.
"Creation screams God's name. So you don't have to stick a sign on every tree," Bono said, suggesting that just because a song isn't explicitly called a "Christian" song, that doesn't mean it isn't spiritual in nature.
"This has really, really got to stop," he said. "I want to hear a song about the breakdown in your marriage, I want to hear songs of justice, I want to hear rage at injustice and I want to hear a song so good that it makes people want to do something about the subject."
The musician also shared his biggest dream for up-and-coming artists ― that they would create art for themselves and not necessarily just to please other people.
"I want to argue the case for artists or potential artists who might be listening in on our conversation and are not giving expression to what's really going on in their lives because they feel it will give the wrong impression of them. We don't have to please God in any other way than to be brutally honest," Bono said. "That is the root. Not just to a relationship with God, but it's the root to a great song. That's the only place you can find a great song. The only place you can find any work of art, of merit."
Related
Before You Go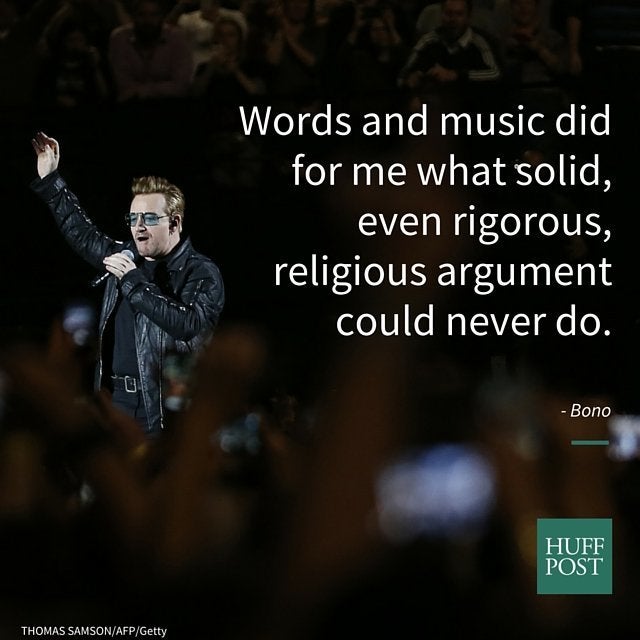 Bono on Spirituality
Popular in the Community