U2 lead singer Bono was just 14 years old when he lost his mother to a brain aneurysm. He found himself living in an all-male household on the north side of Dublin that lacked the warmth and closeness of a tight-knit family. It would be years before he finally understood what "home" truly felt like.
The artist sat down alongside his daughter, Jordan Hewson, for HuffPost's parent-child interview series, Talk To Me, and looked back on the moment he left that house and found the family he always wanted.
"The house, it was just that. It was no longer a home for me," he said. "And I guess U2 kind of became that surrogate family. I'll be honest with you: I've only really ever understood the feeling of home when you entered my life."
It was 1989. Bono was at the recording studio when his pregnant wife Ali Hewson arrived to pick him up and head to the hospital. Despite being in labor, she did the driving.
"She had packed me a small little flask of whiskey, some novel I was reading, some newspapers," he said. "She was the together one. I was recording. So up 'til the last minute I was probably in denial."
While at the hospital, Bono couldn't resist turning the monumental moment into an opportunity to make music. He brought a portable tape recorder and recorded his daughter's heartbeat as she was in the womb.
"I was going to make a song recording your heartbeat as the rhythm. And I noticed the heartbeat going slower," he said.
He told the nurse immediately, who dismissed him at first. But eventually Bono told his wife's doctor, who realized something was wrong.
"You were rushed into existence," he told Jordan, remembering that she was born on his own birthday. "They suggested that you should be near my heart or your mother's heart. You were so vulnerable, five pounds. So you slept on my chest for two weeks."
It was his knowledge of music and tempo that helped him that day, but Bono's love for music isn't the only thing driving him anymore. Bono has also become a fierce advocate in the fight against AIDS. He helped create ONE and (RED) to combat the systemic issues that make it so difficult to escape poverty and disease in some areas of the world.
During their interview Bono took an introspective look at the twisted way society views celebrities, who are often "over paid and over-regarded," but have a unique opportunity to affect change.
"If celebrity has anything to offer, it's that you can use celebrity to shine a light on issues and put a spotlight on people whose voices are not heard." he said.
Thirteen million children in America face hunger every day. This year, Unilever is donating one million meals, and each time this story is shared they'll donate one more. Pass it along with the hashtag #ShareAMeal.
Before You Go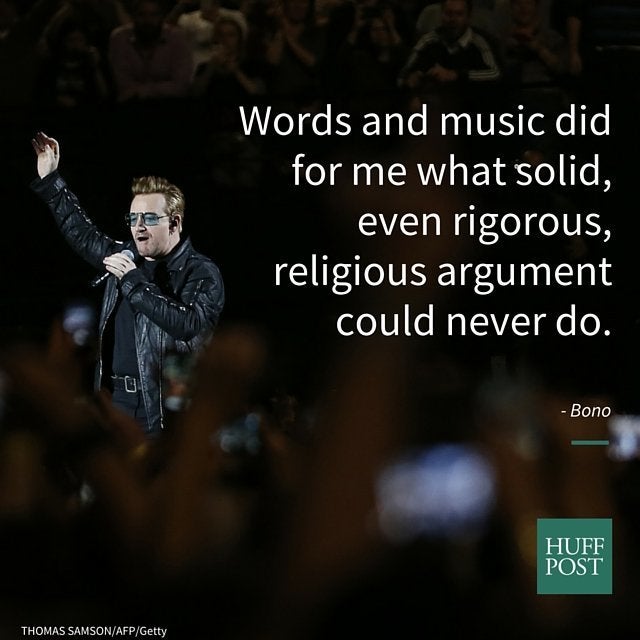 Bono on Spirituality