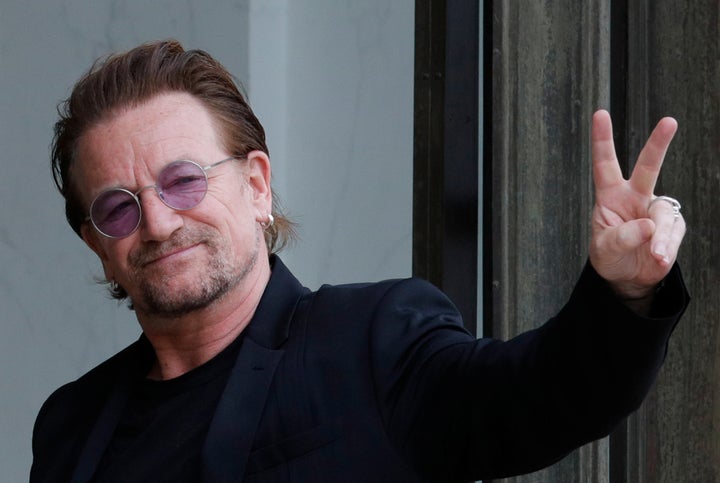 During a recent interview with Rolling Stone, U2′s Bono lamented that "music has gotten very girly." Unsurprisingly, readers were angry with the 57-year-old's tone-deaf comments.
The musician made the "girly" remark when he was explaining how his kids helped their dear old dad discover new music.
"The band is always listening to music, and I have got my kids. Jordan is a music snob, an indie snob," the 57-year-old said in a recent interview with Rolling Stone.
"Eve is hip-hop. Elijah is in a band, and he has got very strong feelings about music, but he doesn't make any distinction between, let's say, the Who and the Killers. Or, you know, Nirvana and Royal Blood," Bono said. "It is not generational for him. It is the sound and what he is experiencing. He believes that a rock & roll revolution is around the corner."
When the magazine asked whether Bono also believed rock 'n' roll was headed toward a revolution, the singer said this:
I think music has gotten very girly. And there are some good things about that, but hip-hop is the only place for young male anger at the moment — and that's not good.
The musician didn't elaborate on his belief that anger is strictly a "young male" emotion, nor why he believes it's only present in hip-hop. It's also unclear whether he intended "girly" as an insult or a marker of weakness. Perhaps he missed the ample excellent music released by female artists this year, or the many, many reasons women had to be angry — especially in 2017.
"When I was 16, I had a lot of anger in me. You need to find a place for it and for guitars, whether it is with a drum machine — I don't care," Bono added. "The moment something becomes preserved, it is fucking over. You might as well put it in formaldehyde. In the end, what is rock & roll? Rage is at the heart of it."
Twitter users seemed amazed the musician would say something so incredibly out of touch (then again, this is the man that praised Vice President Mike Pence's anti-AIDS work that might've led to an HIV spike in Indiana).
We expect an apology coming in 3, 2, 1 ...