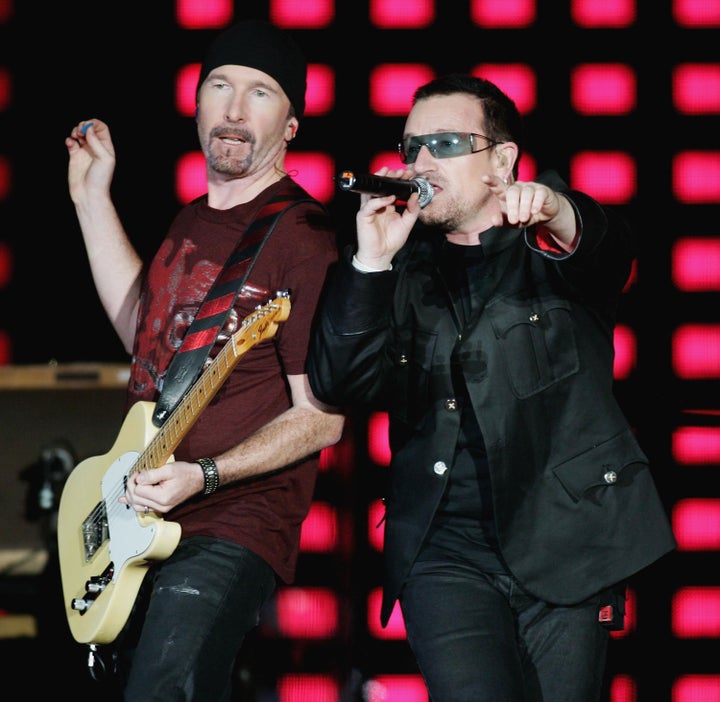 Well, not quite replacing Kristol just yet, but the U2 frontman will be writing op-eds for the Times and its Web site -- and podcasting -- starting this Sunday (see update below). The fate of Bill Kristol, meanwhile, at the paper should be decided any day. His one-year contract is now up.
The Times announced in a release this morning that Bono, the singer, writer and anti-poverty activist (among other things), has been invited to write op-ed columns for the paper, beginning this Sunday in print and online. He will also do podcasts and cover a broad range of subjects. A few lines are on the horizon and soon it will be Sunday, Bono, Sunday.
"What an honor," said Bono. "I've never been great with the full stops or commas. Let's see how far we can take this."
"Bono is a great addition to our Op-Ed line-up," said Andrew Rosenthal, editorial page editor of The New York Times. "He is an extraordinary man who thinks deeply about his art and the major issues confronting the world. His writing will reflect that."
Actually, this news first emerged last fall when Rosenthal chatted about it while speaking at Columbia University. At that time, he spoke of six to ten columns for Bono during the year with subjects including, besides political issues, the music of Frank Sinatra.
Asked what Bono would be paid, he said then, "nothing."
The Times observed in its release: "Bono has been a leader in the fight against AIDS and poverty in Africa since his initial involvement in the debt cancellation campaign of 1998, when he began lobbying governments across the G8 to free poor countries from odious debts so they could spend more on health and education." And it went on from there to detail his other work for the ONE foundation and much else.
Maybe you'd like to speculate on what his first column or general tone might be? Kristofian? Will it top Paul Krugman? Even Better Than The Shrill Thing? Or is he merely, as he sang in his "New York" song, "staying on to figure out my mid life crisis."
UPDATE SUNDAY: Irish troubadour kicks off his new op-ed gig not with a political issue type thing, as some expected, but an ode to...Frank Sinatra, or "Mr. Frank," as Dylan memorably addressed him. Talks about the painting Frank gave him, and voices improving with age, and authenticity, etc....Author's blurb reads: "Bono, lead singer of the band U2 and co-founder of the advocacy group ONE, is a contributing columnist for The Times."
Greg Mitchell is editor of Editor & Publisher and his most recent book on Iraq and the media is "So Wrong for So Long."
REAL LIFE. REAL NEWS. REAL VOICES.
Help us tell more of the stories that matter from voices that too often remain unheard.