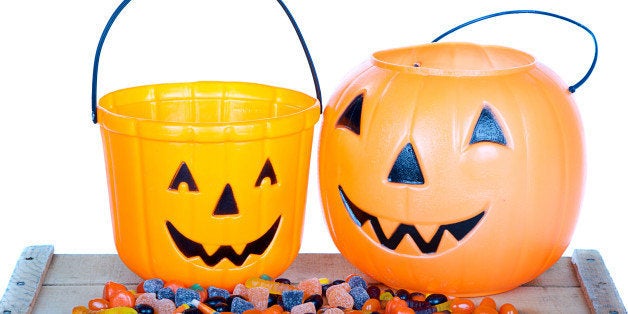 It's Halloween season and, as such, a week or so of expected "boos."
For those of us who celebrate the holiday in some way, it's perhaps one of the only days during year where we (almost willingly) honor and invite being startled or unnerved -- by the black cat, the skeleton, creaking staircases, or the lurking shadow. We enter the haunted house, we embrace the fear and we nonchalantly shrug off our screams when exiting.
Halloween lasts only a day, however. We toss (or donate) the Hersheys and conveniently shelve the costumes and the cobwebs they collect until next year. The "boos" don't necessarily go away, however.
In a world beyond the Jack 'O Lantern, we're regularly startled or shaken. For many, there's a relationship shadow that lurks well beyond 10/31.
Specifically, I think three kinds of "me and you" BOOs exist, so BEWARE! They often show up in instances of building or ending something with someone else.
The heart stopping, pool of sweat BOO. When this happens, our relationship blinders are torn off unexpectedly and perhaps a bit violently. We're in a slumber of sort when suddenly something we haven't seen or have "chosen" to ignore becomes our stark reality. It's a loud boo that suddenly and "harshly" startles us into the possibility of a new interpersonal world, characterized by perhaps independence at best, loneliness at worst.
Creepy, crawly BOO. This is probably the most "haunting" boo. A work or personal relationship creates a hovering, nagging uneasiness. We believe and may even know that some "danger" -- in the form of a change or resolution in friendship, companionship, love interest -- lurks around a corner although we're not sure of its magnitude or our ability to handle it. As such, we proceed with hesitancy and caution, delaying perhaps an inevitable ending (or beginning).
Surprising satisfying BOO. Experiences of unexpected or sustained relationship synergy -- joy, peace or comfort -- can be equally startling. This is the I'm so happy it scares me kind of boo. For some, these moments of unparalleled contentment feel so strange that we expect and brace ourselves for their eventual collapse. Our fear of a relationship future, in essence, erases any present day periods of happiness.
Boos, as described above, require special handling -- specifically, noticing, holding, and staring down behaviors.
When we notice the "boo," our thoughts and feelings of uneasiness lose their apparitional quality. We accept them as real and permanently our own.
When we hold the "boo," we no longer accept running away from it as an option.
When we stare down the "boo," fear is no longer the only but one of many different alternative responses. In essence, we say "boo on you."
Halloween this year like every year presents opportunities for fright (and fun) with others. And we're ready -- disarming any surprise, scare, or thrill (the metaphoric coronary) with candy. It's the other 364 days of the year when the protection from the "boos" requires more -- first and foremost, a stronger, more resilient heart.