Cocktails in boxes, zombie themed or crazy-eyed...I think it's fair to say we have Halloween covered.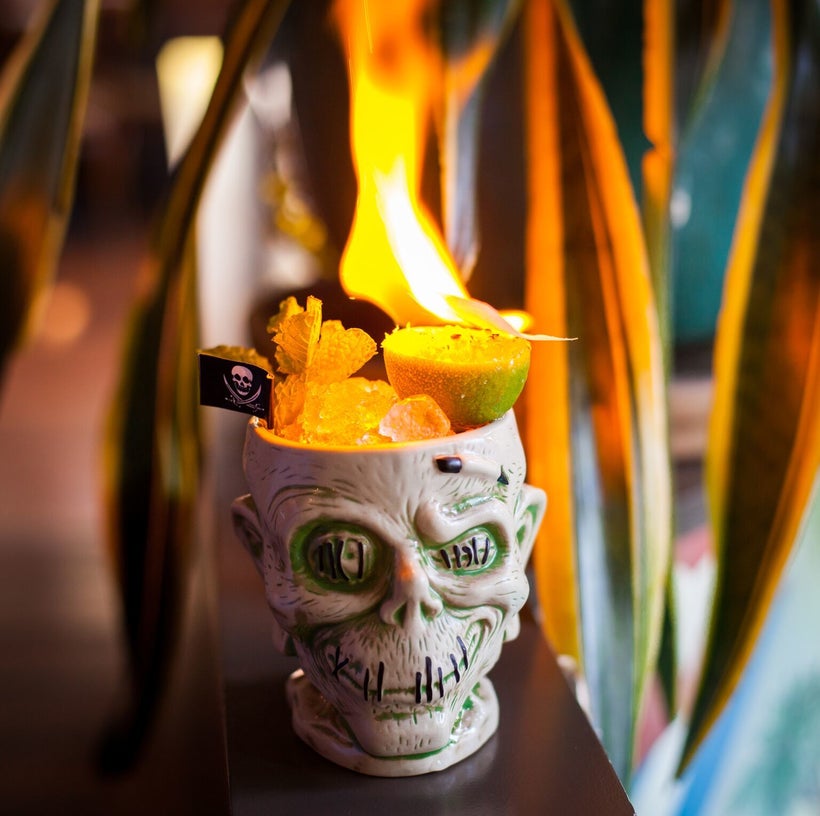 - 1 oz Novo Fogo Chameleon Cachaça
- 1 oz Novo Fogo Tanager Cachaça
- 0.25 oz Giffard Triple Sec
- 0.5 oz passionfruit syrup
- 1 dash Scrappy's Aromatic Bitters
Shake, pour over crushed ice into a tiki mug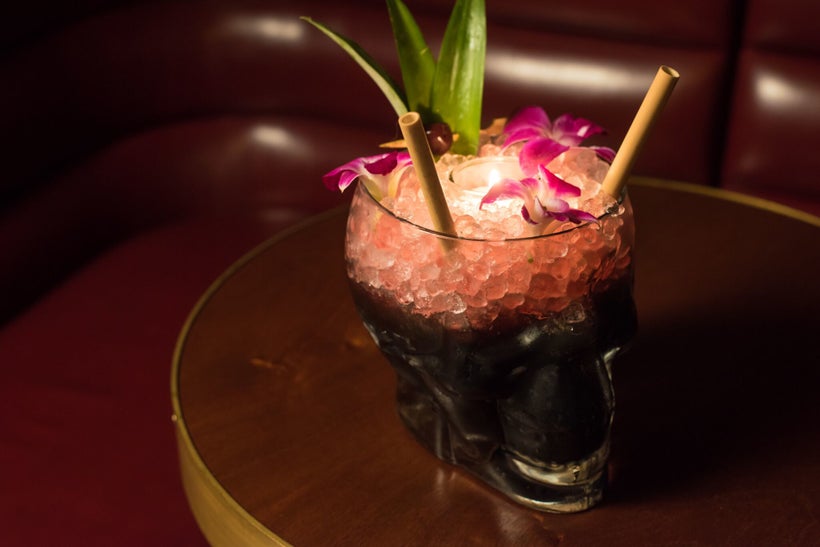 Perla Negra (Jim Kearns for Slowly Shirley, NYC), serves 2
.5 tsp Activated charcoal
Method: Add activated charcoal to shaker. Add the rest of the ingredients, except the sorrel. Shake with about three large ice cubes. Strain over crushed ice into vessel. Pack a lit votive candle into the crushed ice on top of the cocktail. Measure and pour the sorrel around the candle. Candle and orchids garnish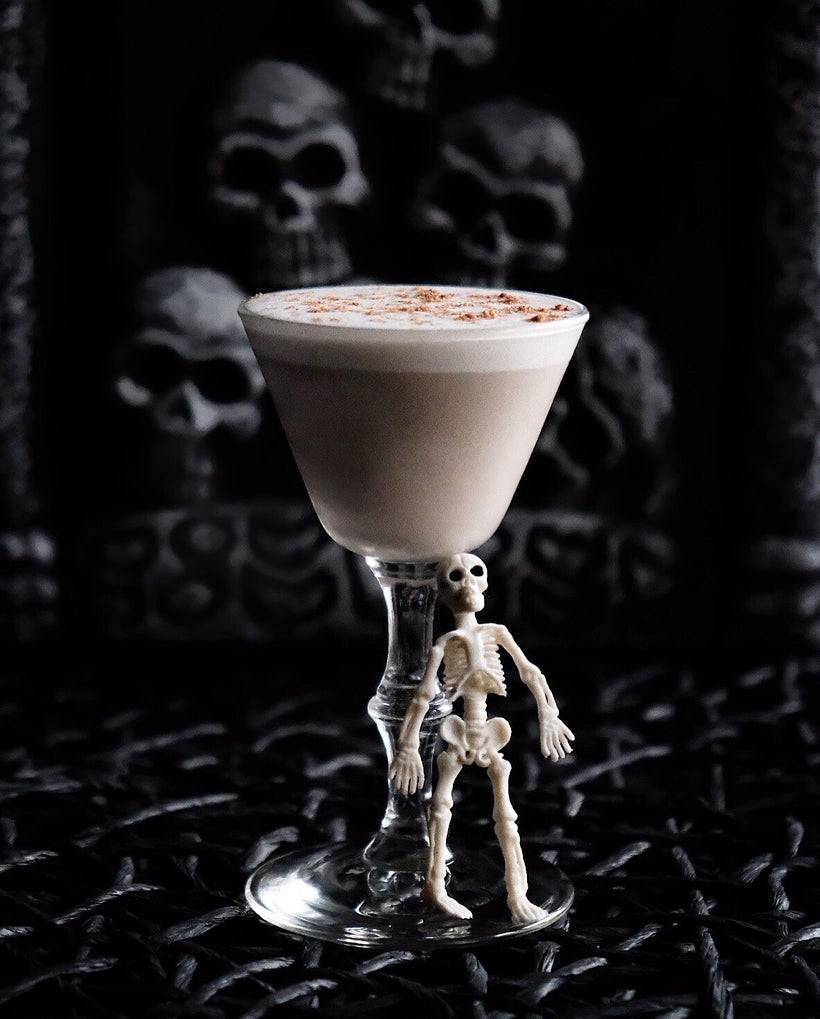 Rum Walnut Alexander (Jonathan Howard, Henly, Nashville)
1oz- Don Ciccio & Figli Nocino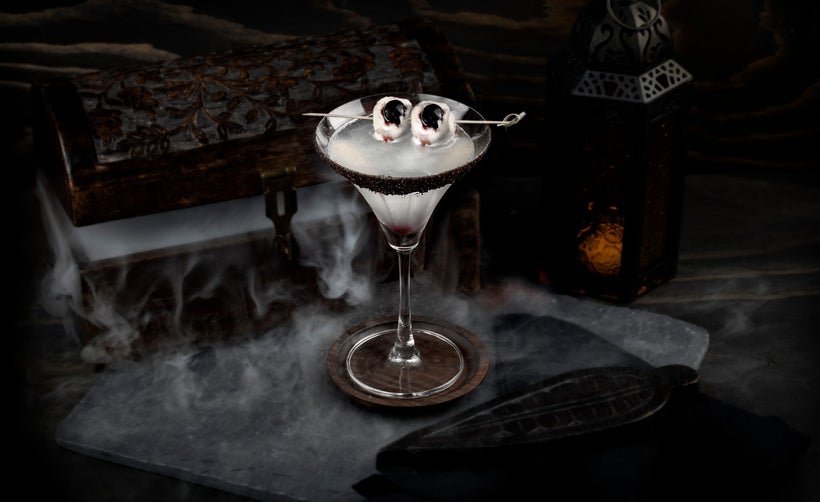 1.5 oz. Casamigos Blanco Tequila
.25 oz. Fresh Lemon Juice
Thick rim of salt, sugar, oreo cookie crumbs* (equal parts). Combine all ingredients into tin shaker. Muddle herbs. Add ice. Shake vigorously for 12-15 seconds. Fine strain into a small martini glass. Garnish Luxardo cherry inside lychee ball (as eye ball) through skewer. *To add sugar, salt, oreo rim – Wet rim of glass with lime wedge and agave nectar and roll rim through mixture.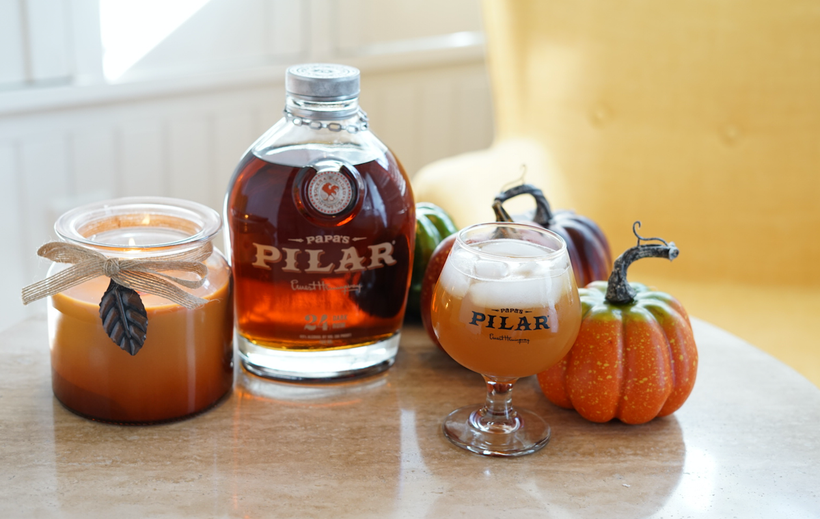 Papa's Pilar Rum Fall Cocktail
1.5 oz Papa's Pilar Dark Rum
.75 oz (Monin) Cinnamon Infused Simple Syrup
Served hot - use 10 oz Irish coffee mug. Served cold - use 9 oz snifter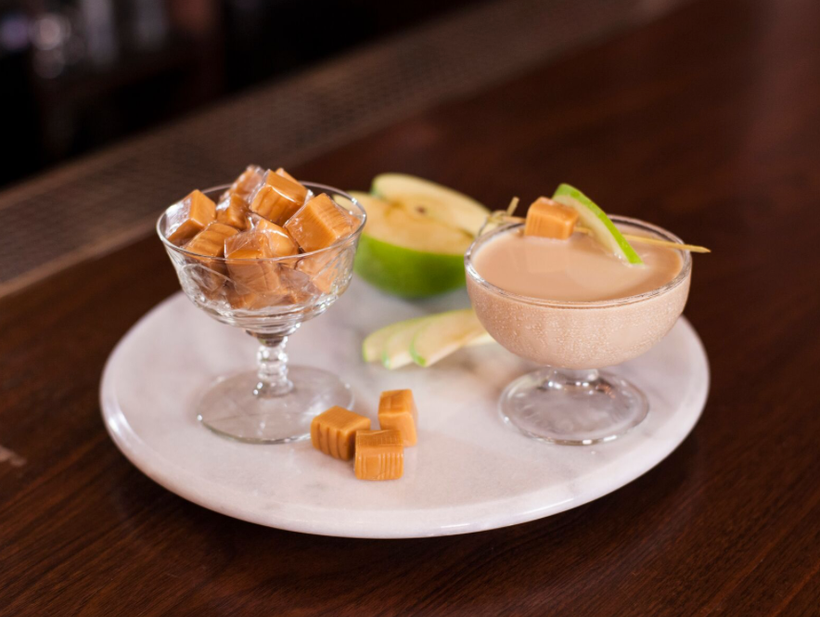 Apple of my Irish (Pamela Wiznitzer of New York)
1.5 oz. Kerrygold Irish Cream Liqueur
1.5 oz. Lairds Apple Brandy
Shake with ice. Garnish with a skewer of caramel and apple slices.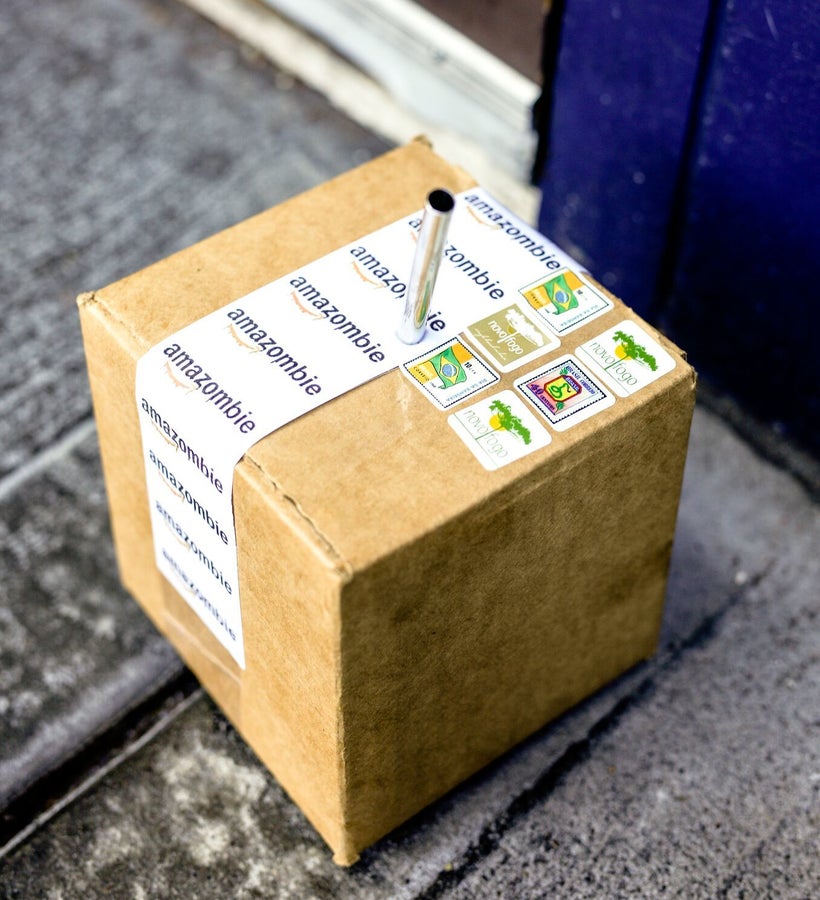 Amazombie (cocktail-in-a-box. Kate Perry of Seattle)
1 oz Novo Fogo Tanager Cachaça
3/4 oz Novo Fogo Silver Cachaça
1/2 oz Novo Fogo Chameleon Cachaça
6 dashes açai "grenadine"
2 dashes Scrappy's Angostura bitters
Açai grenadine is equal parts acai juice and sugar, simmered and well strained. Add 1/2 oz Novo Chameleon Cachaça and a dash of orange flower water.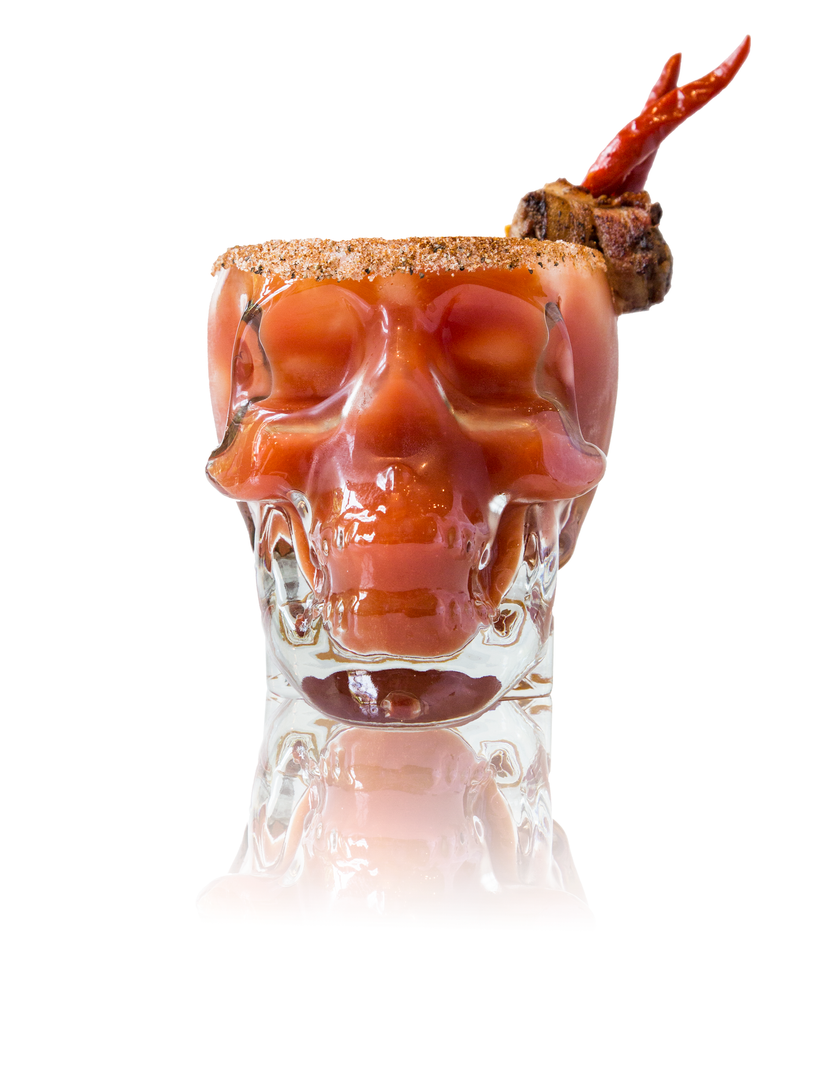 5 oz. Clamato (Caesar) or tomato juice (Bloody Mary)
dash of Worcestershire sauce
Ingredients for Rim Garnish: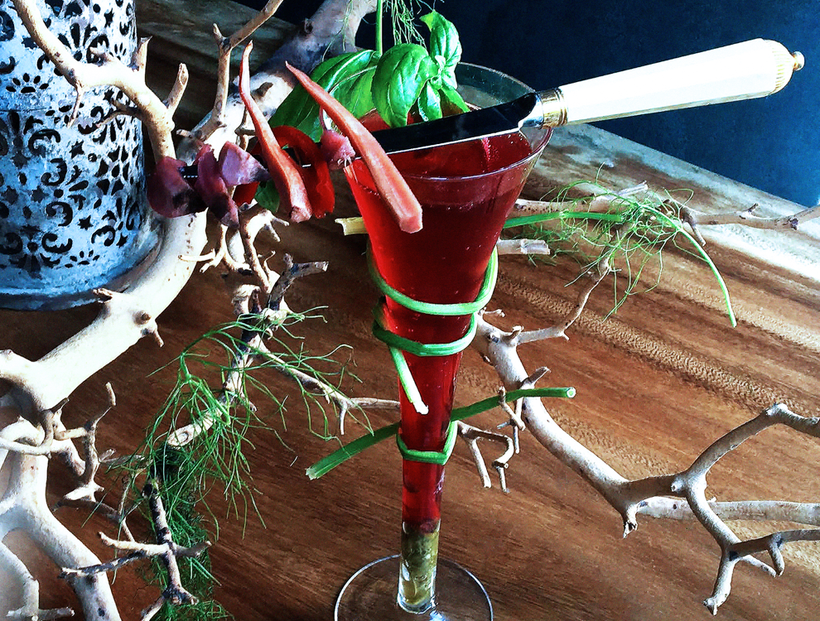 Blood Roots Tequila (Jehangir Mehta of Graffiti Earth)
Strain into a tall champagne flute top with sprite.
Garnish: Pickled carrots, turnips and Thai chili stab in knife. Basil leaves on top.
Calling all HuffPost superfans!
Sign up for membership to become a founding member and help shape HuffPost's next chapter
This post was published on the now-closed HuffPost Contributor platform. Contributors control their own work and posted freely to our site. If you need to flag this entry as abusive,
send us an email
.