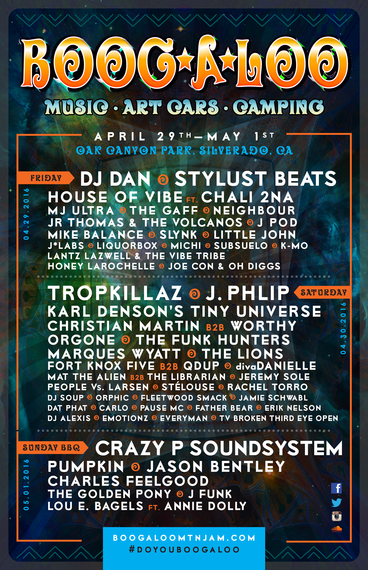 In many cultures, the mountain is a sacred place where people gather to purge and pray. For the music festival community, it is the perfect place to worship music and bask in the love of human connection. The second annual Boogaloo Music Festival is still gleaming from its success in 2015 and promises to offer an even more magical event this spring during the weekend of April 29th-May 1st.
Planted right on the pristine shores of Irvine Lake in Oak Canyon Park, this venue has been home to festivals such as Lightning in a Bottle, Woogie Weekend, Dirtybird Campout and Pacific Festival. The mountain-spired horizon along the perimeter of the reservoir has garnered its own followers, many of whom fell in love with the venue from the early days of Lightning in a Bottle. Boogaloo is now creating its own Irvine Lake legacy and is quickly growing in popularity.
There are many unique aspects of Boogaloo that make it stand out within the California festival scene. After the artist booking was completed, it became apparent that this event has one of the largest amount of female DJs and producers set to perform. With 14 women gracing Boogaloo's lineup, there is no doubt that the once male-dominated DJ industry is beginning to change and this change is warmly welcomed.
For all you sound junkies, the most exciting facet of Boogaloo 2016 is that they will be premiering a brand new speaker system called the Traction Raptor on the Charlie Stage. They are a Brighton, U.K. based company and are excited to have Boogaloo be their North American debut. Based out of London with representation in Chicago and Los Angeles, distribution and events company Sodasonic, just landed a contract with Traction to be their exclusive North American distributor. "What sets Traction apart from the rest is that they don't use compression drivers but instead a meticulously designed set of soft dome tweeters that emit sound with unparalleled clarity and throw within its class," explains Sodasonic partner, Nic Neath.
The Traction Raptor system is ideal for electronic bass music offering clear highs without harshness and solar-plexus-shaking lows. While many speakers require full output to achieve their best sound, Tractions promise pristine sound on all levels, including turned down. Thankfully there is no sound ordinance at this venue so Boogalooers will get to experience these speakers at high, mind-melting levels. "I'm confident the Traction Raptor will leave bite marks wherever it goes," claims local sound guru, Todd "Chino" Anisman.
While speakers are of enormous importance, what would they be without sweet music spewing out of them? The Boogaloo lineup features DJ Dan, Stylust Beats, Crazy P, J Pod, J*Labs, Tropkillaz, J. Phlip, Lou E. Bagels ft. Annie Dolly, The Funk Hunters, Christian Martin, Fort Knox Five, divaDANIELLE, Stélouse, Orphic, TV Broken 3rd Eye Open, and KCRW's Jeremy Sole and Jason Bentley, just to name a few. With DJs, live bands, live art, workshops, camping, art cars, yoga, vendors, and a family friendly environment, Boogaloo has all the fixings of a delicious weekend.
Beginning as a small family gathering put on by the Dirty Beetles in Lake Elsinore, it then transformed into a fundraiser for a Burning Man art project the following year. After those two successful years, the founders decided to take a year off from Dirty Beetles business and pour their passions into expanding the Boogaloo Mountain Jam into a three-day, multi-stage, camping music festival. Last year proved the group was more than able to put together a smile-inducing festival as they continue to grow and gain followers in 2016. Though not on top of the mountain, Boogaloo will be among the mountains, celebrating life, love and sound.
Calling all HuffPost superfans!
Sign up for membership to become a founding member and help shape HuffPost's next chapter