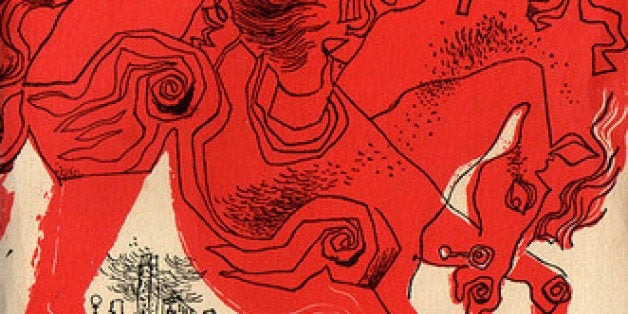 Hollywood producers are no strangers to the world of books, which they regularly cull through for source material. At this year's Academy Awards, "12 Years a Slave," based on a memoir by Solomon Northup, took home Best Picture, and a number of other adaptions, including Baz Luhrman's take on The Great Gatsby, took home awards, too.
Adaptations of fairy tales have been particularly popular lately, with "Frozen," an animated take on Hans Christian Andersen's "The Snow Queen," winning an Oscar for Best Animated Feature. Sophia Coppola recently announced that she'll be adapting a version of Hans Christian Andersen's "The Little Mermaid" that's truer to the source material.
There are very few classic novels that have yet to be adapted in one way or another -- some, of course, were much more successful than others. But there are a few for which the authors have yet to allow for an adaptation, including The Catcher in the Rye and One Hundred Years of Solitude.
What makes a book a good fit for film adaptation? It doesn't hurt to be plot-driven, rather than, say, a catalog of the main character's thoughts while wandering through a city (although we'd still be excited to see Holden come to life on the big screen).
Here are 16 great books that we'd like to see adapted into movies:

The Corrections by Jonathan Franzen
Franzen's National Book Award winner was slated to be adapted into an HBO show starring Anthony Hopkins, but unfortunately that never worked out. The book follows the lives of multiple family members, so its episodic nature lends itself to television, but it'd work well as a film, too. Scott Rudin optioned the rights to produce the film in 2001, but so far nothing has come of it. In 2002, Franzen wrote that he'd love to see the film star Gene Hackman as Alfred and Cate Blanchett as Denise.

Middlesex by Jeffrey Eugenides
Eugenides's first novel, The Virgin Suicides, was turned into a fantastic film directed by Sophia Coppola. We're not sure she'd be the best person to take on Middlesex, though, which is a more sprawling, less atmospheric story. Told from the vantage point of Cal (previously Calliope), an intersex character, it spans generations of the protagonist's familial history, from the Balkan Wars to the 12th Street riot in Detroit. The film industry could use a fresh perspective on gender identity, and this could be just the story to provide one.

Swamplandia! by Karen Russell
Russell's Pulitzer-nominated novel has the qualities of a darker fairy tale, and is a richly complex story that would translate well into film. We imagine a "Beasts of the Southern Wild"-type adaptation, in which the naivety of childhood is portrayed as both hopeful and tragic. The comic relief provided by one of the book's narrators, Kiwi, would make the more harrowing elements of the story more palatable. Scott Rudin is supposedly adapting the film into an HBO series -- we're keeping our fingers crossed.

Americanah by Chimamanda Ngozi Adichie
Adichie's story is a love story at heart, making it neatly adaptable for film. But it's also much more than that: It explores the nature of race in America and the military troubles in Nigeria. It's set not only in Lagos, but in London and, as its title implies, America. It's both thoughtful and funny -- an ideal formula for adaptations.

The Interestings by Meg Wolitzer
The Interestings is the story of a group of friends who are all talented in various creative arts, and the ways in which their pursuits pan out as they get older. Some are wildly successful, while others must instead opt for more practical career paths. It'd make for an excellent drama; we're picturing the versatile Jessica Chastain as protagonist Jules, whose attempt to become a comedic actress is thwarted.

The Left Hand of Darkness by Ursula K. Le Guin
Le Guin's book was optioned to be made into a film and corresponding video game in 2004, but both have yet to come to fruition. It's a feminist work of science fiction, like Margaret Atwood's The Handmaid's Tale. Although Le Guin's book isn't exactly sci-fi for non-sci-fi readers, the fascinating inventions and characters crafted by Le Guin would hold a more general audience's attention.
DeLillo's work has been adapted into films before -- his Cosmopolis was made into a film by David Cronenberg, starring Robert Pattinson. The movie was a bit of a flop, but not through any fault of DeLillo's, whose writing is wry and humorous, and whose adaptations could appeal to fans of Brett Easton Ellis. Americana chronicles a young narcissist's road trip across the country -- what's not to love about that?

Looking for Alaska by John Green
John Green's The Fault in Our Stars is being adapted into a film releasing this summer, and nerd fighters (the nickname he lovingly gives his fans) everywhere are amped. But the rest of Green's work would also make for fantastic YA films, in the vein of "The Perks of Being a Wallflower" or last summer's "The Spectacular Now." We think Emma Watson would make for an excellent Alaska Young.

The Woman Upstairs by Claire Messud

Bleeding Edge by Thomas Pynchon
Pynchon's story, set in pre- and post-9/11 New York, is incredibly action-packed. The protagonist, Maxine Tarnow, dabbles in fraud investigation, and falls down a rabbit hole while looking into a techy billionaire. The book is both meaningful and fast-paced, which makes it an excellent candidate for an adaptation.

One Hundred Years of Solitude by Gabriel Garcia Marquez
One Hundred Years of Solitude is a classic, and arguably one of the most influential works of magical realism, a genre that can do wonders onscreen (see: Hayao Miyazaki's fantastic cartoons, "Amélie," and "Chocolat"). But Gabriel Garcia Marquez has not yet allowed any production company purchase the rights to adapt his novel.

A Confederacy of Dunces by John Kennedy Toole
John Kennedy Toole's book was almost never published. The same may one day be said of the book's film adaptation, which has almost come to fruition a handful of times, but has repeatedly been put on hold due to various obstacles, including the state of New Orleans after Hurricane Katrina. Will Ferrell was once slated to star as Ignatius -- a casting choice we can definitely get behind, although we'd also fully support Louis C.K. as the lead.

As She Climbed Across the Table by Jonathan Lethem
Jonathan Lethem writes sci-fi that appeals to a broader audience, and As She Climbed Across the Table, while somewhat quirky, is no exception. Alice, a particle physicist, creates a black hole, then proceeds to fall in love with it. The plotline of a main character falling for an inanimate object has proven to be successful on-screen (see: "Her," "Lars and the Real Girl"), and we think Lethem's story could put a darkly comedic spin on the concept.

The MaddAddam Trilogy by Margaret Atwood
Atwood's trilogy is a dystopian story, so it's a wonder that it hasn't yet been optioned for a film. Her writing is snappy, and the story is a page-turner. In the first installment, the narrator, Snowman, describes the events leading up to the apocalypse -- including the creation and consumption of genetically-modified animals -- and the events shortly following. The second book tells a similar story, but from the vantage point of a clan living in the pleeblands. We imagine the film being somewhat like The Hunger Games trilogy, but more suited for adults.

The Catcher in the Rye by J.D. Salinger
Even before stories about young adults entered the limelight, a number of directors and actors expressed a strong interest in partaking in an adaptation of Salinger's classic, including John Cusack, who regrets never being able to play Holden. Salinger's estate has not yet licensed the film. Salinger himself had said that he was open to the possibility of an adaptation, but thought that the first-person narration would come across as cheesy (or, you know, phony) onscreen. We see his point, but think a suitable adaptation is definitely possible.
Popular in the Community