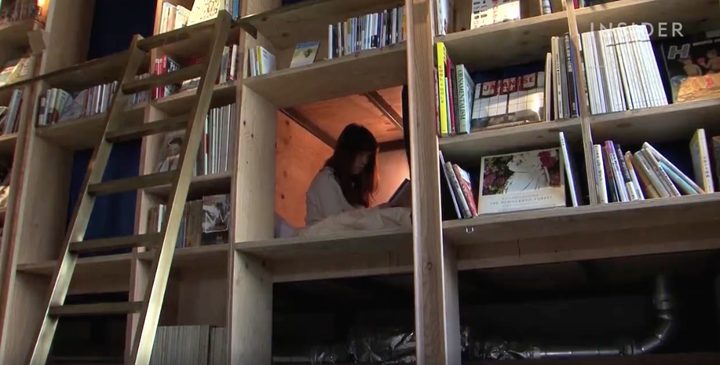 There's nothing better than cozying up in bed with a good book… or, as in the case of this Japanese hostel, a few thousand of them.
Book and Bed is a small, 30-bed hostel in Tokyo where guests sleep in snug little cubbies hidden behind library shelves laden with books.
(The word "snug" may even be generous here, as the larger of the two room offerings measures just 6 by 4 feet.)
On its website, the hostel -- featured in a viral video posted on Facebook this week by INSIDER -- is honest about what patrons should expect from the self-described "accommodation bookshop."
"The perfect setting for a good night's sleep is something you will not find here. There are no comfortable mattresses, fluffy pillows nor lightweight and warm down duvets," the establishment warns.
Instead, the hostel promises its patrons a special experience, known well by book lovers the world over:
"What we do offer is an experience while reading a book (or comic book). An experience shared by everyone at least once -- the blissful 'instant of falling asleep.' It is already 2 a.m. but you think just a little more... with heavy drooping eyelids you continue reading only to realize you have fallen asleep... Dozing off obliviously during your treasured pasttime is the finest 'moment of sleep,' don't you agree?"
It costs upwards of $34 a night to stay at Book and Bed. Each room comes with a simple mattress and reading light. There's also free Wi-Fii.
The hostel, described by The Guardian last year as a "heaven for bookworms," says its shelves can stock up to 3,000 books.
The books, a mix of English and Japanese offerings, are not for sale, however -- they're just there for the enjoyment of hostel patrons.
"When I go to five-star hotels, the bed is lovely but I find myself wanting to sleep in the bar," So Rikimaru of R-Store, the company that runs the hostel, told The Guardian of the inspiration behind Book and Bed. "Even if there is a comfortable bed, sometimes you still want to be in a more interesting place. We wanted to make a place where people can just have a good time and sleep."