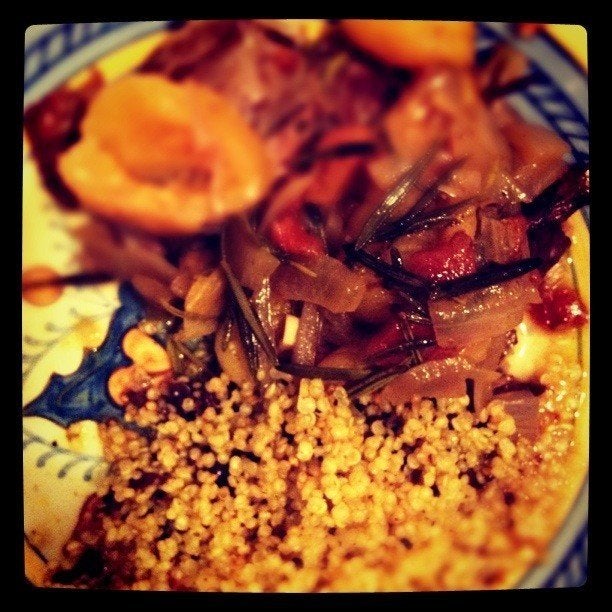 It's hard not to be inspired to cook when reading Gabrielle Hamilton's Blood, Bones and Butter. The first 5 chapters of the book, conveniently and tidily wrapped up in the "Blood" section, establish Hamilton's most intimate roots. She paints a visceral, chaotic, fierce portrait of a childhood and young adolescence spent on the one hand swaddled comfortably as the baby of a large family, and on the other, as a wild and unattended young woman left suddenly to fend for herself amidst the ruins of her parents' marriage.
Although she spends her formative teenage years lying about her age, stealing money from her employers, and binging on coke, as a reader I was ultimately left with her memories of her mother (tangerines, vinaigrette, and cigarettes) and of her father's annual spring lamb roast (lemon, rosemary, and garlic). It's clear that despite her (justifiable) rage at being left alone at such a young age to clean up after her parents' mess, she remains deeply and intimately rooted by her early memories of older siblings, a pantry full of odd and mismatched foods, and her family's scent.
The inspiration for this recipe hit me instantly, and I believe it requires little explanation. The longer it simmers, the deeper the flavors become, so leave it alone to develop for the full 2 hours (if you can stand it).
Spiced Lamb Shank Braised in Red Wine
Serves 2-3
Adapted From "The New Best Recipe" Cookbook
I meant to include cilantro, which I believe would have brightened up the flavors a bit, but I forgot to include it. But you should go right ahead if you feel inclined!
Ingredients
3-4 tablespoons extra virgin olive oil
2 lamb shanks, about a pound each (or slightly less), trimmed of fat
salt and freshly ground black pepper
1/2 onion, thickly cut
1 shallot, thinly sliced
2 cloves of garlic
1/4 teaspoon cumin
1/2 teaspoon cinnamon
1/8 teaspoon paprika
dash cayenne pepper
3 sprigs of fresh rosemary
2 sprigs of fresh thyme
3 tablespoons sherry, or more to taste
1/3-1/2 cup canned diced tomatoes
1/4 lemon
1 cup dry red wine
2 cups low-sodium chicken broth
Preheat the oven to 350°F. Pour about a tablespoon of olive oil into the bottom of a dutch oven and heat on medium until the oil warms up and coats the bottom of the pan completely. Coat each lamb shank generously with salt and pepper on each side, and lay them down in a single layer in your dutch oven. Brown them on each side, turning once, for a total of about 7-8 minutes. Remove them to a plate.
Add another teaspoon or so of oil to the pot and add in your onion, garlic, shallots, spices, and herbs until fragrant. If they begin to stick to the bottom of the pan, or just before, pour in the sherry to deglaze the brown bits. Once your onions are translucent but not at all brown, add in the tomatoes, lemon juice, wine, and broth. Bring to a simmer, then add the shanks back into the pot. If there is not enough liquid in the pot, add in more wine and/or broth until the liquid covers all but about an inch of the shanks. Cover the pot and place in the oven, letting braise for 1.5 hours.
Check on the pot after about an hour. If there is not enough liquid in there, you can add about 1 cup of water, wine, or chicken broth to bring the liquid back up. After the hour and a half is up, uncover the pot and flip the shanks using a pair of tongs. Let braise for another 30 minutes. Then flip them again, cooking for another 30 minutes. The meat will become quite brown, and should be fall-off-the-bone tender (piercing it with your tongs should begin to shred and dislodge some of the meat). Remove the pot from the oven and let it sit for about 15 more minutes. Serve either as whole shanks, or if you want to feed more people, shred the meat off the bone and serve shredded on individual plates. Serve with cous cous or quinoa.