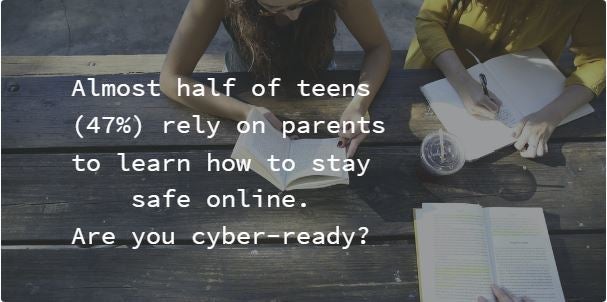 October has been designated National [Cyber] Bullying Prevention and Awareness Month. The fact is, this is a topic that needs attention twelve months a year as the headlines constantly remind us that youth are dying from electronic abuse.
According to this survey, teens and parents both spend too much time online.
Teenagers reported that although they are expected to disconnect during dinner (42 percent), and not to share passwords with friends (33 percent), as well as report any online incidents that make them feel scared or uncomfortable (30 percent) they indicated they wished their parents followed the same advice. Such as 53 percent of teens said parents need to unplug at dinner and 49 percent said parents shouldn't share passwords with friends. Most interesting was 38 percent of teens felt there should be limits on the kind of social media content parents can post.
Online bullying and harassment
Bullying today is magnified by the Internet. The once weak or quiet person can have a megaphone with a keyboard. We must realize in many situations, the bully is hurting as much as s/he is hurting someone else. For this reason alone — parents need to get in tune with cyberbullying among youth.
As illustrated in this survey 23 percent of teens report that they have been harassed or bullied for a sustained period of time on the internet, and 24 percent say they were pressured to participate in harassing or bullying someone else online. Additionally, 20 percent say they had been harassed because of their political views, a category new to this year's survey.
Girls are more likely than boys to say that the mean or cruel messages were related to their appearance (41 percent vs. 29 percent) or their sexual orientation (24 percent vs. 14 percent), while boys were more likely than girls to report meanness and cruelty associated with their political beliefs (24 percent vs. 15 percent).
Parents need to step-up in cyberbullying support
This is not the first time we are hearing that teens turn to peers more when they are being harassed online. In this survey 41 percent of teens say that a friend had reached out to them because of something that was happening to them online. Many of the situations were bullying and harassment, but one in four (25 percent) said their friends had been threatened online. Moreover, when providing peer support for the negative experiences their friends have online, teens find that other friends are the most valuable resource. Fully 57 percent said their other friends were the most helpful in these situations, while 42 percent said their parents were the most helpful resource.
The majority of online teens continue to engage in online activities that their parents don't know about; 57 percent say they have created an account that their parents are unaware of, such as for a social media site or an app they wanted to use.
Communication offline is key to online safety, yet we understand that chatting with our teenager is sometimes a task that can be challenging.
These are challenges we must face since the survey shares that 47 percent of teens say their parents are their go-to source to how to stay safe online compared to 40 percent who say their friends are their top sources.
During National [Cyber] Bullying Prevention Month (and all year round) consider checking out books that can help keep your kids safe online and discuss them with other parents that are facing these same challenges. Add them to your PTA/O meetings and community events, and don't forget to ask your libraries to have them in stock. With the majority of people online today, from youth to young people to our seniors, everyone could use a book-chat on cyber-safety.
Here's some books to check-out:
Popular in the Community