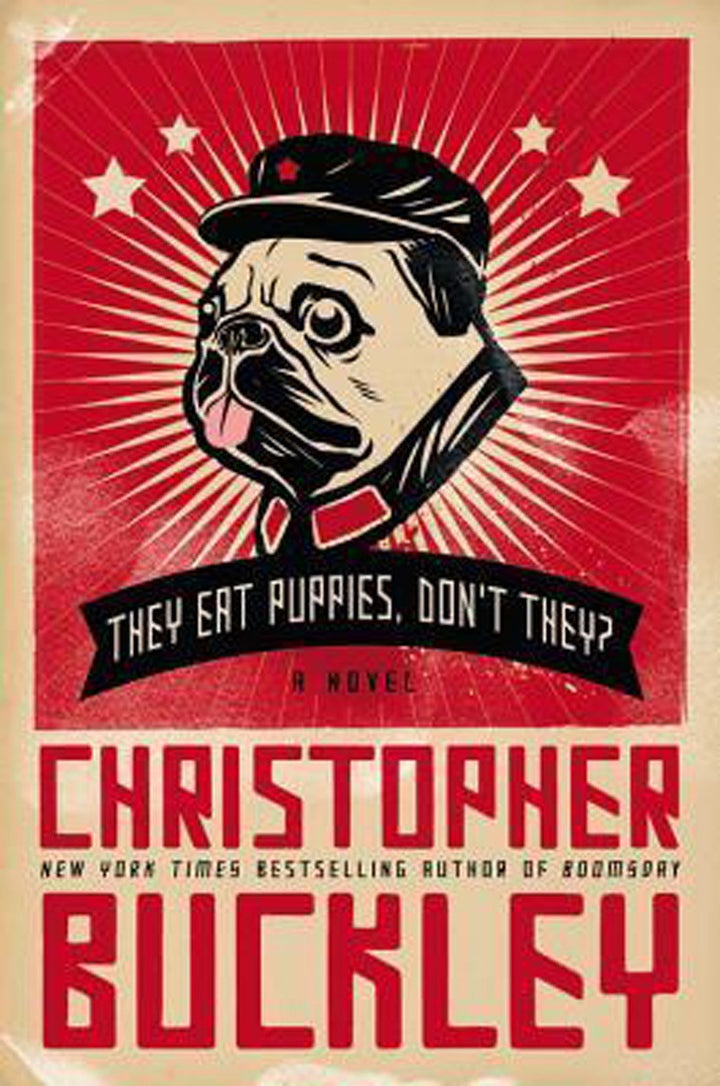 Rejected Covers is part of an ongoing series on rejected book cover designs, in which we invite cover artists to reveal some of the rejected ideas and inspirations behind a particular project.
In your own words, what is this book about?
This book is the latest in a long line of excellent reads by Christopher Buckley.
This satire revolves around a Washington lobbyist whose goal is to turn the American people against the Chinese, no matter what the cost or what strings he has to pull.
What was the mood, theme or specific moment from the text you depicted with this cover?
When I began work on the cover there wasn't a final manuscript in yet, so the covers I initially designed were inspired by the catchy title and by the overall concept behind the book rather than a specific chapter or passage. The art director, Anne Twomey, and I had discussed a few options, and one of the strongest contenders was the idea of pulling from propagandist imagery. After we eventually settled on the final design, Anne did a fantastic job as usual on the final packaging and paper selections to really pull it all together.
What inspires your design?
I love visual problem-solving. It's as simple as that.
There's nothing more fun for me than to be presented with a design "puzzle" - and to have to figure it out.
What is your previous design experience, with books and otherwise?
I've grown up around design. My parents own a small design firm in Wisconsin where I spent my summers learning the basics before going to art school in Minneapolis. After graduating with a major in graphic design, I spent my first five years as an in-house Senior Designer/Art Director at HarperCollins in New York working with Roberto de Vicq. This was my first professional experience with book design, and I've been designing and illustrating book covers ever since.
What was the biggest challenge in designing this cover?
Every book cover presents its own set of challenges, but when you're dealing with a New York Times best-selling author, it's amplified - the stage certainly feels a bit larger, and there's more pressure to deliver a great cover.
Did you consider different ideas or directions for this cover? Why were these rejected? Do you have a favorite amongst them? Are you happy with the final decisions as it ran?
There are almost always too many ideas. I tried to keep the designs bold and colorful to have some visual consistency with one of Mr. Buckley's previous books that I designed, "Boomsday." I've included a handful of rejects below. The other ideas ranged from using butcher charts, chinese papercuts, and hyper-elongated daschunds, to sad puppies, doggy bags, and chinese take-out boxes, as well as diagram illustrations in the style of printed chopstick instructions.
As far as why the other covers were not picked, I can't say for sure, but in my experience there are a lot of approvals needed in the book cover process, and as straight-forward and enjoyable as this particular cover was (thanks again to Art Director, Anne Twomey) often times the process with book publishers can be more difficult. Usually approvals are needed from the publisher, the editor, the author, the author's agent, the sales dept., and sometimes even from the larger book sellers.
What is the most important element of a successful book cover?
I think the most important element of any good book cover is something that compels a person to pick up in a store, or click on it in a browser. This could be a bold, colorful approach, a clever play on the title, or it could be the exact opposite. You never quite know until you have all of the elements working together or pushing and pulling against one another.
What are some of your favorite book covers?
Oh, there are so many. I'd say it's less about specific covers and more specific designers for me.
I tend to love covers by Peter Mendelsund, Jonathan Gray, Evan Gaffney, Henry Sene-Yee, and Roberto de Vicq amongst many, many others.
Do you judge books by their covers?
Always. Apparently, I haven't learned my lesson yet.
PHOTO GALLERY
Rejected Covers
Calling all HuffPost superfans!
Sign up for membership to become a founding member and help shape HuffPost's next chapter