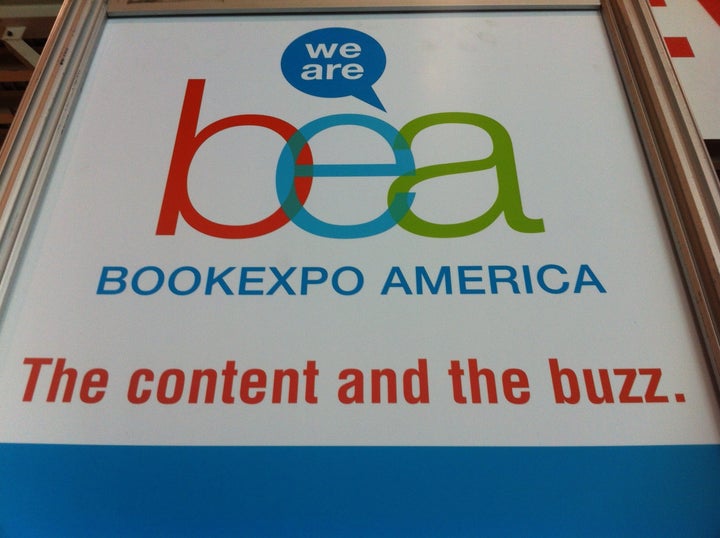 If you love books so much you get involved with them beyond being a reader, then you have to be interested in the annual BookExpo America (BEA) exhibit, which has settled into Manhattan's Jacob Javits Center for the last few years -- although there's evidently talk of moving it elsewhere after the 2014 bash.

Well, maybe "bash" isn't quite the right word for an industry in much-publicized trouble for the last who-can-say-how-many-years. The radical change in how books are published and how they're being read and on what devices has taken a toll on publishing houses' attitude toward the show's effectiveness. It's certainly taken a toll on the number of independent booksellers available to attend or even able to afford attendance.

But hold the phone. This isn't going to be the go-to report for facts and figures on the now-concluded June 5-7 affair. Even the PW Show Daily ran no first-day population estimate in the second day's issue, although scribe Rachel Deahl's account reflected positive reactions to the madding crowd and included an enthusiastic quote from Alfred A. Knopf's knowledgeable Nicholas Latimer.

Rather than objective coverage, here are merely the impressions of one die-hard book lover -- and maybe not so coincidentally the author of the recently published People Tell Me Things, a short story collection from small house Nth Position, which is possibly only one of many small houses that were unable to foot the bill for a booth.

As a reviewer/author, my idea of a good time is to wander the aisles looking for whatever -- and in some cases, whomever -- catches my eye. Here's what did as I strolled along what seemed like fewer aisles than in previous years:
1. The e-book section is, unsurprisingly, growing. Among them Total Boox uses the catchy slogan "We Sell Reading." Can't argue with that. Monkfish boasts "We Speak Book," which I guess is grammatical.
2. In a large area marked by signs exhorting "Read. Russia!" Overlook Press publisher and grand industry man Peter Mayer hung out to plug his partnership with Read Russia Inc. The collaboration is in service to, quoting from the release handed out, "the launch of The Russian Library, an ambitious one hundred and 25 volume series of translated Russian fiction, drama and poetry to be published over the next 10 years." I was impressed with that, while wondering how many thousands of readers will fetch up -- not that that would ever be book-obsessed veteran Mayer's primary concern.
3. The busiest turf by far was Harlequin, where, as in most years, women stood or sat on the floor while waiting to obtain autographed galleys from their fave authors.
4. Long lines at other booths included those for Michael Connelly, who was signing copies of The Black Box in the Little, Brown zone, and Tim Gunn, inscribing Tim Gunn's Fashion Bible. Women all but exclusively populated the latter line, men and women chatted patiently on the former.
5. Every once in a while, though not often, I passed a desk with a "new exhibitor" sign on it.
6. There was a sizable Independent Book Publishers Association area. That struck me as promising.
7. At the booth where "Fool Me Twice," a tome questioning Barack Obama's accomplishments, was the focus, a sign implored "Take a Photograph With the President." A fellow who looked something like the Commander-in-Chief gabbed with the house's reps while awaiting snapshot companions.
8. At the University of Hawai'i Press booth, three men played ukuleles and sang a ditty I'd never heard Don Ho deliver. He may have, of course.
9. A woman at the Dreamspinner Press table told a passerby that the giveaway there, Chapstick, has a following. People come back regularly to take one or two for the year, she boasted.
10. On their way to a signing lectern, lyricist Sheldon and his wife, photographer Margery Harnick looked as eager as newly-weds. They collaborated on The Outdoor Museum, a tribute to New York City. She took the pix; he wrote the accompanying poems.
11. No stop for me at MWellA where Stress Pandemic: A Lifestyle Solution was the signal item. I can't say if I kept going because I was too stressed or not stressed enough. Or just to get away from the word "lifestyle."
12. I also can't say whether the giveaways (see above for one) -- which, I confess, serve as a big attraction for me -- are more, less or the same in number as in previous years. I can say I availed myself of fewer. I took two totes and a button saying "The Expendable Man," referring to the Dorothy B. Hughes mystery that NYRB is reissuing. Someone handed me a box containing a business card holder, and, not to be rude, I accepted it. I saw at least one bowl of Hershey Kisses but demurred.
13. But this is a book fair, no? So what books -- all in uncorrected-galley form, of course--did I come away with? The one I had to have--and was startled to see -- was the Peachtree reprint of Lamb in his Bosom, Caroline Miller's 1934 Pulitzer Prize-winning novel. I now know it was brought back into print in 1993, but I didn't hear about it then, and here it was. Into one of my two totes I also threw: Henning Mankell's The Shadow Girls (The New Press, and not a Wallender novel), Richard Kramer's These Things Happen (Unbridled Books, and because I admire his television writing for Thirtysomething and My So-Called Life), Griffin Hansbury's The Nostalgist (M P Publishing, because I fell for the line that the novel is a unique take on 9/11), Read. Russia: An Anthology of New Voices (Read Russia Inc., and more or less explained above), Annie Baker's The Vermont Plays (Theatre Communications Group, because I write about theater and consider her one of our best new playwrights) and Anne Bogart's Conversations With Anne (Theatre Communications Group, because she's a major theater director and other theater figures want to talk to her).

And that's the BEA and me for another year.
Related
Popular in the Community